Estimated read time: 2-3 minutes
This archived news story is available only for your personal, non-commercial use. Information in the story may be outdated or superseded by additional information. Reading or replaying the story in its archived form does not constitute a republication of the story.
SALT LAKE CITY -- High school students had a chance to touch real human brains today. It was an eye-opener, not only to have the hands-on experience, but to see for the first time what a damaged brain looks like.
If you want to have a greater appreciation of that incredible thinking machine inside our skulls, touch and feel a real one and see what happens if you don't take care of it.
University of Utah graduate students in neuroscience do this every year. As part of Brain Awareness Week, they bring real human brains into the schools.
For some East High School students, this was a chance, for the first time, to see and feel the real McCoy.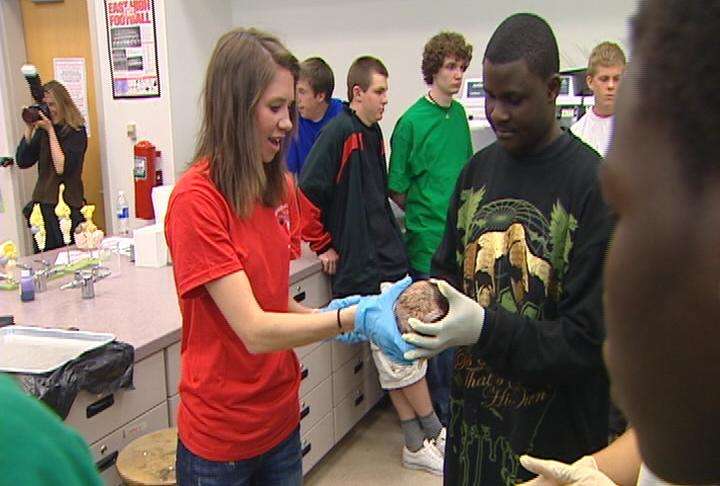 But even more is what they learned from this experience. East High School student Adam Hansel said, "When you see how sensitive it is and all the things that could happen to it, you don't want to, like, be doing drugs or drinking or stuff that could harm you."
For this age group, the message of how substance abuse impacts the brain and kills more than 400,000 people yearly, hits hard!
East High School science and biotech teacher Michael Lloyd said, "A lot of people are so casual about the use of something like that, and when you can actually see physical evidence of an effect of a drug on the brain--of a cell type that's not going to come back--I think that can be pretty powerful."
Unlike previous years, the university group brought a brain severely damaged from an impact accident.
Once students have rotated to four different stations and listened to instructors, they have a new appreciation of what's in their head.
East High School student Francisco Garcia said, "Because that's the actual thing in your head, like a supercomputer, and that's the smartest computer right now in the world."
The students also learned about neurological diseases and mental disorders that afflict more than 100 million people in this country.
E-mail: eyeates@ksl.com
×
Most recent Utah stories