Estimated read time: 3-4 minutes
This archived news story is available only for your personal, non-commercial use. Information in the story may be outdated or superseded by additional information. Reading or replaying the story in its archived form does not constitute a republication of the story.
SALT LAKE CITY -- When ophthalmologists in Utah first heard about what their colleagues in Amsterdam were doing to the eyeballs, they couldn't believe it.
Tattooing the body or piercing the ears, nose or tongue is one thing, but these ophthalmologists say the latest fad of tattooing eyeballs pushes the envelope too far.
"The eyeball, I suppose, has been sort of the final frontier as far as tattoos are concerned," said Dr. Bhupendra Patel, ophthalmologist at the John A. Moran Eye Center in Salt Lake City.
Young people are having the whites of their eyeballs injected with a dye. A small needle, which is almost the sharpest needle made, pierces a thin membrane, injecting the dye.
Utah ophthalmologists do not mince words on how dangerous they believe this practice is. "It you do it, it is absolutely irreversible. You will never be able to take that away," said Dr. Majid Moshirfar, also an ophthalmologist at the Moran Eye Center.
"There is always the risk of partial or complete penetration into the eyeball," Patel added.
It's risky enough going through that initial membrane to get to the white of the eye, but Patel says if the needle should slip and penetrate the thin white of the eye itself, it could result in serious injury.
"The inflammation caused by the dye would be catastrophic, and I think the loss of vision would be very rapid, and it would be dramatic," Patel said.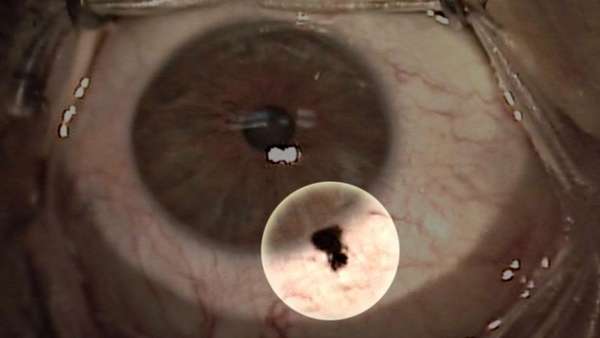 Judy Newton is a teacher at Evergreen Junior High School in Salt Lake. She had one of her eyes tattooed, but it was an accident.
While having eyeliner on her lower eyelid permanently highlighted, which is a common practice, the needle slipped in the hands of the technician, injecting dye into the white of Newton's eye.
Since it was just a small spot, Dr. Moshirfar was able to remove it, but the surgery was risky. The dye had penetrated through several layers of tissue.
Newton cannot conceive why anyone would have this done intentionally. "To have a needle coming into the white of your eyeball for the purpose of decorative art, self expression, it is just beyond me to take that kind of risk," she said.
But it's not just dye. Some doctors at the Netherlands Institute for Innovative Ocular Surgery are implanting decorative ornaments into little pockets formed in the white of the eye. Utah ophthalmologists want an end to this practice as well.
"I feel sad and ashamed that we have not taken an active role," Moshifar said.
Surprisingly, tattoo artists don't like it either. Alex Hinton says he wouldn't touch the eyeball with a 10-foot pole. "This is just so much like surgery, and I know that I couldn't be a surgeon. But I'm a very good artist, and so I'm going to stick to what I know," he said.
Incidentally, tattoo artists say what people are doing to their eyes shouldn't even be defined as tattooing.
Utah ophthalmologists would like to see the practice banned here. Some states, moving proactively, have already done just that.
E-mail: eyeates@ksl.com
×
Photos
Most recent Utah stories