Estimated read time: 1-2 minutes
This archived news story is available only for your personal, non-commercial use. Information in the story may be outdated or superseded by additional information. Reading or replaying the story in its archived form does not constitute a republication of the story.
WEST JORDAN -- A 10-year-old boy is Utah's new champion of chess. It's the first time a child has ever won the title.
Practice makes perfect for 10-year-old Kayden Troff. He practices, studies, and plays chess seven hours a day.
"It's like a puzzle, and puzzles always have new ways to play and different techniques," Kayden explained.
Despite all the state, and national chess titles this prodigy has, his mom says he's just like any other kid. He plays video games and has chores to do.
"People say, 'Is he normal?' In a lot of ways, yes, he's a normal kid," Kim Troff said. "You don't see very many 10-year-olds that will spend 6 hours a day playing chess, but he loves it."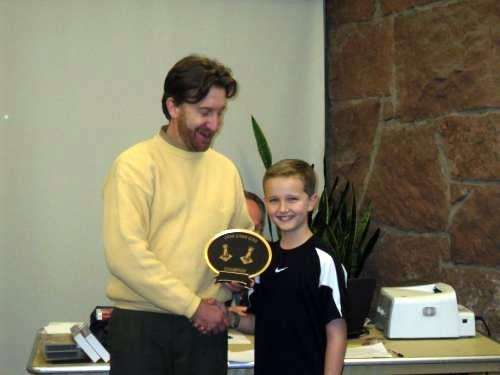 It doesn't bother his older brother Zachary that Kayden beats him. Zachary is the fifth-grade state champion but says Kayden works harder.
"If he's put in that time, he deserves to win," Zachary said.
Kayden won big this weekend when he beat a 73-year-old man in the G60 Chess Championships. "Each person gets 60 minutes on the clock, so each game can last for two hours. And they play five of them," Kim explained.
He played 12 hours that day and came home and wanted to play more. When he grows up he wants to be a grand master, which is going to take a lot of work.
"I have no doubt he'll make it to grand master," his mom said.
Kayden has been invited to the U.S. Chess School in New York this summer. Only eight kids in the country will be going.
E-mail: abutterfield@ksl.com
×
Photos
Related links
Related stories
Most recent Utah stories