Estimated read time: 3-4 minutes
This archived news story is available only for your personal, non-commercial use. Information in the story may be outdated or superseded by additional information. Reading or replaying the story in its archived form does not constitute a republication of the story.
SALT LAKE CITY -- A former U.S. Marine accused of robbing a bank in Sandy appeared before U.S. Magistrate Brooke Wells Friday morning.
Codie Carver was appointed legal counsel and told not to speak about the case to anyone because whatever he said would likely be used against him in future proceedings.
That advice may be one day too late. Thursday before turning himself into FBI agents, Carver sat down with the Deseret News. He admitted to being involved in the planning of the robbery but said he hired someone else to commit the crime. He also admitted that his white Durango was used in the crime.
Investigators say they believe Carver is the man scene in the surveillance video during the robbery at the Sandy bank on March 9 and that no one else was involved.
He told officers he was only trying to help others in need, and all the money he received from the robbery of the Washington Mutual Bank at 7910 S. 1300 East was given to random homeless people in Las Vegas.
He said, "The money went to people that needed it more than corporate America, kind of like Robin Hood -- steal from the rich, give to the poor."
The Deseret News quotes Carver as saying if he did something wrong to better someone else's life, then he was OK with it.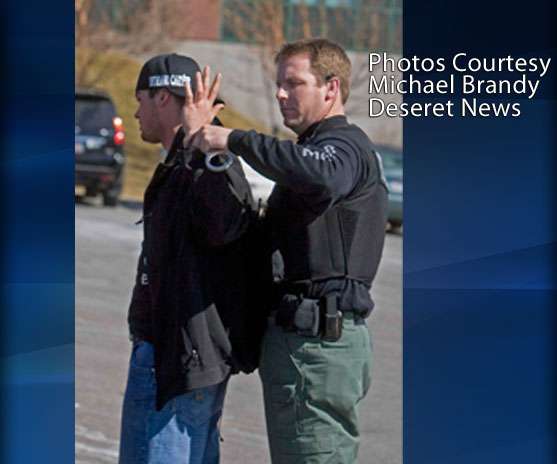 Carver told the newspaper that recently someone stole $4,000 to $5,000 from him, money that was supposed to go to charities and nonprofit groups aimed at helping at-risk kids. He claimed law enforcement did little to help him with the recovery. He said, "Nobody does anything about the money that was taken there, but as soon as corporate America gets ripped off, it's federal and it's a big deal."
He said shortly after being robbed, he became involved in a plan to rob the bank in Sandy.
Carver turned himself in on Thursday after saying good-bye to his family. Those family members were also in court Friday.
Carver was quiet, reserved and polite as he sat in front of Judge Wells. His mother Velenie Stens sat two rows behind him, watching with concern. "Well, it wasn't fun seeing him in chains, but he looked positive," she said.
Stens said she still believed his behavior was a result of post-traumatic stress disorder brought on by years of service in the U.S. Marines. She said, "He needs to get mental help as soon as possible. He's not in the right mind whatsoever. This is not Codie."
He said he visited the Veterans Medical Center 10 to 15 times after returning from Iraq and eventually was given antidepressants. But he said he stopped taking them because they didn't make him feel right.
Carver said he came back to Utah after searching his name on Google and several news stories came up about the robbery. He said he wanted to clear up the situation.
His next appearance will be before Judge Alba next Tuesday. At that point it will be determined if he is a flight risk or a danger to the community.
Stens said the family was relying on faith to get them through this. "He does believe in God and prayer, and so do we. And we're just praying everything's going to work out," she said.
She said other people were involved, and they should be held accountable as well.
Carver is being charged with bank robbery. If he's convicted he could spend up to 20 years in jail and a $250,000 fine.
This story was compiled with contributions from Shara Park, Andrew Adams and Paul McHardy.
×
Related links
Related stories
Most recent Utah stories