Estimated read time: 2-3 minutes
This archived news story is available only for your personal, non-commercial use. Information in the story may be outdated or superseded by additional information. Reading or replaying the story in its archived form does not constitute a republication of the story.
As Pres. Obama revealed his plans to end combat in Iraq today, Utah soldiers who served in Afghanistan returned home to their families.
A lot of life goes by in a year. For the soldiers of the 142nd Military Intelligence Battalion and their families, it's time to catch up and carry on.
---
It feels wonderful. We're relieved, glad we brought all of our guys home safe.
–Lt. Col. Derek Tolman
---
The Utah National Guard threw the biggest party in the state today before the sun ever came up.
Cammy Womble, whose husband was among the returning soldiers, said, "I can't believe it's finally here. It's a good day!"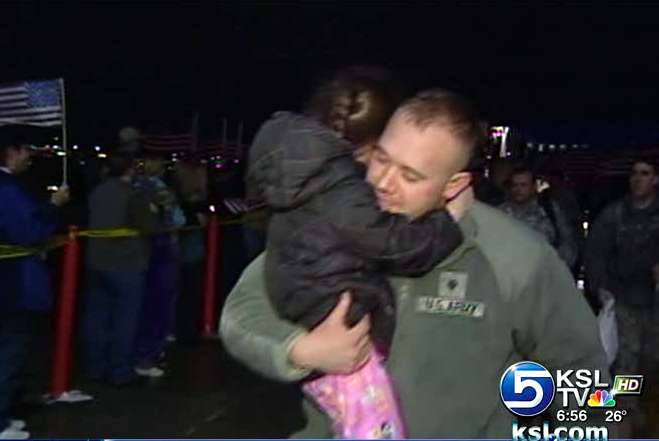 Two-hundred-sixty soldiers let down their guard with their families for the first time in a year. Life's changes brought smiles and tears. Glen Case looks forward to bonding with his baby son.
"It's crazy. I can't get enough of him," he said.
Case's wife Rita said, "He was gone for 8 months, and so he last saw him when he was a week, but he's doing pretty good."
Related:
Soldiers T.J. O'Leary and Trista Wynn got engaged in the same hangar they returned to today, the day they left.
"I volunteered for the deployment, and he came over and volunteered with me," Wynn said.
Wynn lost her father while deployed. Her mother Stacey Wynn said, "I'm happy, and I'm sad their dad's not here with us, but he's here in spirit. I'm just happy to have her home."
For O'Leary, it was his fourth deployment. "We've had some trials and triumphs. We've overcome them, and we're home, and I have my little girl. Life's great," he said.
Now it's time to plan a wedding.
"It began in Afghanistan and now we just need to wrap it up," O'Leary said.
Wynn added, "Glad to be home and excited to see everybody for the first time in a while, so it's really good to be here."
The 142nd Military Intelligence Battalion provided intelligence for the 101st Airborne Division and other coalition forces. The battalion's commander says they worked to develop strong relationships with the Afghanis.
Lt. Col. Derek Tolman said, "It feels wonderful. We're relieved, glad we brought all of our guys home safe."
When a small unit returns next week, it will mark the first time all Utah National Guard units are at home since the attacks of 9-11.
E-mail: jboal@ksl.com
×
Most recent Utah stories