Estimated read time: 2-3 minutes
This archived news story is available only for your personal, non-commercial use. Information in the story may be outdated or superseded by additional information. Reading or replaying the story in its archived form does not constitute a republication of the story.
SALT LAKE CITY-- On this Ash Wednesday, millions of Christians throughout the world are observing the beginning of Lent. Catholics in Salt Lake attended a special Mass at the Cathedral of the Madeleine.
Ash Wednesday marks 40 days before Good Friday. As Christian faithful left services Wednesday with ashes on their foreheads, they were encouraged to think of the sacrifice of Jesus Christ that leads to a hopeful future.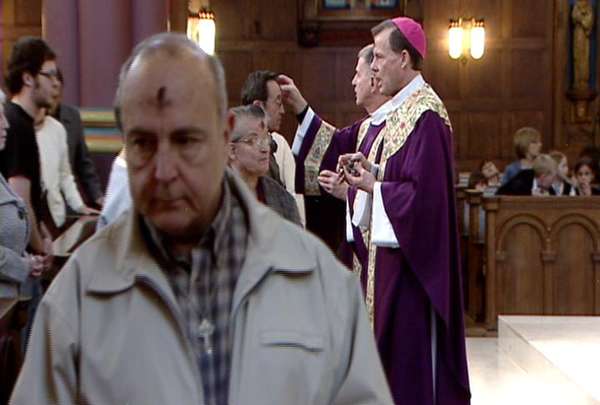 Bishop John Wester told hundreds of people who attended the noon service, "This season of Lent is a time in which converts to the faith are prepared for baptism. It is also a time when those, because of sin, who have been separated from the body of the faithful are reconciled by penitence and forgiveness and restored to the fellowship of the church."
Layton resident Sam Ninalga, said, "It's a time for me to actually sacrifice something that's important to me."
Salt Lake City resident Jarett LaTour said, "It's just one of the most important days of the year for Catholics all around the world. Coming to the cathedral is just a special occasion. It's such a beautiful church."
Many say this year, with lost jobs and foreclosed homes, thoughts turn to faith.
LaTour said, "It's the beginning of Lent, spring, hope, so we need to pray."
As Bishop Wester made the sign of the cross with ashes on the foreheads of the faithful, he did so with a smile of encouragement, telling them to go forth with hope.
Lissa Wiseman, of Salt Lake City, said, "We affirm now, particularly, that the Lord takes care of the one he loves. That's his message to us, so we come to praise and glorify him."
Bishop Wester reminded parishioners to give alms to the poor not because they necessarily have a lot to give but as Christians they will care for everyone.
E-mail: cmikita@ksl.com
×
Most recent Utah stories