Estimated read time: 2-3 minutes
This archived news story is available only for your personal, non-commercial use. Information in the story may be outdated or superseded by additional information. Reading or replaying the story in its archived form does not constitute a republication of the story.
WEBER COUNTY -- Workers at a West Weber plant are wondering if they'll ever see the money they're owed.
Several of them claim they were promised by officials at U.S. Tank they'd be paid back pay once a large order was completed in mid February. Now the company is abandoned and the property is posted with "No Trespassing" signs.
"Everybody here is a hard worker," said welder David Vermillion, "and we're not asking for anything we haven't earned, we've earned this money."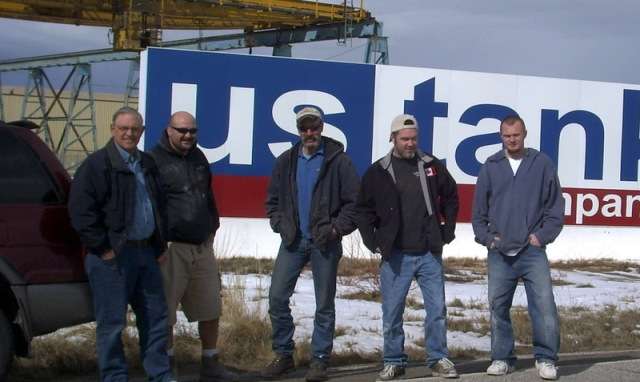 Vermillion says the company owes him about $3,000. Vermillion and others claim their last paycheck came in mid-January.
The large manufacturing facility is now abandoned, except for a couple of vehicles on the property and some materials in the yard. Vermillion thinks someone made off with the money.
"We couldn't put that much product out and not get paid, that's ridiculous," he said.
But company officials like Bart Penrod, who says he acted as a consultant, investor and a potential owner, sees it differently. He says everyone tried to make the company work, and it simply didn't. As a result, a lot of people, including Penrod, lost money.
Penrod says he was asked by one of the company's owners, Pace Morby, to try to get workers to complete a job at the company, and that's just what he did in hopes of generating money for the business.
Morby could not be reached for comment. His father, Doug Morby, who Penrod also identified as an owner, is currently in prison on a Federal employee tax conviction.
Penrod says a lot of people lost money in the deal, including people who'd ordered and paid for tanks that were being built.
Since the plant's closure, Weber County Sheriff's deputies have been called to the building several times in recent days. Penrod says some employees were trying to get in to claim some of the property on the site.
Some of the employees who spoke with us say vendors were also trying to repossess materials. They also question whether or not any of the money that was being garnished from some of their wages for child support was actually being forwarded.
The Weber County Sheriff's Office says it's investigating the case.
------
Story compiled with contributions from John Hollenhorst and Marc Giauque.
×
Most recent Utah stories