Estimated read time: 7-8 minutes
This archived news story is available only for your personal, non-commercial use. Information in the story may be outdated or superseded by additional information. Reading or replaying the story in its archived form does not constitute a republication of the story.
Team CoverageUtah State Sen. Chris Buttars, R-West Jordan, has been removed from a Senate committee because of anti-gay comments he made that became public this week. Senate President Michael Waddoups says he decided to take the action because of public pressure, but at the same time he affirmed Buttars' free speech rights.
Buttars isn't backing down, even as Senate GOP leaders announced his punishment. In a statement posted online, Buttars says he disagrees with the censure, but he's a "grown man who can take his knocks." Senate President Michael Waddoups took him off of the senate judiciary committee.
Even in the face of what amounts to a demotion, Sen. Buttars is not apologizing and his supporters don't think he has anything to apologize for. At the same time, his critics are angry. They want more severe action against Buttars, even for him to quit the Senate.
Buttars was kicked off the judicial committee he chaired after comparing gay activists to radical Muslims during an interview for a documentary. Buttars also told filmmaker Reed Cowan that gay activists are "probably the greatest threat to America going down."
There has been outrage over the comments this year because gays have unsuccessfully sponsored a package of bills they say find common ground on the issue of equal rights. Also, Butters has a record of speaking off the cuff when it comes to gays, illegal immigrants, and African Americans.
Waddoups, R-Taylorsville, says the move shouldn't be viewed as punishment but rather the removal of a distraction.
"I want the citizens of Utah to know that the Senate stands behind Sen. Buttars and his right to speak, that we stand behind him as colleague and support his right to serve in this state," Waddoups said.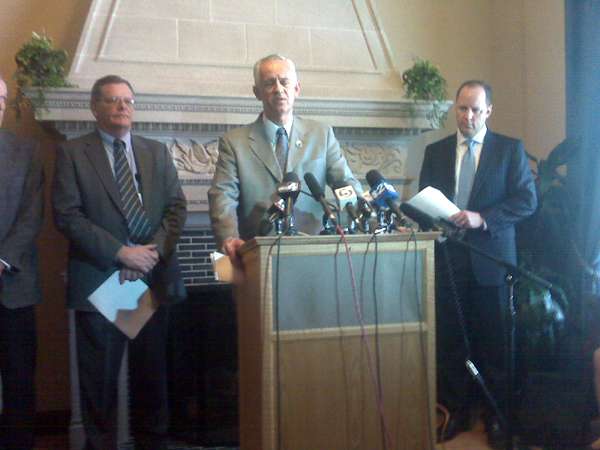 He said this will free Sen. Buttars to be more at ease when speaking his opinions.
"We agree with many of the things that he said. We disagree with some of them. We may disagree with some of the ways he said it, but we stand four square behind what he wants to say and needs to say," Waddoups said.
To listen to Waddoups' statement, play the audio link on this page.
Buttars defended himself in a blog post on Friday, saying, in part, "For the record, I do not agree with the censure. I see it as an attempt to shy away from controversy. In particular, I disagree with my removal as Chair of the Senate Judiciary Committee, since my work there is entirely unrelated to my opposition to the homosexual agenda."
There were those who didn't think the penalty went far enough; and that Buttars should be removed from the powerful Senate Rules Committee, too.
Senate Democrats do seem satisfied. But Senator Ross Romero is going a step further, proposing sensitivity training for legislators. He said, "We need to balance the constitutional rights of free speech. We are doing so as representatives of our state, and to have some sensitivity training, have some diversity training my hope is it will help educate those in the body who don't appreciate the differences that individuals brings."
Cowan interviewed Buttars in January for a documentary about California's Proposition 8 campaign. The comments were made public this week.
Reaction varies as emotions run high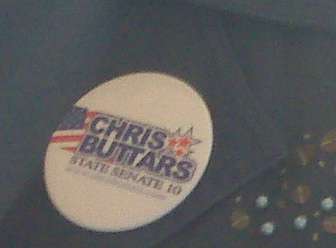 Sen. Buttars' supporters say today is a victory for free speech. "It would have been a chilling effect if he were censured for what he said, on all lawmakers," Gayle Ruzicka, president of the Utah Eagle Forum, said.
She and others are wearing his campaign button around the Capitol. "We just thought it would be a good day to say we support Chris Buttars and his right to free speech," she said.
Buttars' supporter Karen Clark said, "I've been in his home many times and talked to him. He said, 'You may not agree with me, but you'll always know where I stand.' And there are a lot of people in his district who voted for him because of that issue, that stance. He will stand up and speak the things that are near and dear to him and us, as well."
But plenty of people say they're offended at Buttars' comments. Those people also were at the Capitol and wanted their voices to be heard.
Troy Williams said, "We are a vibrant, beautiful part of this community. We demand to be heard. We're not going away. We believe in life, liberty and the pursuit of happiness. We believe that includes us as well as everyone else in this state. We're here to fight for that."
Listeners flooded KSL Newsradio's Doug Wright Show by phone and e-mail following the announcement. One said, "I'm very pleased with how that was handled. You go, President Waddoups, and thanks for supporting Sen. Buttars!"
Another said, "Waddoups doesn't care because this is a one-party state."
And someone else said, "Buttars should be forced to resign. He is an embarrassment for our state."
The Buttars story has gotten more that 56,000 page views on KSL.com, about 10 times that of a typical news story. By mid-afternoon, more than 900 people posted comments on KSL's message board.
Greg L. wrote, "I thought Senator Buttars also had 1st Amendment rights just like homosexuals. Apparently not. Why is he being reprimanded?"
Another responded, "His particular comment was hateful and bigoted. This kind of mentality has no place in the judicial system."
National group The Human Rights Campaign calls Buttars' comments dangerous and his committee removal not enough. Bruce Bastian of the campaign said, "It's a slap on the wrist because, again, there's no apology. How can you just let something like that go and say OK, what he said, he said, and it's OK, basically?"
But others say it went too far. Stephen Graham of the Standard of Liberty Foundation said, "It is a slap on the wrist, but it's a slap on the wrist that he didn't deserve. He shouldn't have received that. They had no business saying because you used your freedom of speech we are affecting the job you have in the Senate. It's uncalled for."
Earlier, chairman of the Utah Democratic Party, Wayne Holland, had called it statement time for the Republicans. "They have an opportunity here to show Utah citizens that they are tired of this kind of politics," he said.
Utah Republican Party Vice Chair Todd Weiler earlier said the comments attributed to Buttars do not represent the party. "Our state party platform is that we recognize the traditional family as the fundamental unit of society, and that's it. The Republican Party doesn't discriminate or encourage discriminatory statements against any group of citizens," he said.
He feels the comments are unfortunate and take away from some of the positive things the 2-term senator has done.
Also today, The Church of Jesus Christ of Latter-day Saints issued a statement urging "civil and respectful dialogue." It said, "From the outset, the Church's position has always been to engage in civil and respectful dialogue on this issue. Senator Buttars does not speak for the church."
The Utah Pride Center said Buttars' recent comments as well as today's press conference deeply hurt and saddened its community. And the group Equality Utah said it appreciates the removal of Buttars as chair of the judiciary committee, but says that is "far from enough to repair the damage caused by Buttars' comments."
The American Civil Liberties Union of Utah defends Buttars' right to voice his opinions. A statement released by the civil liberties group reads in part: "While we disagree vehemently with Senator Buttars' views, we strongly support the Constitution's free speech protections.
"Restricting the speech of one group or individual jeopardizes everyone's rights because the same laws or regulations used to silence unpopular and controversial speech can be used to silence valid discourse," it said.
All members of the Senate are ready to move on now. They consider this a huge distraction from the work they still have to do on dozens of bills and the state budget.
Buttars himself did not respond to questions after the news conference.
E-mail: mrichards@ksl.com
E-mail: spark@ksl.com
E-mail: aadams@ksl.com
E-mail: rpiatt@ksl.com
E-mail: jdaley@ksl.com
(Copyright 2008 Bonneville International Corporation. All rights reserved. This material may not be published, broadcast, rewritten, or distributed. AP contributed to this report.)
×
Related links
Related stories
Most recent Utah stories