Estimated read time: 2-3 minutes
This archived news story is available only for your personal, non-commercial use. Information in the story may be outdated or superseded by additional information. Reading or replaying the story in its archived form does not constitute a republication of the story.
KSL TV and KSL Newsradio's Andrew Adams reportingPolice have released video tonight of officers arresting three men who they say came all the way from New York City to rip off Utah stores.
Investigators say they stole more than 40 iPods at a Target store in Riverdale, then tried to steal more in Centerville, but surveillance video and suspicious customers wrecked their scheme.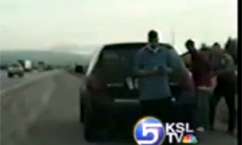 Centerville police tracked them down on the freeway and found the electronics in their rental car.
Officers say the men's specially lined clothing helped them steal. Police say the men stashed the iPods in a special pair of oversized jeans that didn't trigger security detectors at the Target store in Riverdale. Officers say one of the suspects stuffed them all down his pants to get out of the store undetected.
"They popped a lock, they threw the iPods out of the case and into a pair of pants, and then left the store," said Riverdale police detective Bill Fuchs.
Officers caught up with the suspects in Centerville. Fuchs says professional criminals such as these are rare around these parts.
Eyewitness News reports that Centerville Police have connected these men to a nationwide theft ring.
"We found maps [of Salt Lake City, Phoenix, and Las Vegas] in the vehicle that showed circled locations," said Fuchs. "Everything that was found in the vehicle led us to believe they were professional thieves."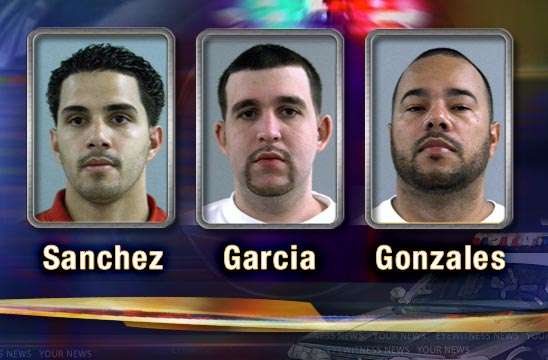 Investigators say the men are apparently suspected in similar heists at Target stores in the Eastern United States.
"This organized type of crime, these theft rings, are starting to expand out west from the major cities," said Riverdale police Lt. James Ebert.
He said two men distracted employees at a Target store in Riverdale, 30 miles north of Salt Lake City, while the other opened a display case and hid the iPods in his jeans Oct. 6.
"In his pants, yes he did, walking and clinking," Ebert said. "But he looks totally calm on the security video walking out of the store. We tried it. It's hard to do without making any noise unless you walk fairly smoothly."
The pants had bags on the inside that were lined with material that fooled magnetic detectors at the door, Hansen said. The pant legs were tied off with shoelaces.
They tried the same heist but failed about an hour later at a Target store in Centerville, Ebert said.
"A couple of customers saw what they were trying to do and kind of gave them a hard time," said Steve Major, a Davis County prosecutor.
Police were called, and the suspects' car was stopped as they tried to get on Interstate 15. Officers recovered the iPods, worth an estimated $15,000.
Hector Gonzalez, 34, Peter Sanchez, 24, and Daniel Garcia, 24, all from Bronx, New York, were charged with theft in Weber County and attempted theft in Davis County. Bail was set Wednesday at $20,000 for each man.
The Associated Press contributed to this story.
×
Most recent Utah stories