Estimated read time: 3-4 minutes
This archived news story is available only for your personal, non-commercial use. Information in the story may be outdated or superseded by additional information. Reading or replaying the story in its archived form does not constitute a republication of the story.
The man responsible for measuring Utah's snowpack has a hobby that relates to his job: He studies the art of moving around in the snow.
If you think the most interesting technology in that field exists today, you might be wrong, wait until you see what was around 80 years ago.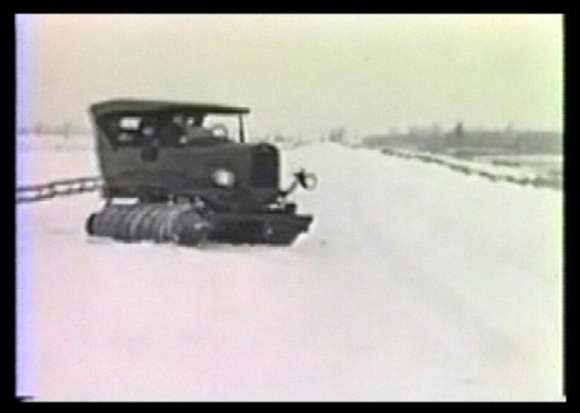 A snow machine from 1924 is a piece of science fiction from the past. Patented by Frederick R. Burch, the Armstead Snow Motors Company made a 16mm demo film to show off the contraption. The company mounted a Fordson tractor and a Chevrolet automobile onto the spiral drums.

"Having these cylindrical drums turning in, that's friction against each other. But that's part of the reason it works, because it is forcing things in together, and it grabs and it screws its way over the snow," explained Randy Julander, snow survey supervisor with the Natural Resources Conservation Service.

The original is part of the archives of Michigan. Julander shared the film with us. He's a self-described "snow nerd," and enjoys snow sled gems from the archives.

"They're, number one, fascinating. Number two, they served a very practical use in the advancement of science over the years," Julander said.

Julander and his predecessors monitor our snowpack so we'll know how much water to expect in the summer. Better snowmobiles made their job easier.

[Armsted Snow Motors Product Demo](http://vimeo.com/1199829) from [Mark Harvey](http://vimeo.com/user548942) on [Vimeo](http://vimeo.com).

Early snow machines flourished on farms across the country as inventors tried to figure out better ways to get around when snow got too deep for horses and sleighs.

Photos come from the Western Snow Conference of 1968 show a cleated-drum vehicle from 1941, along with another double-spiral model.

At about the same time, and for the next couple of decades, westerners were also working on their own versions of snow machines. As you might imagine, one of those came out of Utah State University.

"Roads were still primarily dirt, gravel, fewer of them were asphalt; and much of the farming community was isolated during the winter," Julander said.

A modified Model A Ford was developed at USU and saved the day with a snow rescue in 1950. The Frandee Snoshu was also designed and built in Utah.

Ultimately, the tracked sleds outperformed the spiral snow sled, which silently screwed its way into the archives.

Julander also came across the original patent for the snow machine, complete with drawings. If you would like to take a look at it, CLICK HERE.

E-mail: jboal@ksl.com

×
Related links
Most recent Utah stories