Estimated read time: 2-3 minutes
This archived news story is available only for your personal, non-commercial use. Information in the story may be outdated or superseded by additional information. Reading or replaying the story in its archived form does not constitute a republication of the story.
Tooele County, Utah -- A pilot was forced to make an emergency on Interstate 80 in Tooele County Wednesday evening.
According to Utah Highway Patrol trooper Cameron Roden, the 21-year-old pilot landed the Cessna after the plane ran out of fuel, then rolled it off the side of the interstate.
"I tried starting up the emergency procedures and everything else, but it wasn't budging. And so, I told him (the passenger) to brace himself and we're gonna go down," pilot David Goodwin said.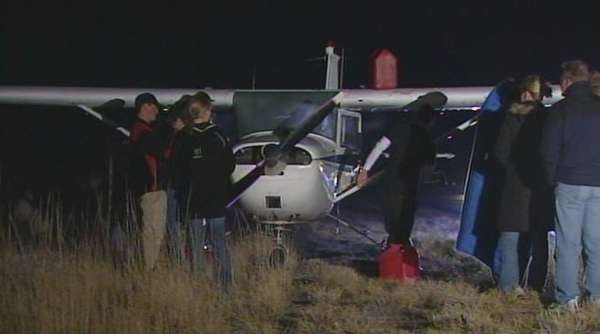 "Hopefully he listened in class, is all I can say. But he did a great job. He put us right down on the freeway, and I'm glad to be here with my family," passenger Griffin Bland said.
Goodwin had rented the plane and was just taking his friend for a ride.
The two left Spanish Fork for Tooele, where they planned to refuel the plane. When they were near Tooele, the gas gauge said that the tank was a quarter full.
Goodwin says he was going to go to the Tooele airport, but something told him to stay above I-80 and head toward Salt Lake. He followed his gut, which turned out to be a good move. At 1,500 feet, the plane ran out of gas and the engine died.
Goodwin told us how he avoided all the cars. "I lined up the headlights and taillights of the cars in front of us, and that's how I figured out how low we were. It's how I figured out where the center of the road is, because we had no lights to land," he said.
If Goodwin had decided to go to the airport, they would have landed in water.
Goodwin has been flying for about three years. He says he thinks there was a problem with the fuel pump.
The plane will stay where it is until the owner can get it towed.
E-mail: syi@ksl.com
×
Most recent Utah stories