Estimated read time: 2-3 minutes
This archived news story is available only for your personal, non-commercial use. Information in the story may be outdated or superseded by additional information. Reading or replaying the story in its archived form does not constitute a republication of the story.
A teacher who is described as "the wind beneath the wings" of hundreds of children won a KSL High 5.
Lori Willis works with the special education students at Edgemont Elementary in Provo. She also has opened her home and her heart to 10 kids through the adoption process. Everyone who knows her agrees: Lori Willis is making a difference.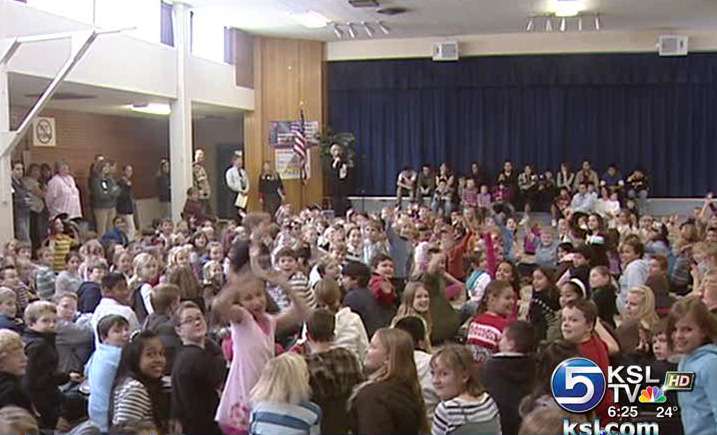 There was a lot of anticipation as we waited for Mrs. Willis to return from lunch, knowing she would not be expecting a roomful of excited students and her family, including Lori's 10 adopted children.
When she arrived, we told her, "This is part of our High 5 series, for people who are making a difference and doing good things. It is very clear by the looks on these children's faces, that is exactly what you are doing at Edgemont."
Denita Mortensen, the parent of a student, nominated Mrs. Willis. She wrote, "Lori has a mother heart that reaches out to all of the children, and all of the children love her back."
Mortensen also said, "She has been a friend to Bailey (Mortensen's daughter) and helped Bailey with a lot of things. We love her so much and we are so grateful to her."
Mrs. Willis said, "These children I work with, they have the sweetest spirits. They are just my little ones."
We asked her about the rewards for her hard work. "The kids," she responded. "The love you see back from them."
Mrs. Willis once gave student Alex Hill a picture of teddy bears as a reminder of their friendship. He looks at it every night before he goes to bed.
As part of the High 5, our friends at Mainspring Day Spa and Salon will treat Lori Willis with a three-hour visit and treatment at its facility.
If you'd like to nominate someone for a High 5, follow the link on this page.
×
Related links
Most recent Utah stories