Estimated read time: 3-4 minutes
This archived news story is available only for your personal, non-commercial use. Information in the story may be outdated or superseded by additional information. Reading or replaying the story in its archived form does not constitute a republication of the story.
UPDATE:Salt Lake City police have arrested the suspect wanted in a fatal stabbing that occurred Tuesday morning. Joy Lynn Adams was arrested Tuesday night. Police are expected to release more information on Adams' capture Wednesday morning.
---
Team coverageThe Salt Lake City Police Department is searching for a suspect wanted in connection with a fatal stabbing.
The suspect is Joy Lynn Adams. The 34-year-old is 5 feet 9 inches tall and weighs 140 pounds. She was last seen wearing her hair in a pony tail and dressed in gray sweatpants.
Police says she should be considered armed and dangerous. They have not discussed any possible motive for the stabbing.
Adolph Neal, 69, died this morning from a stab wound to the neck.
Sgt. Robin Snyder of the Salt Lake City Police Department says dispatchers got a disturbance call at 5:08 this morning from the Annie Laurie Apartments on 326 E. 100 South. When officers arrived, they found the door to one of the apartments open, but no one inside.
Five minutes later they got another call from the complex next door at the Lorna Doone Apartments at 320 E. 100 South.
When police made their way inside they found what looked to be a crime scene on the first floor of the building. Sgt. Robin Snyder of the Salt Lake City Police Department said, "They saw some evidence. I don't want to talk about exactly they saw, but they did see something that looked like possibly something happened in the apartment, so they gained entry to the apartment, and that's where they found the male."
Police say Neal had an obvious stab wound to his neck.
Investigators immediately started questioning tenants from the building, and eventually took three men and two women in for questioning.
One neighbor, Shelley Smith, was interviewed by police this morning, but told KSL she didn't hear or see anything.
Smith said she knew Neal and saw him early this morning, some time after midnight. She said she was shocked to learn of his death. "Oh I cried," she said. "He was a nice old man, and it's sad to see him go. It doesn't make sense. I don't know why anyone would want to do this to him."
Several others who were interviewed this morning have been allowed to return to their apartments.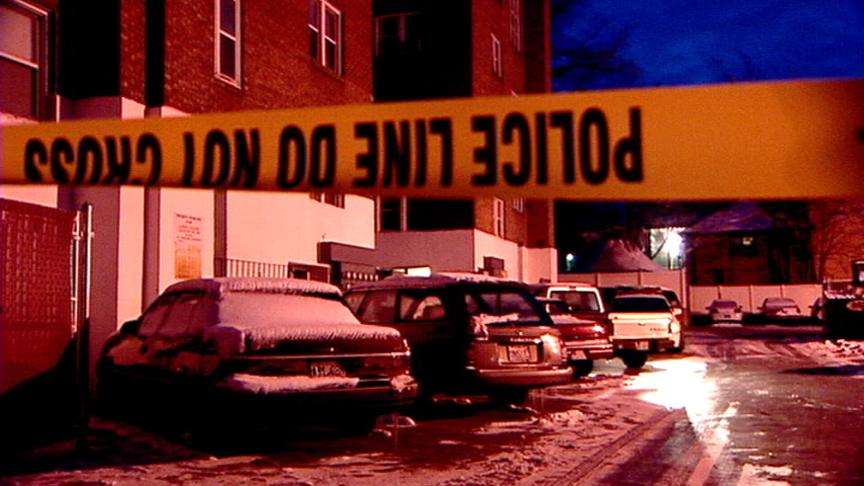 Neighbors say the apartments have been a trouble spot, especially lately, because of drug problems. One man, who didn't want to be identified, said he expected something like this to happen. He said his family has had enough. He said, "We are going to be looking for a place ASAP, try to get relocated out of here." He said he had a baseball bat and a dog in his apartment for self-defense.
Earlier this morning an investigator on scene told KSL that there was a party going on in the Annie Laurie Apartments where the five witnesses were taken from, at that point we were told that there had been a party and a fight had ensued.
Investigators now say they are not sure if that fight is connected to the murder, but we were told that there was a blood trail behind one apartment building leading to the one where the body was found.
If you have seen Adams or know where she is, you are asked to call 799-INFO (4636).
E-mail: spark@ksl.com
E-mail: mgiauque@ksl.com
E-mail: mrichards@ksl.com
×
Most recent Utah stories