Estimated read time: 2-3 minutes
This archived news story is available only for your personal, non-commercial use. Information in the story may be outdated or superseded by additional information. Reading or replaying the story in its archived form does not constitute a republication of the story.
Former Gov. Mike Leavitt is back in Utah after nearly six years in Washington. Leavitt says Utah is relatively well-prepared to weather the tough economy because the state is being well-managed and has had one of the nation's strongest economies. But, he says make no mistake, tough choices are ahead and long-term solutions won't come easy.
Few can match the breadth of experience of Leavitt. First he was a state lawmaker, then a three-term governor, then a Bush Cabinet member in two posts. He said, "I had two jobs that people routinely see as difficult jobs, but they were great jobs."
In his decade as governor, Leavitt coped with the dot-com crash and big budget deficits, but nothing as tough as the economic problems Gov. Jon Huntsman Jr. and lawmakers face now.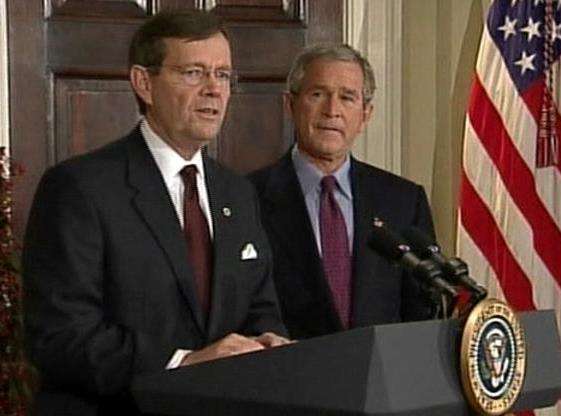 Leavitt says, "Every governor goes through a period like this, and every Legislature, but the important thing is we deal with them. We step up, make the decisions and prepare for the future."
Leavitt served as secretary of the sprawling Health and Human Services Department, which is responsible for Medicaid; the subject of potential cuts which drew hundreds to Capitol Hill last week. Leavitt says he sympathizes with both people who need help and government decision-makers. "When you're making budget, you're generally choosing between things that are worthy objectives and not somebody's waste, versus something that needs to be done. But you still have to prioritize," says Leavitt.
As for dismantling the state health department, he says he heard about that. He says, "I don't know much about that. I can't believe it's a serious proposal. I'm sure they'll sort through it."
Long term he says we must grapple with funding government entitlement programs or else. He says, "There will come a point in time when, if we don't deal with them, that we begin to damage our capacity to be competitive as a nation."
As for his own plans, Leavitt says he will do some writing and likely return to the business world.
He says he's open to returning to public service, eventually, though he has no immediate plans to do so.
E-mail: jdaley@ksl.com
×
Most recent Utah stories