Estimated read time: 2-3 minutes
This archived news story is available only for your personal, non-commercial use. Information in the story may be outdated or superseded by additional information. Reading or replaying the story in its archived form does not constitute a republication of the story.
The Davis County Board of Health was thinking about air quality today when it voted firmly against a new power plant in West Bountiful. But there's not much they can do to actually stop the plant, which would burn low-quality oil and refinery waste.
The state Division of Air Quality is in the driver's seat and has already given the plant preliminary approval. They agreed to a public hearing tomorrow night only after a doctor's group made a fight out of it.
The power plant is proposed for a vacant lot west of the Holly Refinery. Holly wants you to know, they're not building it. It's Consolidated Energy.
Mike Astin, environmental manager for Holly Refinery, said, "There is a sharp division between that company and our company. We don't own any piece of them, and they don't own any piece of us. They're a different company."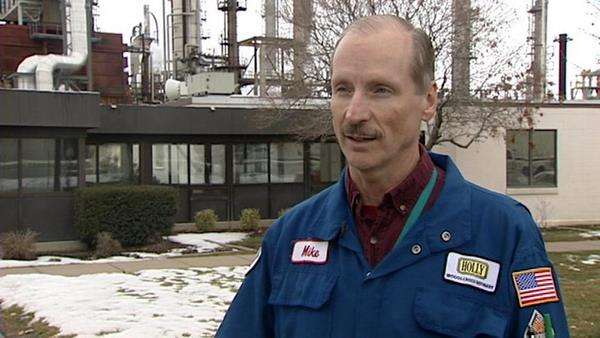 But Holly would provide some of the fuel, the lowest-grade oil products. The power plant would sell electricity to the grid and waste steam to the Holly refinery. "That would enable us to reduce or shut down some of our boilers, so we'd have a net reduction in air emissions," Astin said.
But the power plant would have its own emissions, especially because it will burn petroleum waste from other refineries. The Davis Board of Health passed a resolution firmly opposing the plant. Davis County Director of Health Lewis Garrett said, "We felt like it was a definite step in the wrong direction toward protecting the health."
Bret Millburn, chairman of the Davis County Commission, said, "During the wintertime when we get that inversion, I think, it's pretty easy to see that there's a health concern."
For years, drivers in Davis County have been improving air quality through the annual vehicle inspection and maintenance program. Garrett said, "In some cases, as much as 60 percent of the gains from the I & M [Inspection and maintenance] program would be offset by the emissions from this plant."
Millburn said, "This just kind of nullifies all of the efforts that have already been put in place."
But Holly Refinery says state regulators have already determined the proposal meets technical standards in clean-air laws. "Within the state, we have checks in order to make sure that companies that want to build things will permit them and make them safe," Millburn said.
Unless state regulators reverse themselves after tomorrow night's public hearing, an air-quality permit will be issued.
In theory, West Bountiful officials could stop it with zoning and building laws. But city leaders aren't sure, in this case, if their powers trump the state's.
E-mail: hollenhorst@ksl.com
×
Related stories
Most recent Utah stories