Estimated read time: 5-6 minutes
PROVO — Like all but the top 68 coaches in America, and a few in the NIT and CBI, Mark Pope wasn't preparing for the postseason this weekend.
The fourth-year BYU head coach and the Cougars fell short of that goal for the second consecutive season (and seventh time in eight years) with a loss to Saint Mary's in the West Coast Conference Tournament semifinals.
But Pope wasn't enjoying the madness of March like the rest of the public, either, basking in the euphoria of Furman's win over Virginia, Princeton's historic upset of Arizona, or Missouri's win over Utah State. He's got too much work to do.
Pope is preparing for next season, when BYU will, arguably, join the best college basketball conference in America when it enters the Big 12, officially on July 1. So there was Pope, moments after hanging up from an end-of-season question-and-answer session with local media via videoconference ready to get back to work for what may be the biggest jump in program history for the 19-15 Cougars.
"We knew what we signed up for," Pope said during one of his lengthy answers.
Of course, plenty disappointed Pope during BYU's final season in the West Coast Conference, not the least of which being were the final results.
Every team in America dreams of making the field of 68, and the Cougars were no different. But a season that included losses to Utah Valley, South Dakota, Loyola Marymount and Pepperdine — to say nothing of close defeats to NCAA Tournament teams San Diego State, Gonzaga and Saint Mary's — left less than no room for error.
In Pope's first three years in Provo, his teams lived on the bubble, eyeing the metrics that changed daily and becoming acquainted with terms like KenPom, NET and KPI. By the middle of the season, Pope frequently admitted that was far from his mind.
Upsets will do that to plenty of teams. It was an uncomfortable position for the Cougars, but not an uncommon one across college basketball.
Sure, the Cougars won some — who can forget the seven-game win streak around New Year's that included victories over then-No. 21 Creighton and in-state rival Utah? But those victories were short-lived, including a 7-9 record that marked the first sub-.500 finish in conference play since 2005.
Long-time followers of the program will remember that season, when a 9-21 record led to the dismissal of Steve Cleveland. Top assistant Dave Rose took control of the program, and two years later, BYU began a run of six-straight NCAA Tournament bids and eight of the next nine years.
Can these Cougars go through a similar transformation, now that the young core has gone through what Pope likes to call "the price of winning"? The fight was often there from Dallin Hall, Jaxson Robinson, Fousseyni Traore and Spencer Johnson, among others.
And for that, Pope gushed as he reminisced on the season. Win or lose — and often times, especially in losses — these Cougars came back to practice, to the film room, and to the drawing board, eager to soak up more and try to get better.
"If you have that in your organization and you have guys who are convicted by it, it's everything you need for growth. It's going to be 100 times more important next year as we move into this Big 12 league," Pope said. "That's going to be the key for us to get to the top of this mountain, is just to be resilient."
"They know what it means, they know what it feels like. And we didn't know what it felt like before."
But as for this year … well, sometimes the price of winning is steep.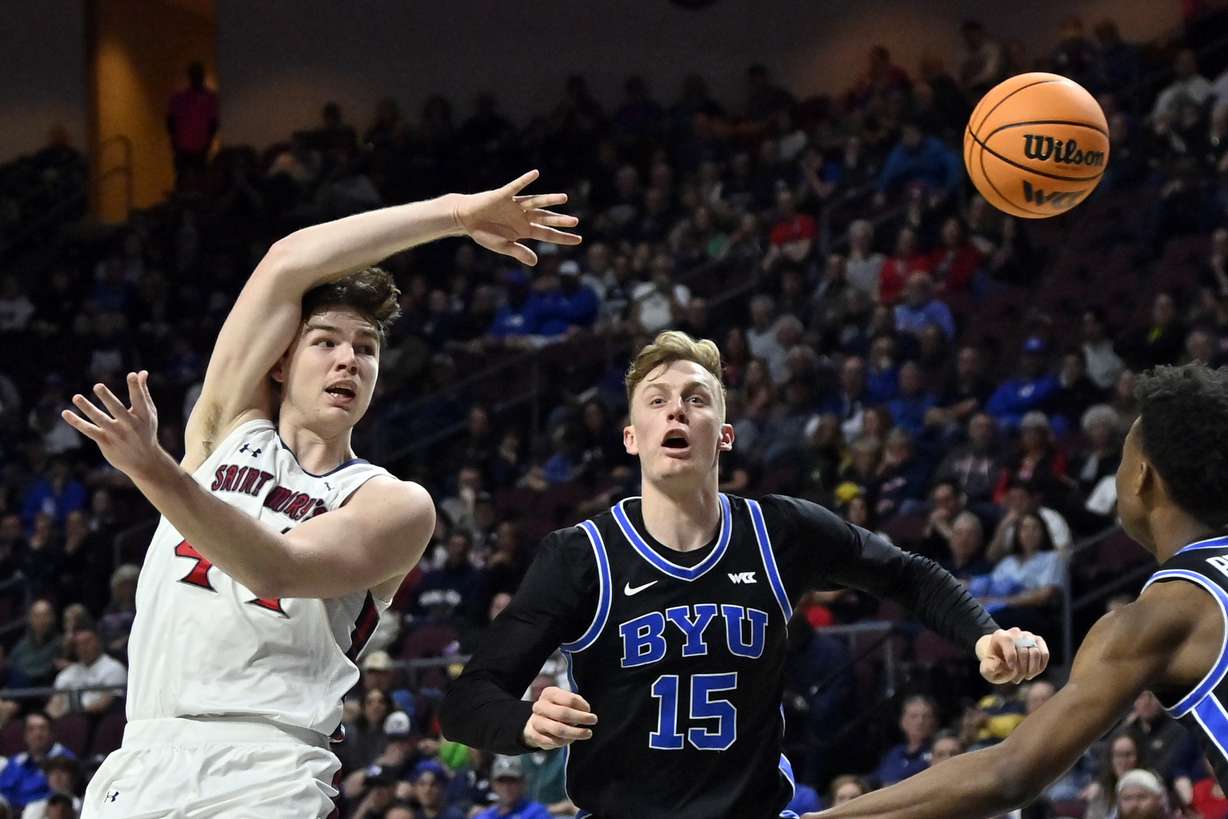 "The Saint Mary's game was really tough for us. There's a lot of emotion," Pope said of the season finale. "But as we've stepped away and gone through the process, I'm so encouraged. I think our guys have a million miles to go, and things are about to get so much harder. But I don't think I could ask more in learning from this young group.
"They just internalized so much, and experienced so much for the first time — and they kept coming back for more. They felt all the pain, they felt exhilaration, and I think they believe that they understand the urgency of every possession of the game in order to try to win."
BYU will have room to add via the transfer portal this offseason, with only former Timpview High standout Jake Wahlin set to return from a two-year mission for The Church of Jesus Christ of Latter-day Saints.
So far, only walk-on forward Hao Dong has entered the transfer portal from this year' squad, but the coach admits that can change at a moment's notice. For that reason, the coaching staff plans to be "aggressive" in the current transfer window that opened Monday and runs through May 1.
Pope also has other personnel staffing to round out. He's always been in favor of his assistants moving on to bigger jobs, especially hed coaching jobs — and Kahil Fennell's name was recently linked with the McNeese State opening that went to embattled former LSU coach Will Wade.
But in addition to those calls, the NCAA recently announced a decision to allow coaching staffs to expand by two more assistant coaches. The new coaches won't be allowed to recruit off-campus, but they can work with individual players and perform on-campus recruiting duties.
"It doesn't necessarily require hiring two people; you can designate current staff members who can be full-time on the court and recruit in-house," Pope explained. "It's the right move by the NCAA. It gives us a chance to get more man-hours with our guys individually on the court. We are in the process of trying to address that. But it doesn't necessarily mean you have to go out and hire two new bodies."
×
Most recent BYU Basketball stories