Estimated read time: 6-7 minutes
LAS VEGAS — As No. 16 Saint Mary's and No. 9 Gonzaga, again, recreate a powerhouse desert duel in the West Coast Conference Tournament championship late Tuesday night, deja vu will undoubtedly set in among the sold-out crowd at Orleans Arena.
Rightfully so.
There's no denying that the Zags have run the conference — with top-seeded Saint Mary's right on their heels — after winning a regular-season or tournament title for each of the past 10 seasons. Mark Few's program has ballooned up from a small Jesuit school in Spokane to a veritable national power, and even the rival Gaels — the No. 8 team in the NET rankings most recently — have been chasing the Bulldogs.
But as the conference faces another massive shift, with BYU departing to join the Big 12 and new commissioner Stu Jackson coming from the Big East to replace outgoing chief Gloria Nevarez, the conference faces another shift in the wind — but not at the top.
The Gaels and Zags have played in the conference tournament final all but four times since BYU joined the league ahead of the 2011-12 season, with the Cougars making the tournament final in 2014, 2015, 2018 and 2021. No, BYU hasn't won a conference championship, and the last tournament title remains 20 years ago in the Mountain West. But the Cougars have been as close to a championship as members of the WCC as any other team not named Gonzaga or Saint Mary's.
BYU's time in the league hasn't come with some success. It has undoubtedly made the top two programs better, Saint Mary's coach Randy Bennett said after his team's 76-69 semifinal win over the fifth-seeded Cougars.
"A third program in this conference that can get an at-large bid, has the resources to be a top-25 team (and has been a number of times), has tradition," Bennett said. "They have a tradition of being good, across the board, in every sport. I think in terms of men's basketball, but they're good in football, they're good in women's basketball, they're good in volleyball, they're good in everything.
"It's a well-resourced program that has great tradition, and they take a lot of pride in their sports. We'll miss that; our league will miss that, no question. The rivalry has been good. Going to play there and Gonzaga are two of the toughest players in the country to play, and certainly in the west. We lose some significant things by losing them. All of these guys enjoy playing BYU, and they know it will be tough competition. They like that, and they rise to that occasion. … We were able to this year, and we'll miss not having them."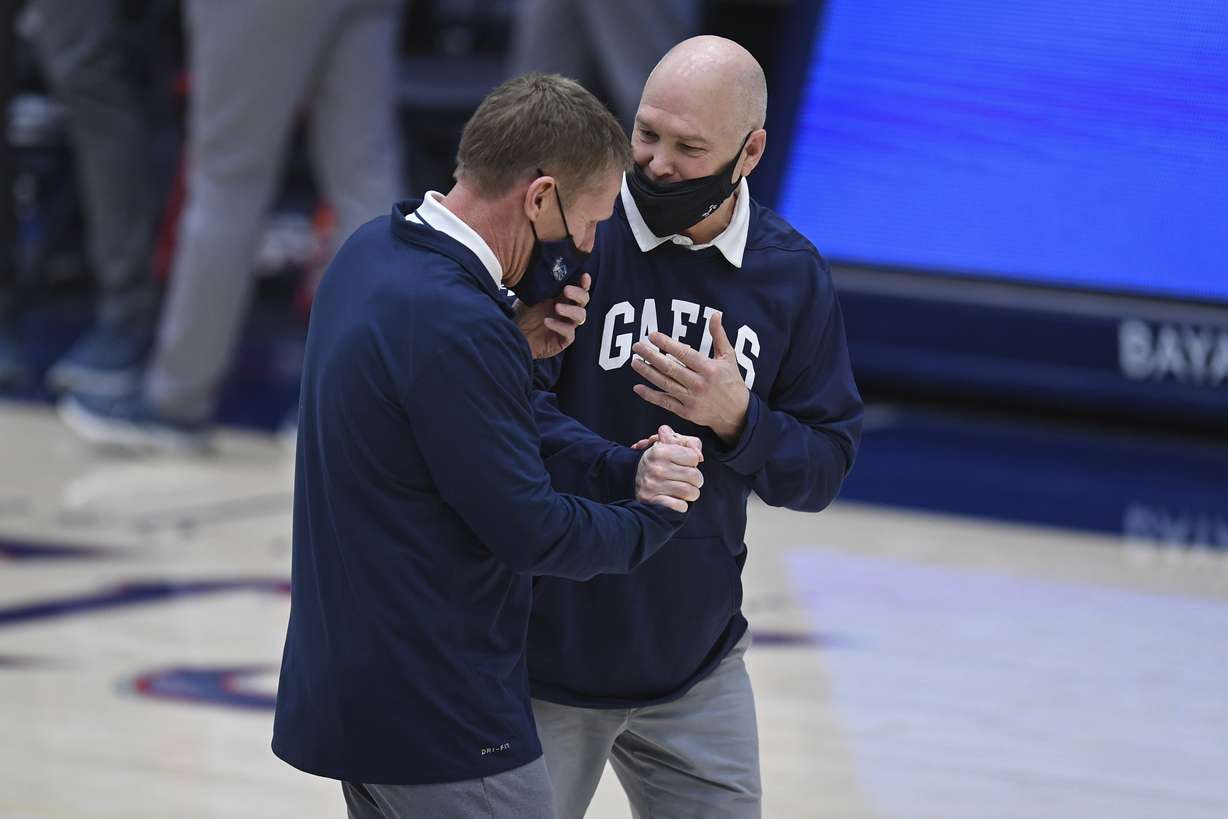 Just like that, BYU's time in the WCC has come to an end.
But the Cougars have also impacted the rest of the team's in the conference, a group that was often referred to as a "soft middle" when BYU first joined the league in most sports following the football program's declaration of independence in 2011.
That group — from Santa Clara to Loyola Marymount to Pacific and beyond — has been as deep as its ever been, with six of the league's 10 teams that finished between No. 7 Saint Mary's and No. 106 LMU in KenPom's metrics.
As of Tuesday afternoon, BYU ranks 75th in KenPom and 84th in the NET, just outside of NIT projections with most of the country's conference tournaments yet to be decided.
But in the WCC, if the season ended today, those collective metrics would be an all-time mark. And some of that growth has rubbed off on the Cougars, BYU coach Mark Pope argued.
"I think it's a great league," Pope told BYUtv after the loss to Saint Mary's. "It's a great basketball league, and the league has grown incredibly over these 10 years; it's been incredible to watch. Going from a league that might occasionally have somebody jump into the top 25 to a league that perennially has the No. 1 team in the country, this year had stretches with 6-7 teams in the top 100. I think BYU has been really fortunate to be in this league, especially basketball.
"It's been a great place of growth for us, a super humbling experience for us, and an incredible learning ground for us. Hopefully we can take everything we've learned here and apply it as quick as possible so we can grow into our next monstrous task in the Big 12."
That's the Cougars' next challenge. For as much as the WCC has grown and improved in BYU's team in the league, the Big 12 is a gargantuan step forward. Arguably the best college basketball conference in the country, seven of the conference's current 10 members currently rank in KenPom's top 25. Oklahoma State adds another top-50 presence, while Oklahoma and Texas Tech — which rank ninth and 10th in the league — are currently Nos. 51 and 53 in KenPom.
The Cougars will join the Big 12 at the start of the league's fiscal year on July 1, but what's immediately next isn't as clear. Currently outside the NIT bubble, a lot can change in a week; and BYU's ability to draw on an engaged, nationwide fan base (to say nothing of wins over Portland and LMU in Las Vegas) could likely play a role in sliding the Cougars into the 32-team field of the second-best postseason tournament in college basketball.
That's where BYU would have to play, as well. Several years ago, the Cougars had a policy of not participating in any other postseason tourney outside of the NCAA or NIT fields. That policy has become less codified in recent years, but school officials told KSL.com that accepting a bid to the College Basketball Invitational, or another "pay-to-play" invitational with entrance fees between $10,000 and $50,000, would be "very unlikely."
Beyond an NIT berth, then, the biggest step for BYU is an offseason where the Cougars will return the nucleus of a young core to their first season in the Big 12. That includes breakout point guard Dallin Hall, rising sophomore star Fousseyni Traore, and Spencer Johnson — perhaps BYU's most consistent player in 2022-23 — for his journeyman senior season.
Arkansas transfer Jaxson Robinson has also been clutch for the Cougars in the second half of the season, as has former Wasatch Academy standout Richie Saunders. BYU will also count on the return of prized recruiting targets Braeden Moore (redshirt) and Tanner Toolson (injury) in next season's inaugural Big 12 campaign.
Officially, only seniors Rudi Williams and Gideon George are set to depart the roster (though the transfer portal has routinely played a role in reshaping rosters across the nation, and figures to do the same at BYU this summer).
"We're going to really miss Rudi and G," Pope said. "But the rest of this crew is pretty battle-tested and super hungry to get better. It still has a bunch of years left in the tank. It's going to grow into something special."
×
Most recent BYU Basketball stories