Estimated read time: 5-6 minutes
PROVO — In a game that featured 12 ties and 13 lead changes, the most dramatic was the final one.
Rudi Williams had 26 points, four rebounds and four assists, and Dallin Hall made a game-winning layup with 11 seconds remaining and a pair of ensuing free throws as BYU held on for an 83-80 win over No. 21 Creighton at Michelob ULTRA Arena in Las Vegas.
Gideon George added 11 points and six rebounds for BYU, which also got 11 points and 10 rebounds from Fousseyni Traore and 10 points, six rebounds and three assists from fellow Wasatch Academy alum Richie Saunders before giving up an 11-point lead with six turnovers in the final three minutes.
Hall finished with 7 points and five assists for BYU (6-5), which snapped a two-game losing skid by extending Creighton's similar streak to four straight. That included arguably the biggest shot of his short college career, when he corralled his own missed shot in the final 15 seconds to put back the final go-ahead bucket with 11 ticks on the clock.
Arthur Kaluma poured in a career-high 27 points, including four 3-pointers, for Creighton (7-4).
Trey Alexander had 11 points, including the go-ahead free throws in the final minute, but the shorthanded Bluejays were outrebounded 50-29 and outscored in the paint 42-24 in the absence of 7-foot-1 center Ryan Kalkbrenner, who had 14 points, nine rebounds and five blocks in an 83-71 win over the then-No. 24 Cougars a year ago.
"I don't know, just having such good teammates that no one wants to help off their man," Hall told BYU Radio of the final shot. "Coach drew it up, I missed that first one, my guy went for the rebound and I had an opportunity off my first offensive rebound of the night to tip it in.
"In those moments, it's hard to describe what I'm thinking. It's more of a feel thing."
With the win, BYU improved to 22-6 coming off a loss under head coach Mark Pope, 60-9 when leading at halftime, and 67-6 when leading with at least five minutes left in regulation.
But the Cougars didn't make it easy.
"Of course, one storyline is us coming off a couple of losses that were so excruciating," BYU coach Mark Pope said. "We got to a point where all of us were willing to look each other in the eye and acknowledge the fact that we aren't very good right now.
"When you have a group that is solid enough to have that conversation ... I don't know if there are many coaches that are blessed with a locker room and individuals that can have that conversation. With these guys, we're having the conversation. We're just hungry to get better. We believe we can grow into a much better team, and the guys are trying to do that."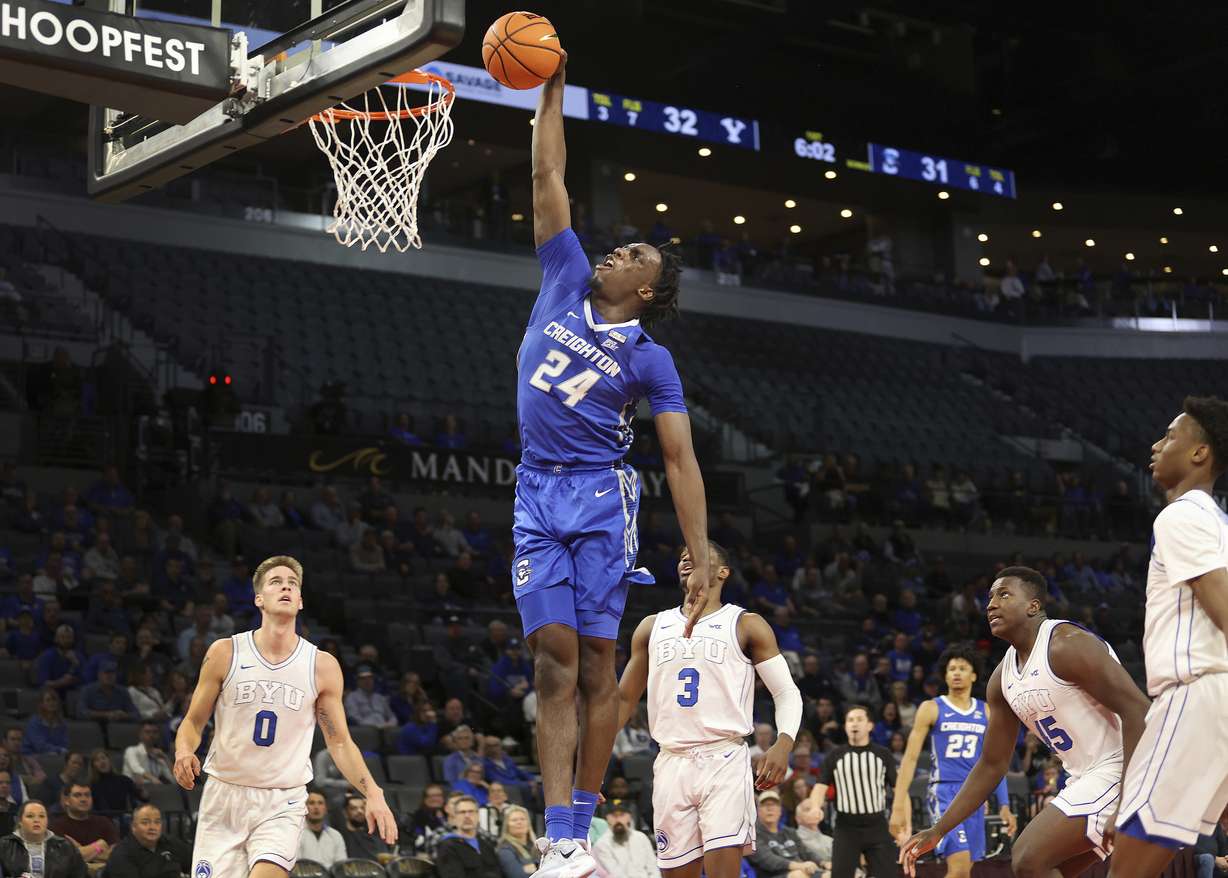 The only thing better than winning, Pope added, is watching a team that admits its faults come together and grow.
"We're getting to watch these guys grow," he said. "This has not been an easy road for Rudi, and I've seen him in some really vulnerable positions. But he's found a way to respond exactly right, character-wise; he's a special human being. The way he has responded coming off the bench and wholeheartedly supported and encourage Dallin is helping Dalllin.
"It's really special, the relationship those two are unfolding. To watch that develop is really special."
Without Kalkbrenner (non-COVID illness), BYU took advantage early with a 23-13 advantage on the glass and a 14-6 advantage in the paint.
Looking to snap a three-game losing streak of its own, Creighton led by as much as 8 in the first half behind seven 3-pointers, but the Cougars rallied behind 16 points from Williams off the bench and a 22-8 advantage in the paint to take a 49-45 halftime edge.
"All heart," Hall said of the team's rebounding effort.
The Cougars shot 49% from the field, scored 12 second-chance points, and forced six turnovers to help make up for Creighton's eight 3-pointers before the break.
But Kaluma hit back-to-back 3-pointers as part of a 10-0 run that gave Creighton back the lead 58-56 five minutes into the second half. The Ugandan international from Glendale, Arizona, hit four 3-pointers to mask plenty of deficiencies on the Creighton offense, but the 3-point shooting wasn't one of them.
The two sides exchanged the lead until a 6-0 run by BYU and an 0-for-5 scoring drought by Creighton aided by four turnovers gave the Cougars a 70-65 advantage with 7:56 left. Williams added back-to-back drives to stretch the run to 14-2 as BYU held the Bluejays without a field goal for over seven minutes.
But BYU ended the game with a three-minute long scoreless streak, and Creighton forced five turnovers to pull back within a single possession from down 11 and took the lead with a 12-0 run primarily from the free-throw line with 26 seconds remaining.
But Hall put on his Superman cape for the second time in his brief freshman season, rescuing the Cougars' hopes and snapping a two-game losing skid in the process that included Wednesday's 75-60 setback to crosstown rival Utah Valley. BYU shot just 36% from the field in that game, but rebounded with a 45% shooting effort in Sin City while holding the Jays to 23-of-60 and 2-of-14 from 3-point range in the second half.
The Cougars committed 20 turnovers and shot just 7-of-24 from 3-point range and 16-of-23 from the free-throw line. But they also outscored the Creighton bench 38-8 (Williams' 26 helped there) to pull off their first win over a top-25 team since last year's trip to Portland to knock off Oregon.
"We know what we're capable of," Hall said. "We've played some really tough teams this year, and we haven't put together a full 40 minutes this year. Tonight we almost did."
BYU returns home Thursday to host non-Division I opponent Western Oregon before Saturday's home tilt with archrival Utah.
×
Most recent BYU Basketball stories