Estimated read time: 5-6 minutes
SALT LAKE CITY — About a dozen deer began to gather by a plot of tombstones at the Salt Lake City Cemetery as the cobalt sky above slowly faded to black on a mild March evening.
Some of the deer are nibbling on the graveyard grass, while others are resting nearby and even more roam around the foothills a few hundred feet away. It's a scene that has played out on a regular basis this winter as the herd seeks refuge from its snow-covered natural habitat.
It's not terribly unusual. Mule deer often find a home here at the cemetery, especially this time of the year, says Keith Van Otten, the cemetery sexton. The cemetery, which is the largest owned by a municipality in the country, offers 122 acres of sprawling open space along with an arboretum as a part of the city's urban forest.
It attracts all sorts of wildlife, which is partly why it's a beloved fixture in the city. In fact, it's one of the main reasons people ask to be buried at this cemetery.
"We love having them here," Van Otten said. "We get a lot of comments on it and a lot of people choose this location for their resting place because of the wildlife we have here."
Surviving winter
Utah wildlife biologists also love that deer have a home at the cemetery. While there are funerals there almost every day, and many people do come to pay their respects to loved ones, it has far less human disturbance than busy freeways or other high-traffic parts of town, says Sydney Lamb, central region wildlife manager at the Utah Division of Wildlife Resources.
Large human disturbances can be particularly troublesome for deer and other ungulates that typically find late winter to be the toughest time of the year. They descend from the upper foothills and mountains in search of food because the trees, grass and shrubs they rely on have been buried in snow for months.
---
Winter is certainly a time when (deer) are extra stressed, especially now toward the end of winter.
– Sydney Lamb, Utah Division of Wildlife Resources
---
The region's deer are actually faring better than they have the past few years — because rain at the end of summer and fall improved range conditions and helped improve body conditions — but this year's strong snowpack has been a bit harsh on deer herds and other wildlife.
"Winter is certainly a time when they are extra stressed, especially now, toward the end of winter," Lamb said.
People have seen so much wildlife in urban communities this winter, as a result. In addition to the cemetery, deer have been spotted all over the Avenues, Capitol Hill and East Bench neighborhoods of Salt Lake City, in search of food. That's on top of the massive elk herd nestled at the Salt Lake Country Club and Parley's Historic Nature Park, in the southeast corner of the city.
Other parts of Salt Lake City, as well as communities across the region, have also reported sightings of large animals like moose, cougars, bobcats, foxes and coyotes this winter, too.
Lamb is quick to point out that winters like this happen at least once almost every decade, so it fits into a cycle that the biologists expect. Still, it's caused some problems. Over 1,000 wildlife animals have been killed by vehicles this winter and there has also been an uptick in complaints from residents about having large wildlife destroy plants in their yards.
The perfect sanctuary
So why is it that deer escape to places like the Salt Lake City Cemetery? It primarily has to do with its shrubby food sources and the area's tranquil setting. Many residents near the urban-wildland interfaces have also found deer in their yards this winter because of the same reasons.
"It's the easiest-available forage," Lamb says. "At all times during the winter, they're trying to spend the least amount of energy as possible, so if there's more easily available, palatable forage to them in the foothills (and valleys), that's what they're going to go for."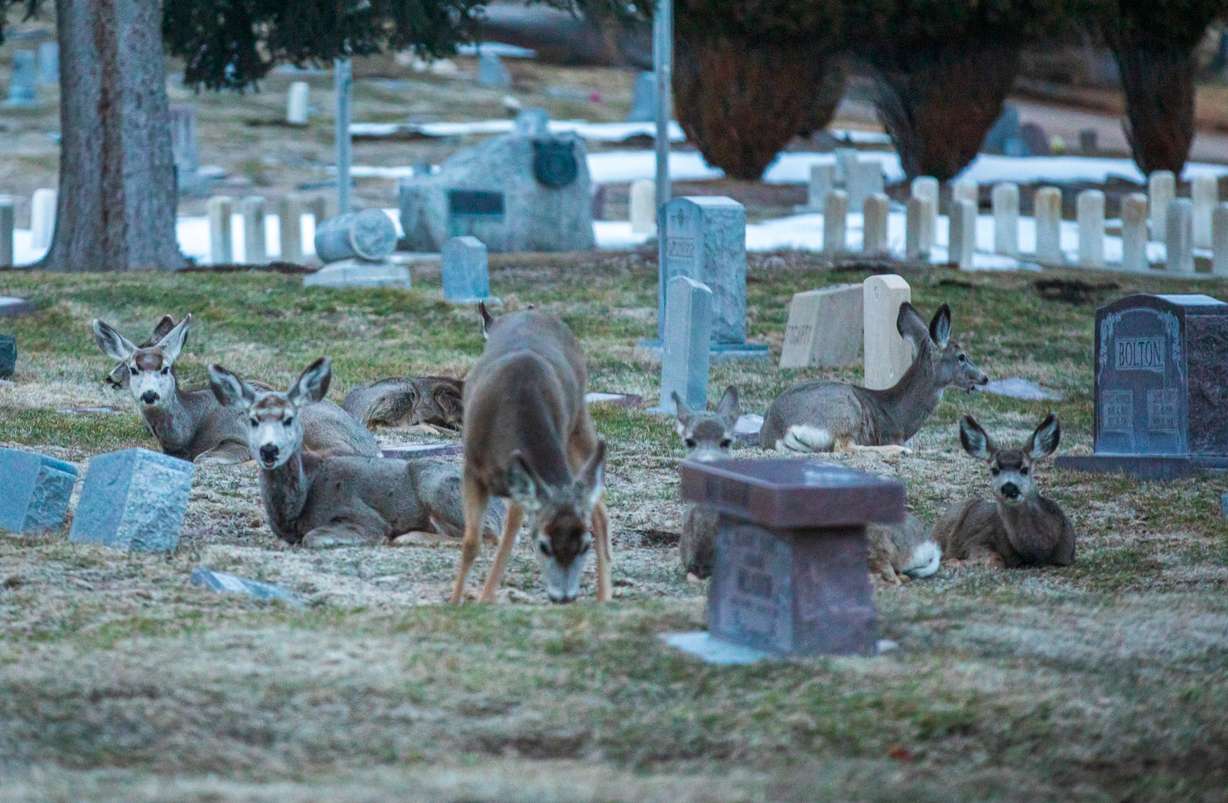 But unlike private gardens, cemetery staff members actively seek wildlife by keeping the space as natural as possible. They regularly maintain the land and plant trees so it can serve as a quaint space for the living to enjoy as they come to pay respects to lost loved ones or simply walk around.
Van Otten notes that staff members select certain trees that benefit the cherished critters who visit. So while deer aren't the primary operational focus, the cemetery has essentially turned into the perfect sanctuary this winter.
"It's just a quiet place for them and it's where they hang out," he adds.
A temporary issue
Wildlife biologists say there will likely be fluctuation in the number of deer and other wildlife in the valleys over the next few weeks and months, as the snow begins to melt in the foothills and mountains. It ultimately depends on how much snow is left to fall this season.
Most of the deer — and the I-80 elk — are expected to naturally move into their preferred native habitats once the snow does melt, where they will be able to snack on the new vegetation that grows this spring. But don't be surprised to find a deer or two still hanging around the cemetery, which is completely normal.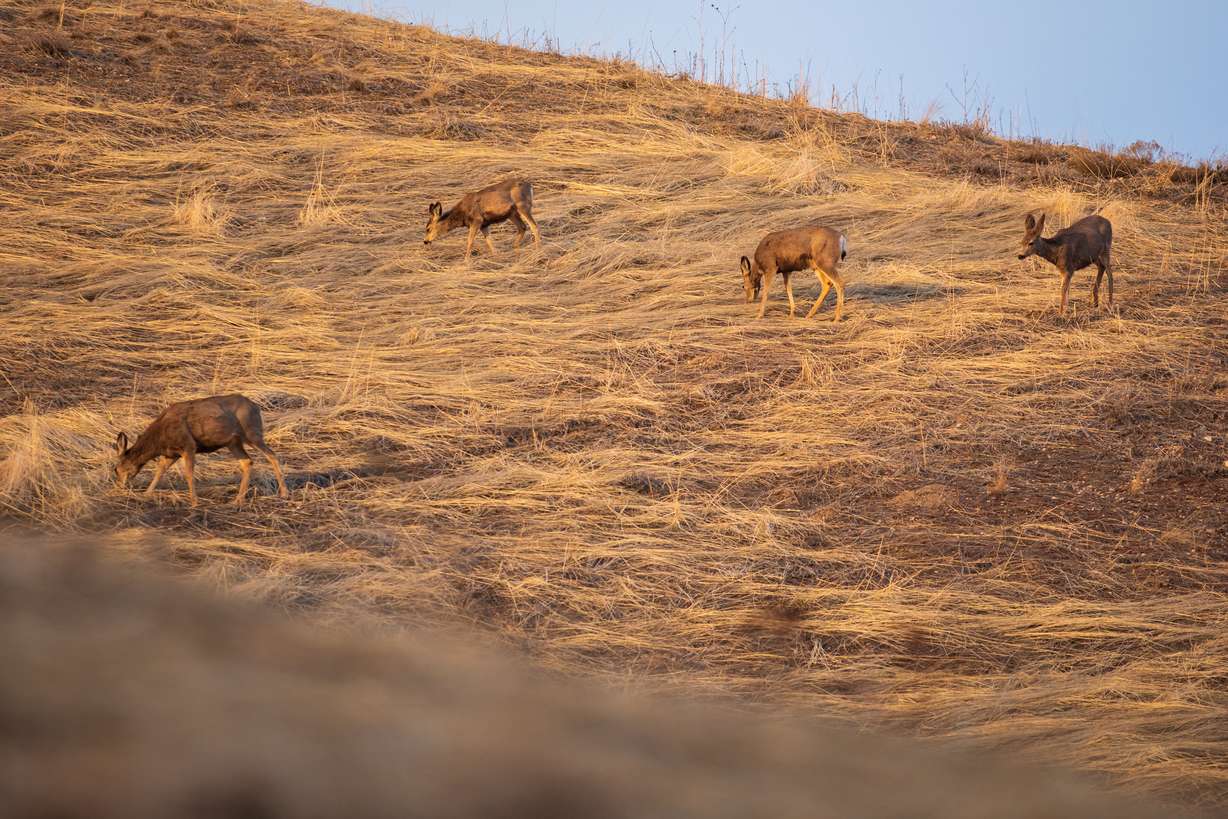 There also might be some road closures if there's a need to nudge the elk in the right direction, Lamb adds.
Wildlife experts say that people should give all wild animals enough space until that happens. While dogs aren't allowed at the cemetery, Lamb asks that people keep dogs on leashes in other public wildland areas where wildlife have temporarily settled.
"We want people to appreciate wildlife ... so, to the best you can, enjoy them, view them but try and keep your distance," she said. "Just enjoy the wildlife."
×
Photos
Related stories
Most recent Environment stories