Estimated read time: 6-7 minutes
SALT LAKE CITY — Falconry, the sport of using highly trained birds of prey to hunt wild game, was added to the United Nations Educational Scientific and Cultural Organization list of the Intangible Cultural Heritages of Humanity in 2010. The organization also then recognized archeological work at Tell Chuera, in Syria, as having uncovered perhaps the oldest depictions of falconry, which dated to approximately 3000 B.C.
In the arid Middle East, migrating falcons were initially captured, and their presence as trained hunting companions made finding food in those desert regions much easier. Crusaders and traders from Europe and Great Britain brought the sport home after exposure to it in the Middle East region, according to Britannica.
Hunting with eagles is a tradition still today, passed from parent to child, in the Altia Range of mountains bordering Mongolia and Kazakhstan. Early explorer and merchant Marco Polo documented the falconry expeditions of Genghis Khan in that region.
Russell Norvell, avian conservation program coordinator for the Utah Division of Wildlife Resources, said approximately 375 active licensed falconers call Utah home. Falconers in the United States are subject to both federal and state licensing and training requirements.
Utah's requirements virtually mirror those of the federal government, though Utah allows for a wider variety of raptors to be used than most states, said Norvell.
In addition to the licensing necessary to possess raptors, Utah falconers also obtain the same hunting licenses as those who go out with bows, shotguns and rifles. Falconers hunt everything from game birds, such as ducks and sage grouse, to upland mammals such as rabbits.
Unlike in some parts of the world, where falconry provides for families, Utah falconers are more likely to use their quarry to feed their birds between hunts.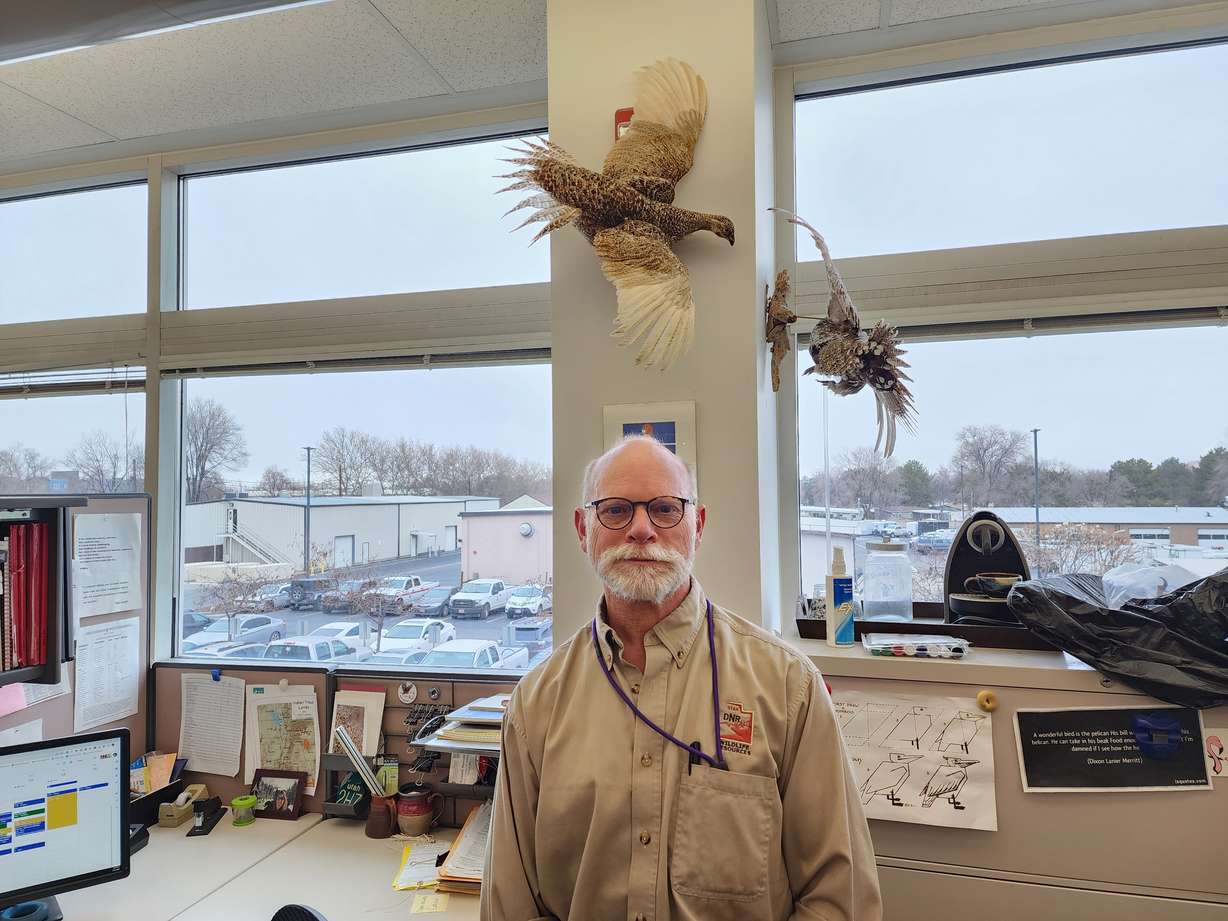 Raising raptors and mentoring future falconers
While captively bred raptors are common today, the practice of taking birds from the wild still exists in Utah and elsewhere, though those birds are considered on loan from the public rather than privately owned.
It is illegal for adult birds to be caught, so typically hatchlings and up to 1-year-old birds are sought. Mortality rates for young raptors are high, so the taking of these birds is believed to offer a win-win for both the captured bird and the remaining birds still in their parent's care, according to Norvell.
"We, the Division of Wildlife Resources, are charged with the care, oversight and management of Utah's wild resources. Given that a wild-caught bird retains its public ownership we are, in a sense, loaning it to a falconer who is qualified and has responsibility to see that it is well cared for and well fed," Norvell explained.
On a recent outing with Krista Edwards, vice president of the Utah Falconers Association, and her falconry mentor, Herald Clark, Edwards recalled one of her falcons being preyed upon by a golden eagle while hunting. Clark gifted her another peregrine falcon as, by law, the wild-caught bird could not be sold to her.
That mentoring relationship is both sound tradition and part of Utah law. An apprentice falconer must be sponsored by a general or master falconer in order to ensure their training and their bird's care is adequate.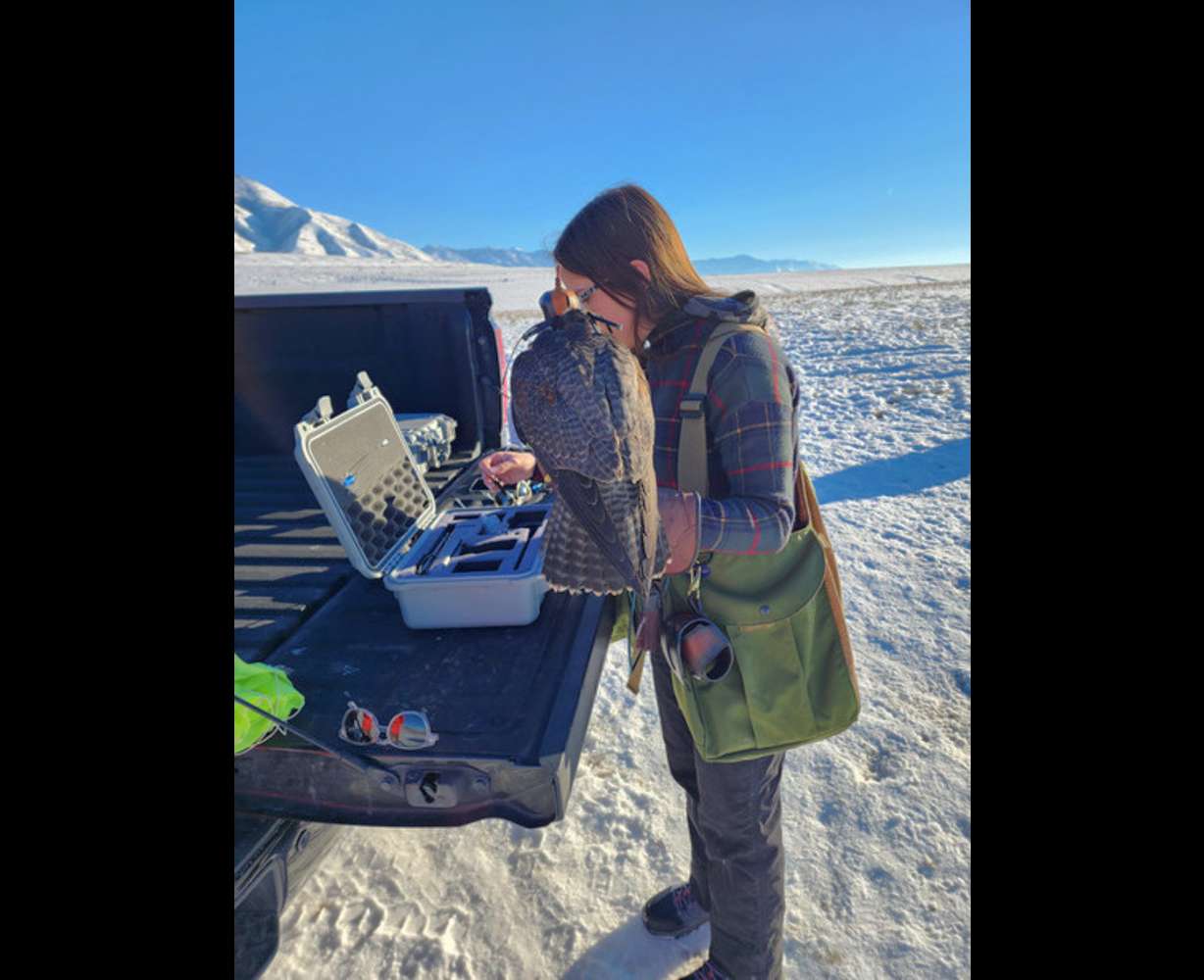 Edwards, a Utah teacher, had long been fascinated by birds, in general, and reached out to another Utah woman who posted about falconry on Facebook. Upon meeting her and her falcon, Edwards was hooked.
In addition to using raptors to hunt, Edwards is a licensed falconry educator and houses birds that can't be returned to the wild and uses them for a variety of educational purposes. Many falconers learn the craft of making their own hoods, leashes and jesses — the leather straps affixed to a bird's legs that allow for holding them while on a glove — and, according to Clark, Edwards is skilled in that craft.
For Clark, his attendance at an assembly at Olympus Middle School was his introduction to falconry.
He recalled, "A gentleman — I was in the 7th or 8th grade — brought some birds of prey and he flew a red-tailed hawk over the crowd and it went right over my head. I knew I had to do this one day."
At the age of 21, Clark was introduced to falconers in Utah and was mentored by a well-known falconer and author named Ricardo Velarde. Clark kept falcons for less than a decade originally, and a career in dentistry and raising a family became his priorities instead.
Since returning to the sport, Clark has passed his knowledge to others as a mentor.
A modern hunt
Clark flew an arctic gyrfalcon in addition to his and Edward's peregrines that day, hunting from high in the air. Their vision is up to eight times better than ours, and falcons — capable of level flight at 40-60 mph — can dive toward prey at more than 200 mph, according to Clark.
Avian flu outbreaks in Utah mean falconers are not allowing their raptors to hunt wild birds this year. The falconers brought live doves for them to hunt, and the falcons had a 50% success rate this day, with one dove left free to remain in the wild.
Hawks, on the other hand, as demonstrated by a recent outing with Craig Boren, will hunt from the air or a perched position and typically from much lower elevations than falcons. Unlike falcons, which prefer taking their prey in flight, hawks will pursue prey on the ground.
Boren is president of the Utah Falconers Association, and his two Harris's hawks can hunt alone or as a team. According to Boren, Harris's hawks are known as the wolves of the sky, hunting together in groups.
Normally a desert species, living in the American southwest and Mexico, the hawks have adapted well to Utah's climate and have heated winter accommodations at Boren's Utah home.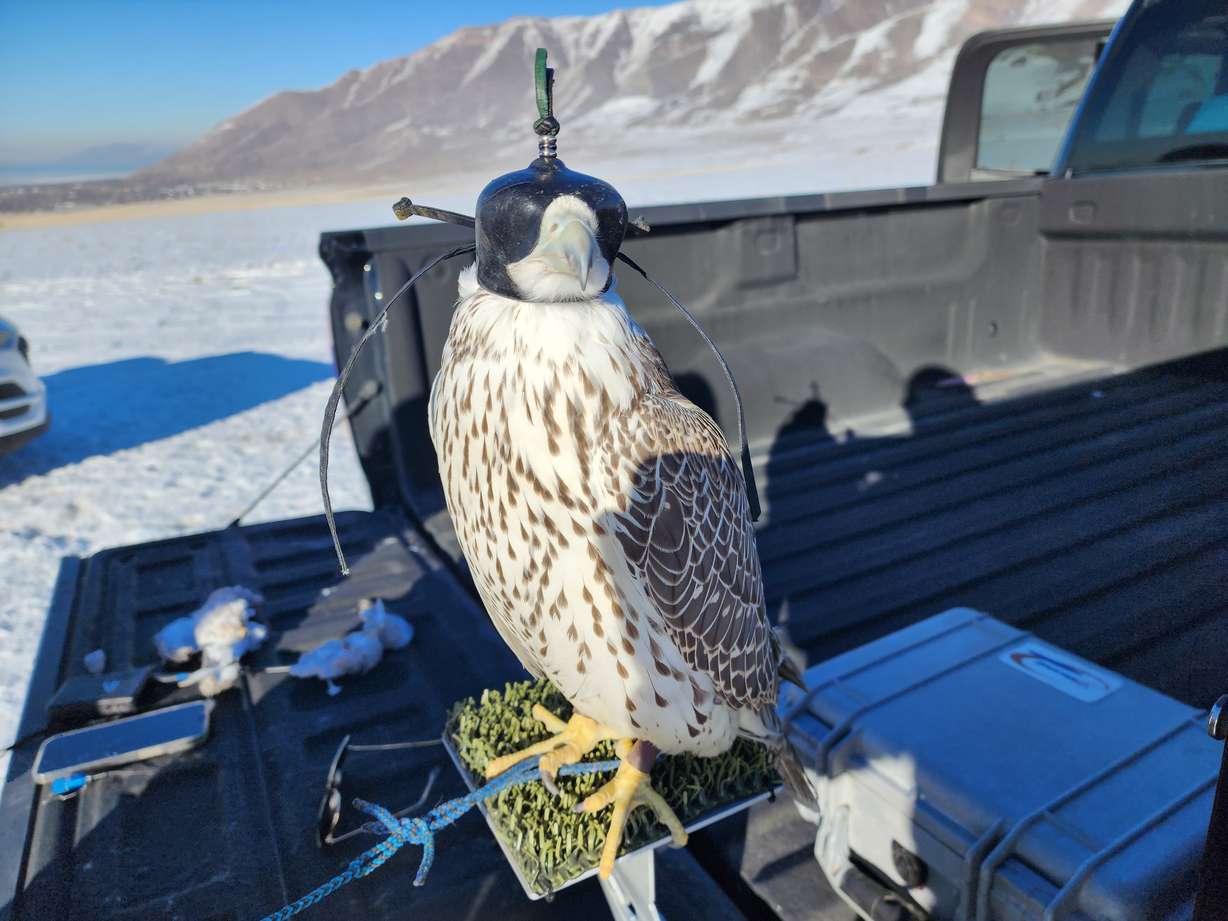 An outing with a falconer begins with attaching GPS telemetry technology that allows a falconer not only to track a bird should it fly off but also recall everything about the outing including the bird's path, altitude and speeds using a smartphone app.
Boren's Harris's hawk, Stella, relied on our group to be her hunting team. While we walked through snow-covered brush to flush rabbits, Stella rode on a light and tall perch carried by Boren that allows her a clear field of vision from above us.
"They have a huge variety in diet," Boren explained. "Hawks can break down and digest bones, fur, feathers, teeth and claws even; they can't eat just meat in order to get the complete nutrition they need."
While Stella set out after rabbits three times that day, she was unsuccessful in catching any. Boren explained that older, late-season rabbits are often skilled at eluding capture. Rabbit populations in Utah have also been declining due to drought and disease outbreaks.
Present with Boren that day were a 17-year-old falconer-to-be and his father. They'd been spending time with falconers and seeking a sponsor. Apprentices must spend two years with a mentor, and it can take eight years or more to become a master falconer in Utah, according to Norvell.
Falconry is a sport with a rich history, a shared bond between passionate falconers and their birds, and serious time commitments.
×
Photos
Most recent Outdoors stories