Estimated read time: 5-6 minutes
PROVO — Heath Hughes traded in the beaches of his native Haines City, Florida, and the desert of his alma mater Grand Canyon University for one year to play college volleyball underneath the mountains of Utah.
And it's been everything BYU men's volleyball has needed.
The Cougars are 4-0 for the first time since 2020, a year removed from a disappointing 8-17 campaign that included a 3-9 mark in Mountain Pacific Sports Federation, and Hughes' 128 assists, 17 digs and two aces in 13 sets were a key reason for wins over McKendree, Lewis and Fairleigh Dickinson.
The 6-foot-7 graduate transfer who earned his bachelor's degree and an MBA from GCU in four years arrived in Provo on a mission: to help restore one of the top programs in the country after a season of tough love.
But Hughes does have a confession.
"I'm not gonna lie: I really, really miss the beach and the ocean," said Hughes, who graduated high school with an associate's degree and spent his summer with the U.S. beach volleyball collegiate national team at the World University Championships in Brazil. "But when Devin (Young, assistant coach) gave me a call and brought me in for a visit, I thought the mountains were the coolest thing I had ever seen.
"I mean, I played against BYU for four years, and this was my favorite place to play; the fans are insane, the ROC is amazing, and having an opportunity to play in such a superior program was a no-brainer."
Hughes was no less impressive last weekend in a pair of sweeps over Division I newcomers Farleigh Dickinson than he was when he led then-No. 9 GCU to a historic 25-22, 45-43, 25-10 sweep over No. 1 BYU two years ago, a match that featured 15 kills from former BYU star Gabi Garcia Fernandez in Phoenix.
The senior grad transfer dished out 27 assists with three digs and a block in BYU's 25-20, 25-17, 25-15 sweep Friday night, then added 28 assists, six digs and a block in a 25-15, 25-19, 25-15 win a day later.
It was the same capabilities BYU coach Shawn Olmstead saw in Hughes as a competitor, and the kind that prompted him to have Young reach out as soon as the transfer hit the transfer portal upon completing his bachelor's degree and MBA in Phoenix.
Hughes had one year left to play college volleyball; he just didn't know where.
But when the Cougars brought him to campus almost immediately after he put his name in the portal, he fell in love with his new surroundings.
"We're always keeping our eyes on the transfer portal; you need to," Olmstead said. "There aren't as many transfers in men's volleyball, but we felt that we needed another setter in our group, and Heath came about. We brought him out on a visit almost immediately, and after he had had some really cool experiences playing at BYU; that was a massive benefit for us.
"It always comes back to the local support, the fans, the community. … So he knew about our program, our tradition, our support, and it was a pretty quick decision once we got him on campus."
Hughes comes from a volleyball family, one obsessed with the sport ever since he started playing on an indoor court and a beach when he was 15 years old. His sister Madison plays at Warner University, an NAIA school in Lake Wales, Florida, and the elder Hughes has played almost year-round for years, going from beach to indoor and back amid national team call-ups.
But the two vastly different surfaces are more alike than one might think.
"In beach, it's you and one other guy; the stress is on you two, and the game is in your control," Hughes said. "When I'm setting, I feel like the game is in my control. It builds you up mentally.
"There are differences in setting. But I think it's pretty easy to switch back and forth. The mental game I get in beach helps me in setting: my decision-making, my attacking mindset. It helps you play a little more cerebral volleyball."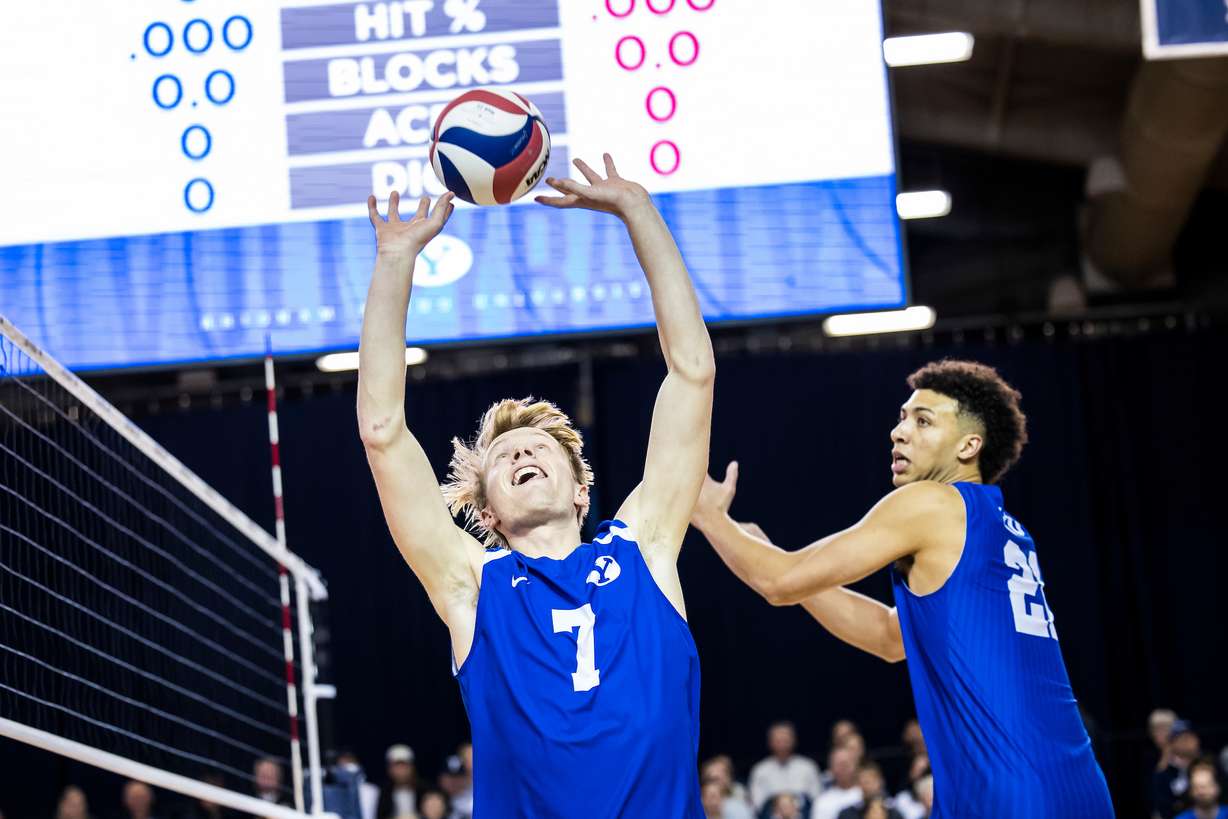 There's less control in the indoor game, with five other players on the setter's side of the court. But the setter is still the "quarterback" of the offense, and BYU returned a core of players from last year's rare sub-.500 campaign to make up for it.
The list includes outside hitters Kupono Browne, a Stanford transfer; sophomore hitter Miks Ramnis; and liberos Mitchel Worthington and Jon Stanley, to name a few. And while Olmstead is quick to say the experience of losing more than he's ever had in his coaching career wasn't pleasant, it did help the team grow to pay immediate dividends during the Cougars' current fast start.
We kind of went through it together.
"There's a lot of growth there," said the BYU coach who won a national championship as a libero. "You learn a lot through those moments. In sports, you get to be a year wiser, a little bit stronger, and more unity as it relates to the team front. Those things are all part of us, and we're seeing the benefits this year. It's a nice, solid group that gets to come back."
Those experiences bonded the group together, and when mixed with the experience and veteran savvy of a setter like Hughes, provided BYU with a base to get back where it feels the team belongs: competing for conference titles and NCAA Tournament bids.
Hughes is here for that, too. But first, he has plans with one of the local all-you-can-sushi joints in Provo.
"They don't have that in Phoenix, and I go probably 2-3 times per week," he said with a laugh. "I'm a fool for sushi, and $20 for all-you-can-eat is a no-brainer."
Much like Hughes coming to BYU.
×
Photos
Most recent BYU Sports stories