Estimated read time: 4-5 minutes
PROVO — The team that most had forgotten is suddenly streaking as BYU women's basketball climbs the West Coast Conference standings.
Lauren Gustin tied her career high with 27 points and 19 rebounds, and Nani Falatea added 23 points and six assists as the Cougars knocked off visiting San Francisco 78-59 Thursday afternoon in front of 8,758 fans, a Marriott Center-record for women's basketball aided by the piercing sound of several thousand local elementary school children.
Arielle Mackey-Williams added 13 points and six assists on 5-of-8 shooting, and Emma Calvert chipped in 6 points and seven rebounds — one rebound shy of her career high — for a BYU squad that outrebounded the Dons 46-24 and limited USF to six offensive boards.
But the identity of first-year head coach Amber Whiting's teams has been defense in her previous stops, and that continues to be the case for BYU (11-8, 6-2 WCC). The Cougars held San Francisco to 35.8% shooting, including 3-of-10 from standout Ioanna Krimili.
The junior from Heraklion, Greece, led the conference in scoring at 18.2 points per game, a top-45 mark nationally. But Krimili ended the game with just 11 points, her fourth-lowest scoring output of the season while being defended by Kaylee Smiler and a number of defensive switches, and Kennedy Dickie led the Dons (13-7, 3-5 WCC) with 12 points that included two of the visitors' five made 3-pointers (on 19 attempts).
"We actually focus on defense a lot in practice," said Calvert, the sophomore who prepped at Fremont High. "I think when we're together on defense, it helps us on offense. When we play one-on-one defense, it doesn't work out; you have to play together. You've got to help out.
"I think that creates cohesiveness on offense, and gets us going."
Defense has been stressed by Whiting and her staff of assistants, from Lee Cummard to Morgan Bailey to Aaron Kallhoff; it's what they hang their hats on. When the Cougars aren't getting double-doubles from Gustin — who had her 18th in 19 games, a national best (at least until LSU's Angel Reese goes for No. 19 later Thursday evening against Arkansas) — or spot-up shooting from Falatea, they can rely on the type of defense that has held teams to 38% shooting, 34% from 3-point range and under 60 points.
BYU hasn't allowed more than the 59 points scored Thursday by the Dons, but added to it a season high of 78 on the other end.
But there's always something to improve, something else to work out in practice, against a scout team that includes Oregon transfer Jennah Isai and JUCO talent Ashala Moseberry. The Cougars committed 17 turnovers against San Francisco, including 11 steals by the Dons — something Whiting definitely noticed.
"That's something we stress in practice: take care of the ball," Whiting said. "I've talked to them about this, that when we get sped up, that's when we turn the ball over. And they just aren't reading the defense. ... I think they're getting better and better at reading what is being thrown at them.
"We've got to take care of that from the beginning," the coach added, "because that will put you behind the eight-ball against really, really good teams."
So what does that "focus" look like in practice? It's more than just extra conditioning and ladder drills to improve a press defense.
"We definitely run a lot in practice. We've got to stay in shape, right?" Calvert said. "But it's less lines and more running a lot of drills and full-court drills, which I really liked. This team (USF) was a really good transition team, and we had scouted them a lot."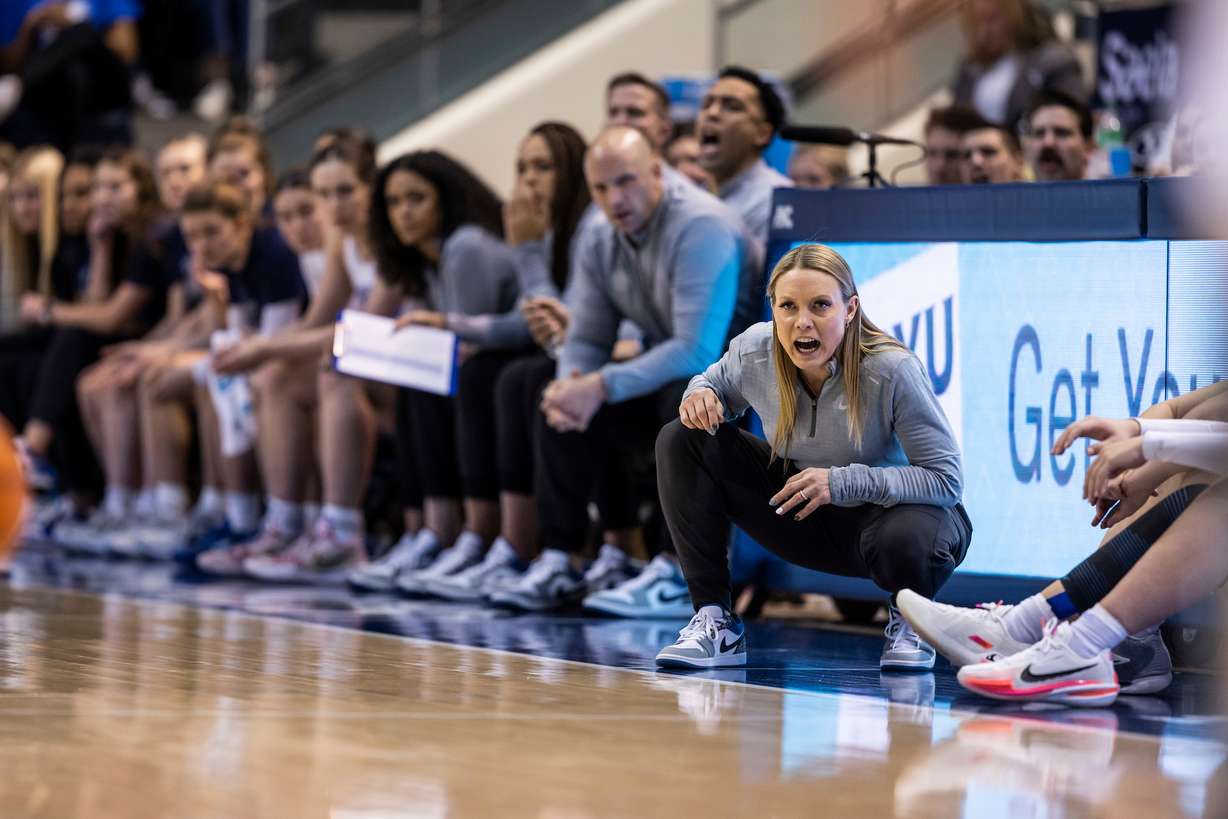 The Cougars haven't lost since dropping back-to-back games in the Pacific Northwest at Gonzaga and at Portland. Those two teams remain atop the conference standings, with the No. 16-ranked Zags moving to 18-2 overall after holding off a comeback from Pacific later Thursday.
But the seven-game winning streak has BYU squarely in third place in the conference, only one game behind the Pilots and 1.5 games ahead of Saint Mary's and San Diego.
"We've worked so hard every day, and this is taking our hard work in practice and everything we learn to be used in a game," Calvert said. "It gives us more energy."
The Cougars know they are only as good as their next game, and that next game comes against a Santa Clara team that features the No. 3 scorer in the league in Tess Heal (16.4 points per game). Locking down that scoring option will be just as difficult as the one faced Thursday.
It's hardly been perfect. But Whiting hopes to have a team peaking by late February, not mid-January.
"These ladies have so much potential, and they're finally starting to put it out there for the rest of the world to see," Whiting said. "But we see it every day in practice. When they put it all together, it's crazy what they will be able to do, in time.
"I'm just waiting for that moment."
×
Most recent BYU Basketball stories