Estimated read time: 6-7 minutes
PROVO — There was one vote that mattered more than any other when former BYU guard Amber Whiting was applying to be the head coach at her alma mater, and it wasn't even that of athletic director Tom Holmoe, the university administration, or — with all due respect — even her husband, Trent.
It was her own children, two accomplished basketball players in their own right.
But as soon as Jace Whiting, who recently returned from a two-year mission for The Church of Jesus Christ of Latter-day Saints and has signed with Boise State, and Amari Whiting, a four-star point guard prospect by ESPN who has committed to Oregon, had signed off, Amber Whiting knew now was the time to make the jump to college basketball.
"Jace texted me back immediately and said, 'You'll be awesome.' Amari was a little more apprehensive, because she's going to be a senior," Amber Whiting recalled Friday on a Zoom call with local media. "But I feel like for her to have a new coach as a senior would be a good challenge for her, to help her grow and to push her.
"She came around, though."
That final moment came when Whiting got the job, and Amari Whiting went to her parents' bedroom to bring a BYU shirt of her mom's out of the closet for a trip to South Carolina. Of course, Amber Whiting won't be wearing that shirt on the weekend — she's traveling the AAU circuit as she wraps up her former job before jumping into BYU, and won't be recruiting for the Cougars, per NCAA rules.
Just knowing that her daughter supported the decision, though — even if it meant potentially uprooting her before her final year of high school — was all the support Amber Whiting needed.
"Couldn't be more proud of my mom," Amari Whiting tweeted from her personal account. "She's a great coach and an even better woman. Go show them what you can do, momma!"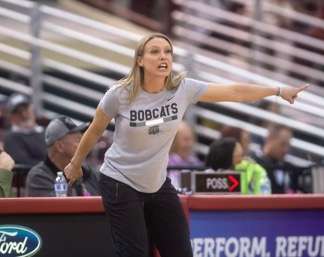 Whiting will be the seventh women's basketball coach at BYU in the NCAA era, and the first female coach to lead the program since Soni Adams in 1997.
But gender didn't play a role in the hire, Holmoe said, in finding a new face of the program following a remarkably successful 21 seasons under now-retired coach Jeff Judkins.
"When candidates came in, there were a number of good women candidates," Holmoe said. "I was very excited as we continued to talk with Amber that my interest in her as the coach continued to rise. We hired the best coach, and she just happened to be a woman."
BYU will be Whiting's first Division I collegiate head coaching job, but the 2001 alumna has built up a small empire at the high school and grassroots ranks. She went 70-37 at Burley High School — a small school of around 1,000 students — and capped her four-year run in the southwest corner of Idaho with the 4A state championship in 2022.
She's also developed a handful of Division I prospects in working on the adidas spring/summer circuit, particularly with the Natalie Williams Basketball Academy and Utah Hard Knox.
Perhaps the most notable is her daughter Amari, a 5-foot-10 rising senior who averaged 26.9 points, 10.5 rebounds, 3.6 assists and 5.7 steals per game for the Bobcats. The family recently told Burley High athletic director Randy Winn that the Oregon commit would finish her high school career at Burley, according to KMVT in Twin Falls, Idaho.
Indeed, that would probably be the case in a perfect world, Amber Whiting admits. But the family also wants to be all-in on mom's first collegiate job, and splitting them up the next year may not be ideal, said the Ogden native and former Fremont High star who also played locally at Snow College and Weber State.
"We've got to do this as a family," Amber Whiting said. "She (Amari) wants to stay and finish her senior year, but the more we talk about it, it makes less sense to me.
"I want to figure out the best fit for her, whether it's in Provo or the surrounding areas. But we think we'll figure out the best fit for her."
The Whitings will juggle that move during the offseason, while Amber Whiting is also trying to recruit to her first roster in Provo, and also re-recruit the players coming back. She spoke with Judkins, for whom she played back in 2001 and who recruited Trent Whiting to Utah as an assistant, and who offered her advice on coaching at BYU and recruiting both locally and nationally.
As soon as she exited a Zoom call introducing herself to the team, the new coach asked BYU star Shaylee Gonzales to make a group chat with her and each of the players, telling each one to text, call or FaceTime her as soon as they were available to get to know her. Recruiting is important in college basketball, but none more than recruiting the current players back to the roster after a coaching change.
"These girls are my priority now," she said. "I've got the ball rolling; (filling out her assistant coaching) staff is a priority, but getting my girls to stay — recruiting them back here — is my No. 1 priority right now."
As far as what system and style to which she's recruiting them back, Whiting said she's always been a defense-first coach whose teams pride themselves on stopping scoring. She doesn't expect that to change as BYU enters the final year in the West Coast Conference before joining the Big 12 in 2023.
It's a system she started to learn and develop during her husband's 12-year career in Italy that followed an all-conference career in Provo, when she'd watch film with him and sneak game plans and coaching notes he'd bring home from some of the famed coaches in Europe.
"I want to play where teams hate playing us because of what we bring," Whiting said. "Defense creates offense, and it travels. If you're having a bad shooting night, you should be able to always rely on your defense.
"Trent's big on scoring, but if you can't stop people from scoring, it means nothing."
Ultimately, it was that plan and vision for the program that prompted the hiring.
"She had a great plan in many areas," Holmoe said. "To be a college coach in any sport these days, it's very demanding. It's not like it used to be a long time ago.
"As I looked through and watched and listened, even debated, with Amber over her qualities, she came through with a great plan. It was far and above the best overall plan of all the candidates."
×
Photos
Related stories
Most recent BYU Basketball stories