Estimated read time: 4-5 minutes
SALT LAKE CITY — Sen. Dan McCay, R-Riverton, listened quietly as over a dozen Utahns scooted to the front of a crowded room within the state Capitol complex to express their views of the proposed new Utah state flag.
It felt like deja vu. For more than a half-hour, people talked about what they liked or hated about it — a debate McCay says he has heard for months since leading the effort to update the flag. Yet when the passionate debate subsided, McCay's bill, SB31, cleared the Senate Business and Labor Committee with a 6-1 vote Wednesday, moving it to the Utah Senate for a broader vote.
"It's always good to come up and talk about where we've come in the (redesign) process," he told KSL.com following the vote. "Trying to come up with a flag for 3½ million people is not as easy as I think I originally first thought in the beginning."
A fierce debate
Wednesday's meeting was the first real test of how state legislators feel about the proposed flag redesign since members of the Utah State Flag Task Force, which was created by a bill McCay championed in 2021, voted for the design during a meeting in November. It capped a monthslong effort to narrow down the 5,703 original designs submitted earlier in the year.
The debate inside the room essentially mirrored the wide-ranging feedback since the task force's decision, with many in support and just as many against among those who spoke up. A handful of people even watched from the hallway after the seats inside the room filled up.
Michael De Groote was among those in favor of the new flag design, telling the committee that while he "loves" the current flag, it's time to move on.
"It has served our state very well for a very long time. ... Where it hasn't served well is when it's up on a flagpole," he said, adding that the new design is easier to distinguish than the current design.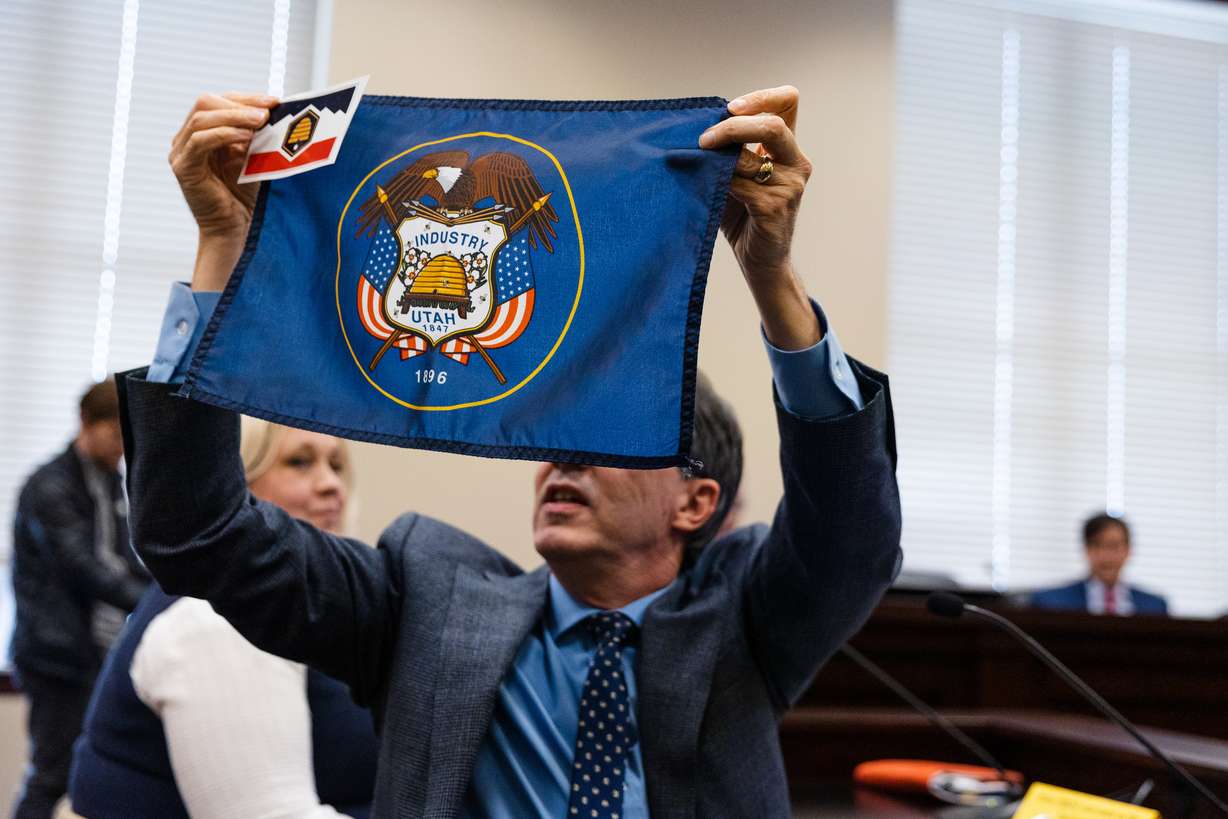 Arguably the biggest voice in favor of the new flag came before the meeting began. Sen. Mike Lee endorsed the design in an op-ed published in the Deseret News hours before the meeting began.
"Utah deserves a flag as distinctive as its people," he wrote. "The newly proposed flag offers an opportunity to tell Utah's story to the world in a way they can understand and remember."
Not everyone sees it that way, though. A group of residents who oppose the design shuffled out leaflets against the "new woke flag" to people as they wandered into the Utah Capitol Senate Building, urging residents to contact their representatives about it.
Those who spoke out against a redesign argued that not as many Utahns are supportive of the new design as lawmakers are letting on. One person even suggested keeping the current flag and adopting the proposed redesign as a state logo.
But history seemed to be the largest reason for those who oppose a new flag. Many said that they believe it erases a piece of Utah's history, especially since the official flag has remained almost untouched for over a century.
"I don't see why we need to cancel Utah," said Mike Brown, who identified himself to the committee as a sixth-generation Utahn. "In an era of cancel culture, that's exactly what is happening. ... Let's think about our history a little bit."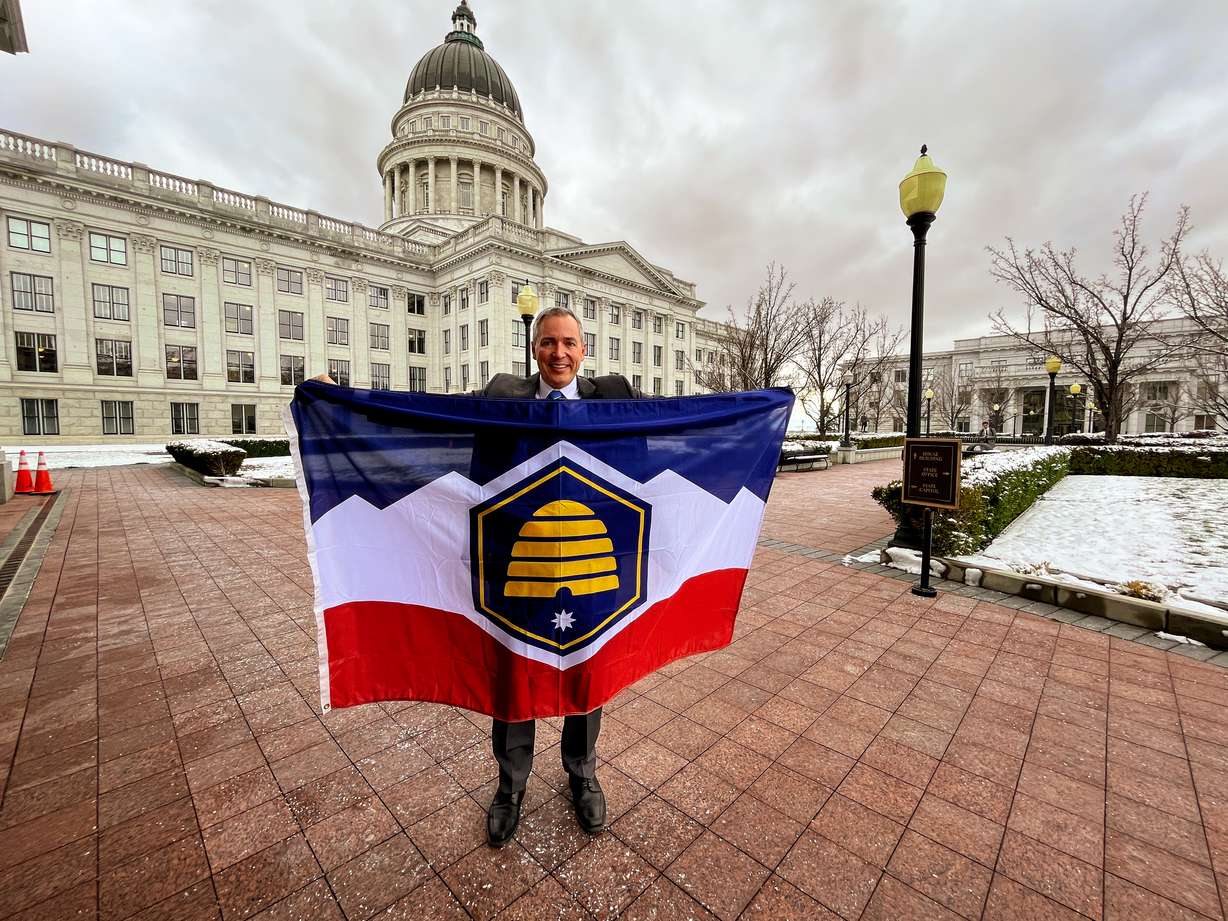 McCay's bill wouldn't just call for the adoption of the task force's design; it would also codify the current state flag as a ceremonial state flag, to be displayed "upon any occasion deemed fitting and appropriate" by the Utah governor. It may be displayed during legal holidays, commemorative periods, as well as oath ceremonies, funerals or any event attended by government officials or dignitaries.
Meanwhile, it technically won't add any additional costs to swap flags, according to a report compiled by the Utah Legislative Fiscal Analyst Office finalized last week. The report notes that local governments may deal with the costs of replacing current flags, which is about $20 per flag. However, local governments replace flags on a fairly regular basis because of wear and tear.
The next steps
McCay expects similar debates as the legislative session continues, adding there are plenty of supporters, plenty of objectors and plenty of lawmakers still unsure how they will vote yet among his colleagues. Nevertheless, he said he's confident he will have enough votes to get the bill all the way to Gov. Spencer Cox's desk by the end of the session, March 3.
There could also be additional expenditures related to the flag change. Cox called on the Utah Legislature to approve $50,000 toward marketing a new state flag, in his proposed budget released last month. McCay explained that the funds would help advertise the new flag, should it be adopted.
That, he said, could help people get more used to seeing the new state flag, which may go a long way toward ending the debate.
"Five years from now, everyone will forget me and they'll remember the flag," he said. "Hopefully, that's a sign of an effective symbol that society has accepted."
×
Photos
Related stories
Most recent Utah state flag stories