Estimated read time: 4-5 minutes
PROVO — The Waves threatened but never submerged BYU basketball's bounceback bid following Thursday night's heartbreak.
Fousseyni Traore had 19 points, nine rebounds and three blocked shots, and the Cougars connected on eight 3-point attempts to hold off Pepperdine 91-81 Saturday night in front of an announced crowd of 14,434 fans at the Marriott Center.
Dallin Hall added 13 points and seven assists, and Spencer Johnson supplied 13 points and four steals for the Cougars (14-7, 4-2 WCC), who got 12 points, four rebounds and four assists from Jaxson Robinson less than 48 hours after a last-second loss to No. 8 Gonzaga.
Richie Saunders had his most offensively prolific game against a Division I opponent in his young BYU career. The freshman from Wasatch Academy scored 13 points on 5-of-6 shooting, including a pair of key second-half 3-pointers, to help keep the Cougars in front for all but a minute of game time.
Even more important, head coach Mark Pope was quick to say, was his defense.
"I was super proud of him with his defensive assignments. He was very, very defensively sound, which is hard against this backcourt. That allowed him to stay on the floor," Pope said of Saunders, comparing the freshman to Johnson in his role as a sub who played his most minutes since Dec. 20 against Lindenwood. "His effort was great. His energy was tremendous. He was defensively assignment sound, and he played off two feet.
"It's not complicated; you do that, and you're probably going to play a lot for us."
Houston Mallette led Pepperdine (7-12, 0-5 WCC) with 19 points, and Maxwell Lewis added 18 points and two assists for a Waves team that averaged nearly 80 points per game.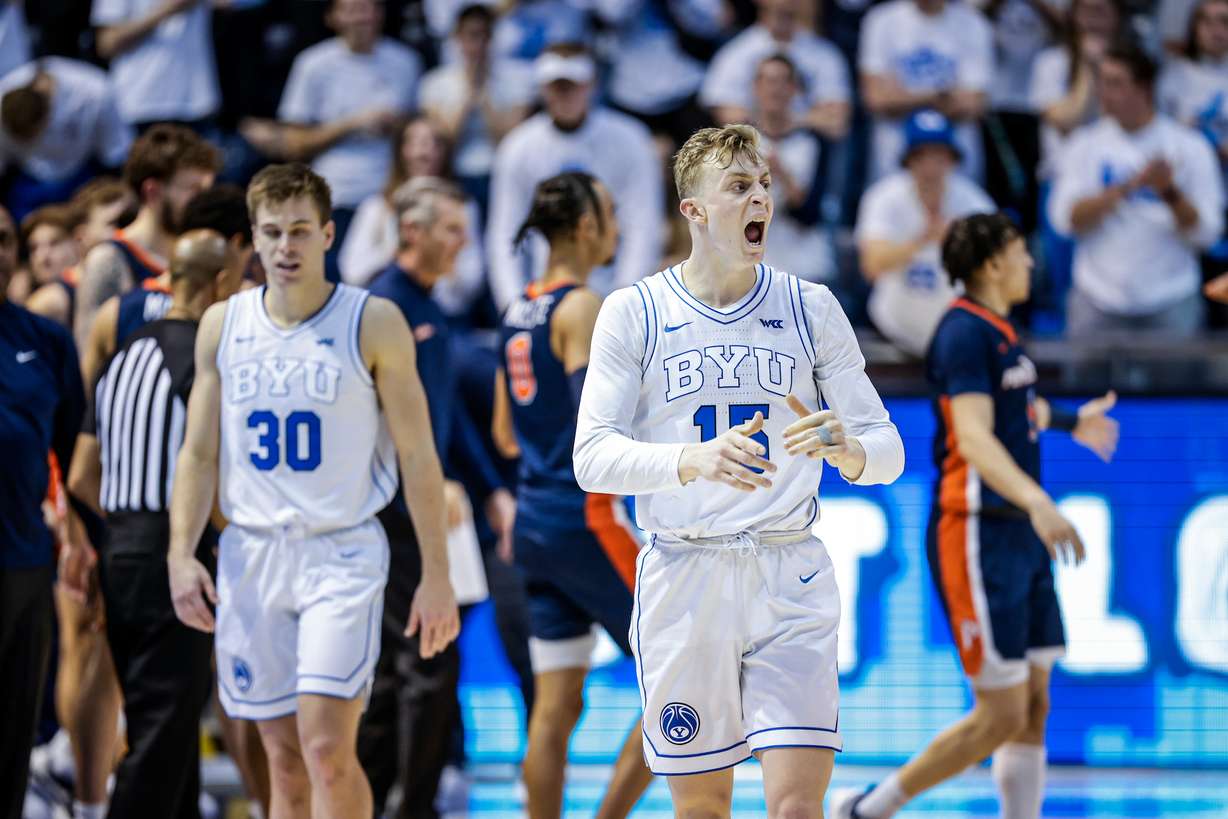 Jan Zidek added 14 points and three assists for the Waves, and Jevon Porter had 11 points and four rebounds.
But after the gut-wrenching loss to Gonzaga, one that BYU led by 10 with just five minutes remaining, walk-on Tanner Hayhurst channeled his inner-Seattle Seahawks quarterback Geno Smith for an emotional pregame speech that was as impactful as it was succinct, Johnson said.
"It was pretty simple," recalled Hayhurst, who improved to 3-0 in pregame speeches with wins over Idaho State and San Diego. "You're probably familiar with Geno Smith. … After Thursday's game (against Gonzaga), a lot of people were writing us off. But as my best friend Geno said, we ain't writin' back, though."
Between Heyhurst's pregame speech, his play on the scout team under assistant coach Cody Fueger, and Trevin Knell "running around like twinkle toes" in the lone full practice Friday afternoon to get ready for Saturday's game, Pope remarked in almost disbelief at how well the Cougars flushed the previous game and moved on to a Pepperdine squad still searching for its first win in conference play.
"It's like 20 hours of work, and you've got to fit it in 15 minutes with the team. You just try to make it as simple as you can for the team," Fueger said. "Coach Pope did an unbelievable job getting the guys ready and right after so much emotion. The guys really answered the bell defensively in the first half. … It was unbelievable. I'm really proud of the guys."
BYU led by as much as 10 early in the first half, but couldn't pull away more until Hall's 3-pointer with 1:58 remaining stretched the lead to 39-26.
The Cougars rebounded to shoot 45% from the field before the break, including 3-of-12 from 3-point range, but forced nine turnovers and a pair of blocked shots to take a 41-28 advantage into halftime.
Traore had 12 points, five rebounds and a block at the break for a BYU side that outrebounded the Waves 24-13.
But Pepperdine, which averaged nearly 80 points per game to rank among the conference's best offensively despite its 0-4 league record, didn't make it easy.
The Waves scored on seven-straight field goals, cutting as close as 55-53 on Mallette's 3-pointer midway through the second half. BYU responded with an 8-0 run of its own, with Saunders restoring the double-digit lead with back-to-back 3-pointers, 68-58, with 9:30 to go.
Back-and-forth they went. Pepperdine had an 8-0 run snapped by Johnson's corner 3 with 7:18 to go, then a jumper by Robinson with the deficit as low as five a few moments later.
The Waves, who shot 52% from the field, trailed by just three when Lewis converted at the rim with 2:53 remaining, but the Cougars finished on a 10-3 run to hold on and make sure one loss didn't become two.
"After a game like Gonzaga, it was super emotional," Johnson said. "But you just take a drink from the fountain of youth, and it was over. We were going to move on, we were going to learn from it, and just time to move on."
BYU hits the road next week, beginning Thursday at Santa Clara followed by a contest Saturday at San Francisco.
×
Photos
Most recent BYU Basketball stories