Estimated read time: 5-6 minutes
HIGHLAND — There was a moment during Lone Peak's 68-48 win over Springville in the Knights' non-region finale last Friday that made Kailey Woolston smile.
It wasn't the 21 points she scored, the 3-pointers made, the 12 rebounds, or even the defensive steals for the 5-foot-11 ace who prides herself as much on the defensive side of the ball as she does on offense.
It was a moment during the second half when Woolston drove into the paint, watched the defense collapse on her, and then kicked the ball out to a teammate wearing the No. 34 jersey.
Her teammate was wide open on the perimeter, and — as the Knights' best 3-point shooter by percentage — she did what she did best: a triple to help Lone Peak extend its lead.
Woolston smiled, just like she did after the game when asked about that moment. So did her teammate, her younger sister Kennedy.
"We've been looking forward to playing together forever — since we were little girls," the older Woolston recalled. "It's so much fun for it to finally be here.
"We've played together in the church gym or in the driveway, so it's fun to finally be on this court together."
Kailey Woolston can shoot, too. The senior exploded for 38 points in Friday night's Region 4 opener, a 74-25 win over Pleasant Grove. Woolston connected on 12-of-17 from the field, including 10-of-13 3-pointers, and a 4-of-4 effort from the free-throw line.
Woolston's 10 3-pointers are tied for the third-most in a single game in state history, according to the Utah High School Activities Association record book. Her current coach — then-Bountiful guard Nancy Seljaas — poured in the second-most 3s with 11 against Cyprus in 2002, which trailed only Wendover's Leslie Luna, who holds the state record with 12 triples against APA-West Valley on Jan. 19, 2021.
Woolston is managing a lot in her senior season at Lone Peak. She's trying to help the Knights, who rank No. 9 nationally by ESPN and No. 20 nationally by MaxPreps, repeat as 6A state champions while being a leader, both on and off the court.
She's also preparing for a post-high school career at BYU, where she has signed to play for new coach Amber Whiting, and should see plenty of playing time for the Cougars — perhaps as soon as next season.
But her most important balancing act may be that relationship with her sister, a 5-foot-10 freshman who is shooting 41% from 3-point range and already has scholarship offers from BYU and Southern Utah.
The sisters who have played basketball since kindergarten have the same goal, too: just win. The Knights (10-3, 1-0 Region 4) have done plenty of that, on a local, regional and national scale.
Lone Peak's non-region slate included big wins over local teams like Timpview, Herriman and Springville in a battle of the reigning 5A and 6A state champions.
It also included a 20-point win over a Centennial (Nevada) team that was ranked in the top 20 by MaxPreps at the time, an 8-point loss to then-No. 2 Sierra Canyon that included the nation's top recruit in Juju Watkins, and a visit to the Nike Tournament of Champions in Phoenix over the winter break that came back with wins over Clackamas (Oregon), St. John's College (Washington, D.C.) and narrow losses to La Country Day (California) and Sidwell Friends (Washington, D.C.).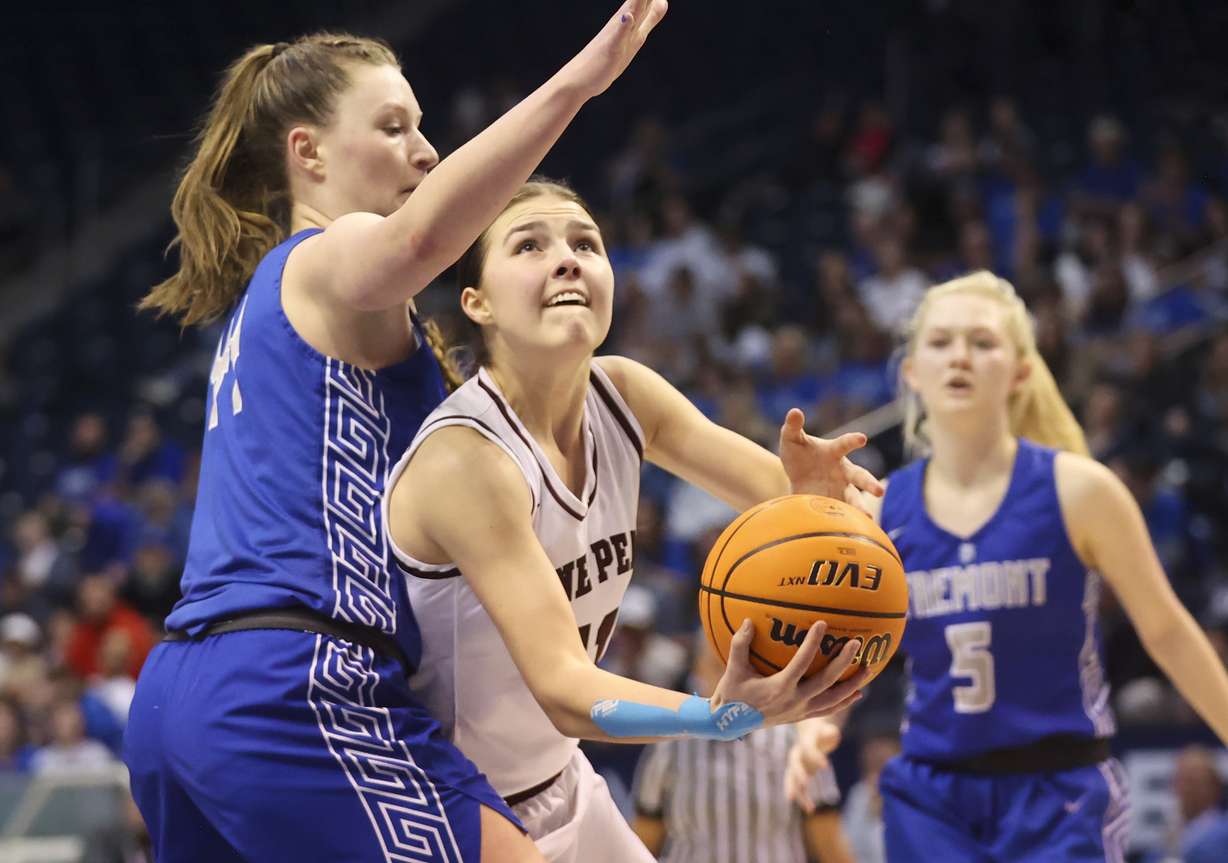 So what did Lone Peak learn during its rigorous national schedule that it can apply toward winning a Region 4 title, and — as is the goal for every team in the state — a 6A championship?
"I think we just learned what we're capable of doing against that kind of competition," said Lone Peak coach Nancy Warner, that former Bountiful and BYU wing with four state titles as a coach. "It definitely didn't surprise us; it's just a matter of making sure we stay focused on those things and stay honed in on the details.
"That's something I've rarely done in my career. But it's a testament to their talent, their focus, and their desire to get better every day. They're always wanting to be pushed."
Woolston, too, is a rare kind of player in Warner's career. Capable of scoring at all three levels with the vision of a point guard, the 5-foot-11 wing is averaging 18.7 points with 2.1 3-pointers per game to go along with 9.0 rebounds, 2.4 assists and 1.7 steals per game.
"Kailey can shoot the lights out of the ball," said four-star point guard Amari Whiting, the four-star Gatorade Idaho Player of the Year whose lone season at Timpview was cut short by an ACL injury that led to an early enrollment at BYU. "She's super skilled and crafty, and I'm so excited to play with her."
Whiting and Woolston are part of a standout recruiting class of 2024 at BYU, one that also includes the Gatorade Nevada Player of the Year and a former Gatorade Arizona POY via transfer from Oregon in Jennah Isai.
Woolston is excited to play with each of them, for a coach who focuses first on defense while letting her players roam on offense — just the way she likes the game.
"She's got so much fire and drive; we all want to be a part of it," said Woolston, who chose the Cougars over offers from Utah, Marquette and others. "You can't help but feel her fire. You want to play for her.
"She's all in. If she's doing anything, she's all-in."
But there's something special about this Lone Peak star, her coach contends.
"She's incredible. She's a coach's dream," an emotional Warner said. "I'm so proud of her; her leadership is incredible, the way that she owns moments — no moment is too big for her. She understands everything, and takes to heart what all her coaches tell her, and really rises to the occasion."
She's also a competitor, and one eager to lift Lone Peak to another 6A title before graduating.
"That's the goal," she said.
"Playing these top teams has shown us our weaknesses," Woolston added, "and exposed what we need to work on going into region."
×
Photos
Most recent High School Sports stories