Estimated read time: 5-6 minutes
LEHI — These were the kinds of games for which Kailey Woolston and Lone Peak's girls basketball team lived to play.
Woolston poured in 25 points in the first half, and the Knights, ranked No. 15 in MaxPreps' latest top 25 rankings, ran out to a 23-7 first-quarter lead and never looked back in a 66-46 win over No. 23 Centennial (Nev.) in the final game of Friday's opening day of Lehi's Holiday Hoopfest at Lehi High.
"It was our first big test, and we were all ready. It was our first opportunity to prove ourselves," said Woolston, last year's leading scorer in 6A who has signed with BYU. "I think everybody stepped up, played their role, defended. We made big shots, and it was awesome to see everyone step up."
Nearly an hour before tipoff of their game, at halftime of Lehi's boys basketball's loss to Faith Family (Texas) that followed a blowout loss by Lehi's girls team to DeSoto (Texas), the Knights (4-0) wanted to put on a show of Utah basketball.
The defending 6A champions did just that, with Woolston banging in a corner 3 to go up 15-4 before a 10-0 run to end the first quarter up 16. In the biggest game of the season to date, after holding Timpview, Layton and Herriman to an average of 26 points per game in the Knights' first three games, Lone Peak was ready even before the opening tip.
"They were very excited. I think it's fun to be able to challenge yourselves with a great opponent like Centennial, especially to come into the state of Utah and play us close to home," Lone Peak coach Nancy Warner told KSL.com. "They were ready to accept the challenge, but also focus in and get the job done on the court."
It was more of the same for Woolston in the second quarter, with back-to-back 3-pointers to highlight a 23-point first half.
Perhaps the most impressive play of the 5-foot-10 shooting guard was after a 3-pointer she missed. Woolston quickly corralled her own rebound and stuck back a fadeaway jumper that gave the Knights a 39-22 lead before Kaylee Rich beat the halftime buzzer with a trey for a 43-24 margin over arguably the top girls basketball team in Nevada.
"We're super lucky and blessed to have people come here and play us," said Woolston, who averaged 17.3 points, 9.7 rebounds and 3.3 steals in her first three games. "It's just a great opportunity to grow and play different types of teams. We love it."
It was the kind of game fitting of Holiday Hoopfest, which brought together teams from Lone Peak, Fremont, Pleasant Grove, Corner Canyon and the host school to face teams from Texas, Georgia, Nevada, Missouri and California.
Not every team escaped with a win like Lone Peak, though some teams were closer than others. Lehi's boys pulled as close as within 4 points late of Faith and Family before ultimately falling 54-49 behind 16 points from Cooper Lewis.
Lone Peak will face an even bigger test Saturday night against Sierra Canyon, the No. 2-ranked team in the country, at 8:45 p.m. MST in a top-tier clash.
The Trailblazers from Chatsworth, California, opened the tournament with a 68-36 win over Fremont behind 19 points, 12 rebounds, seven assists and four steals from ESPN's No. 1 overall recruit Juju Watkins.
The Silverwolves dropped to 1-2 on the young season a year after trying to replace immense production in the post from Timea Gardiner and Maggie Mendelson, who have matriculated to Oregon State and Nebraska, respectively.
"I want Utah basketball to grow, to be respected on a national stage, and you have to be willing to play these types of teams," Fremont coach Lisa Dalebout said. "Tonight we took it on the chin really hard in the second half; we didn't respond very well.
"Obviously, we're in a different year right now, but I felt like in the first half we did a good job of executing what we wanted to, and then got away from it. We just couldn't keep them off the boards."
For a half, the Silverwolves hung with the No. 2 team in the nation behind a steady arsenal of Sierra Eddie, who had 14 points with a pair of 3-pointers, and a full-court press from the opening tip that made the Trailblazers uncomfortable with a 31-27 halftime lead.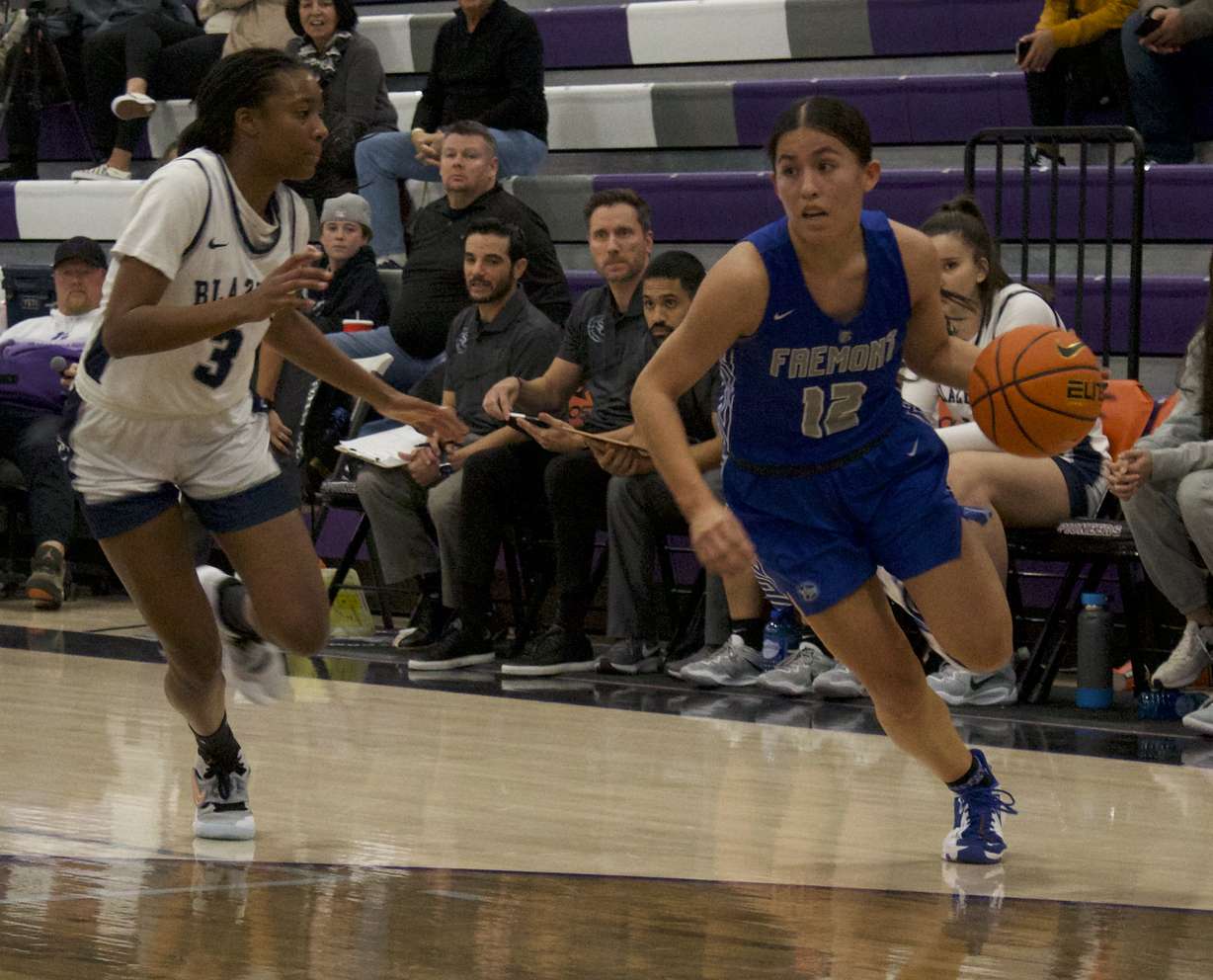 But Sierra Canyon used a 16-5 run through the third quarter to improve to 5-0.
"It's fun to play these teams, because you recognize what you need to get better at," Dalebout said. "When we have had opportunities in the past to play in these type of national tournaments, we recognize where we need to get better.
"The only way to become (one of those teams) is to play them."
You expect that from a team ranked No. 2 in the country by MaxPreps, led by Watkins, who is described as a "generational talent" with offers from Stanford, USC and reigning national champion South Carolina, among many others, who practiced last summer with Kevin Durant and James Harden, and appeared in a Nike commercial with Lebron James.
The ​​two-time USA Basketball gold medalist and MVP who averaged 24.5 points, 10.3 rebounds, 3.2 assists, 2.8 steals and 2.0 blocks a year ago, but for a half was slowed down — even if slightly — by Fremont's full-court press.
No moral victories here for Dalebout. But Friday was a positive sign against "one of the better look-away passers" in prep basketball, she said.
"I saw good stuff tonight," Dalebout said. "Any time you play that type of team, you do get better. It exposes a lot of things you have to get better at, but we will get better."
Saturday's full schedule can be found at hoopfestbasketball.com.
×
Photos
Most recent High School Sports stories