Estimated read time: 6-7 minutes
SALT LAKE CITY — It wasn't the most important meet the third-ranked Red Rocks will take part in this season, but it was a good start to what is expected to be a promising season for Utah gymnastics.
On Friday night, Utah led wire-to-wire in an electric red-and-white striped Huntsman Center atmosphere against the sixth-ranked LSU Tigers and pulled away for a dominant 197.275-196.725 win. It was the highest season-opening score for the Red Rocks since 2005.
"So important for us to start like we did tonight," Utah head coach Tom Farden said. "We know we were throwing a lot of new skills and some new athletes and things. We felt that it was a great start for the program."
The scores were lower to start the season — as they often are in a season opener — but for many of the Red Rocks gymnasts, it was like being in midseason form. And by the time Maile O'Keefe scored a meet-high 9.950 on beam in the third rotation, Utah had already done enough to pull away from LSU.
Though Utah remains a beam team — the team scored a 49.475 on Friday night and will likely remain a top team nationally on beam — there was a noticeable improvement in all events for the Red Rocks, who infused Michigan transfer Abby Brenner and freshman Makenna Smith to the roster to add much-needed depth.
Utah had five gymnasts open up on vault with a 10.0 start value, and Farden hopes to have a sixth as the season develops. Vault was one of Utah's weakest events last season, but Smith delivered in her collegiate debut and scored a team-high 9.90 in the fourth position as the team rolled to a 49.350 score on the first rotation of the night.
Smith delivered again on bars (9.850) and floor (9.875) to cap off an impressive debut for the freshman.
"Not too bad for our freshman, huh?" Farden said with a sense of pride. "She's in the gym and she's just got this nice spirit about her. She's spunky but also so even keeled, and so exactly what I saw in the gym is exactly what I saw today. ... She went out there and was aggressive in her routines, didn't hold back, and you saw some fantastic performances."
For Smith, who said she thought the Red Rocks Preview was "hype" but added that Friday "was no comparison," was just happy to be out there in a team environment and compete with her teammates for the first time.
"I think it's just amazing," Smith said. "I didn't really know what to expect coming into college gymnastics. I never had a team really back at my home gym, so like having all of these people around you to support you, it just brings such a different feel in the gym."
Coming into the meet against a highly-ranked opponent on ESPN, the coaching staff tried to emphasize to the team that they were ready and could compete at a high level. While there were still nerves for the season opener, Farden said he was impressed with his team's ability to push it all aside and find a way to look like they'd been competing for much longer.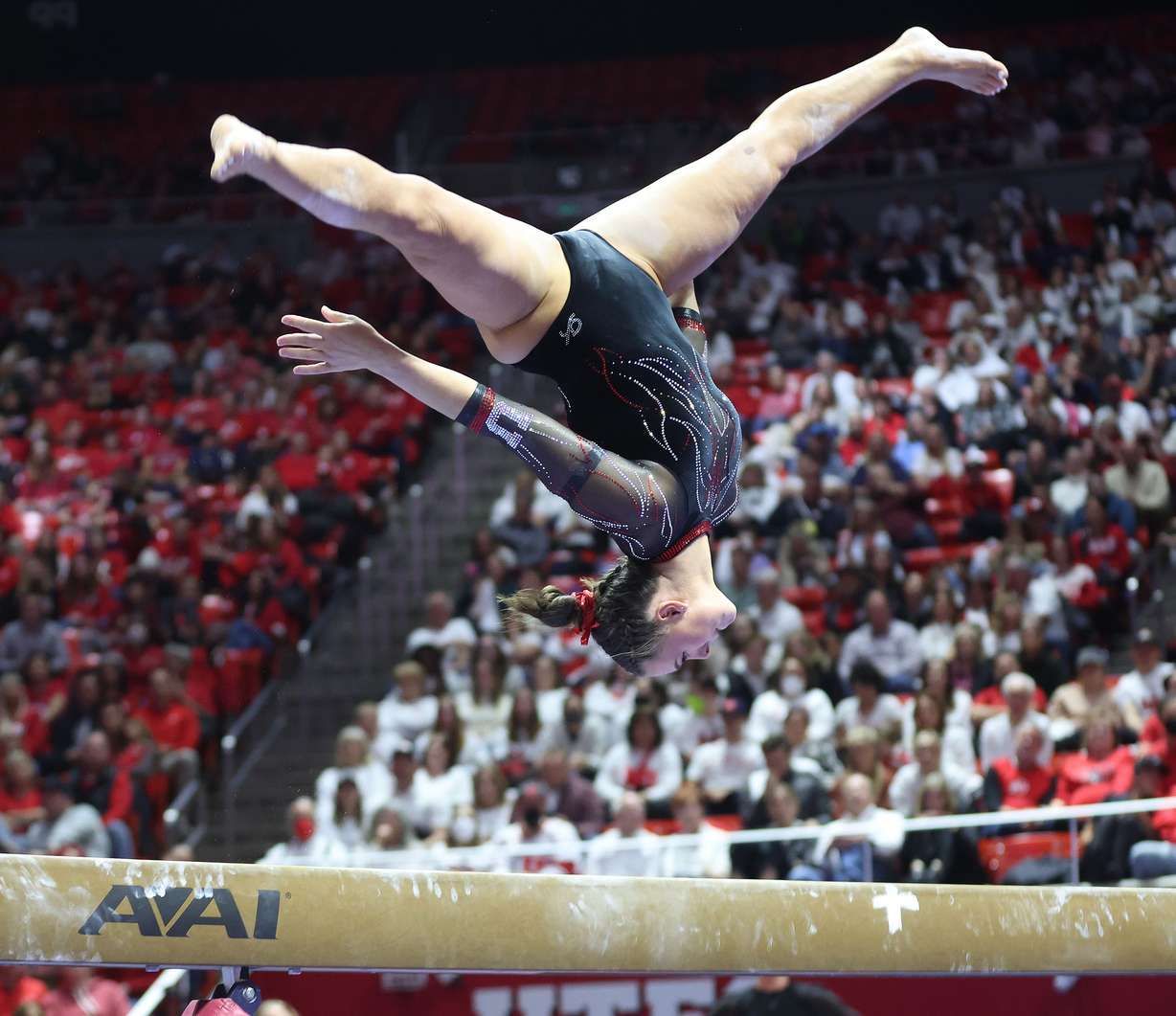 Jillian Hoffman, who returned to the floor after suffering a season-ending injury to her Achilles last season, opened up the meet with a stuck landing on vault — a 9.825 score — to set the tone, and the team built upon the score from there. Smith scored a 9.90 while the other gymnasts all finished with a score of 9.875 to round out the opening event.
Sophomore Grace McCallum stumbled in the opening event and sat down on her landing. Farden joked that she got "greedy" and tried to stick the landing through her rotation. McCallum was, obviously, disappointed in her start, but Farden said he reminded her to "brush this off and let's just go into our thing."
McCallum answered the call on bars in the anchor position and scored a team-high 9.925 as the team finished with a collective 49.225 score to take a 98.575-98.300 lead at the midway point in the meet.
"Just brushed it off," Farden said. "The next three events were incredible, so super proud of her."
"I think for her, it's just best to let her work herself out of her funk or have the coaches do that, and that's exactly what we did," O'Keefe said. "And obviously it worked, so that's just what we're gonna continue to do is help each other the way we know best."
McCallum was the only gymnast to compete in the all-around for the Red Rocks and finished with a 38.950. LSU's Haleigh Bryant and Aleah Finnegan, who finished with a meet-high 9.950 on floor, tied at the top of the all-around competition with a 39.450 score. Fellow teammate Kiya Johnson finished with a 39.350 score in third place.
Despite some needed areas of improvement, Farden said he was happy with the start to the season and hopes to see all events continue to rise as the year progresses.
"That's the one thing where we're continuing to push is the exactness in our skills, and we're going to do that," Farden said. "That's something we're pretty determined on every day in the gym, and then translate it over to the meet. There were some jitters tonight; there were some nerves out there tonight — we saw them, things that we don't see in the gym.
"But again, it's your first meet, it's LSU, it's on ESPN, we really feel like the team handled it well."
Celebrity status
Outside of the actual meet, one of the most popular collegiate athletes made an appearance at the Huntsman Center as part of LSU's team. Junior gymnast Livvy Dunne, who did not compete Friday night, was the focus for a select few in the crowd who chanted "Livvy" repeatedly throughout the meet.
The social media star, who has 9.3 million social media followers and is the most followed collegiate athlete with a reported NIL valuation somewhere over $2 million, was treated to a raucous fan base that held up signs and attempted to catch her eye all night.
At the conclusion of the meet, the LSU team bus had to be moved and the LSU team needed a police escort to ensure its safety from all the fans hoping to see her as she left the stadium.
LSU had to move its team bus so they didn't have to run into the group of boys. There were cops stationed in front to avoid them getting in. https://t.co/4mtWkUxAWa

— Josh Furlong (@JFurKSL) January 7, 2023
Red Rocks team scores
1st Rotation: Vault (49.350)
Jillian Hoffman: 9.825
Abby Brenner: 9.875
Lucy Stanhope: 9.875
Makenna Smith: 9.900
Grace McCallum: 9.300
Jaedyn Rucker: 9.875
2nd Rotation: Bars (49.225)
Makenna Smith: 9.850
Abby Brenner: 9.800
Sage Thompson: 9.800
Maile O'Keefe: 9.850
Cristal Isa: 9.775
Grace McCallum: 9.925
3rd Rotation: Beam (49.475)
Amelie Morgan: 9.825
Cristal Isa: 9.875
Grace McCallum: 9.875
Abby Paulson: 9.875
Kara Eaker: 9.900
Maile O'Keefe: 9.950
4th Rotation: Floor (49.225)
Abby Paulson: 9.800
Jaylene Gilstrap: 9.850
Maile O'Keefe: 9.850
Makenna Smith: 9.875
Grace McCallum: 9.850
Jaedyn Rucker: 9.000
×
Photos
Most recent Utah Utes stories