Estimated read time: 3-4 minutes
SALT LAKE CITY — As the beat drops to the sounds of "Lady Marmalade" every night at the Moulin Rouge (aka the Eccles Theater through Dec. 11), the silhouette of a Davis High graduate fills the stage.
It's a place Libby Fowler Lloyd always dreamed of — the lights, the energy and the eruption of crowd with applause. But somewhere along Lloyd's road, someone told her musical theater wasn't a career.
Luckily she didn't listen to the naysayers, as Lloyd has had quite the year.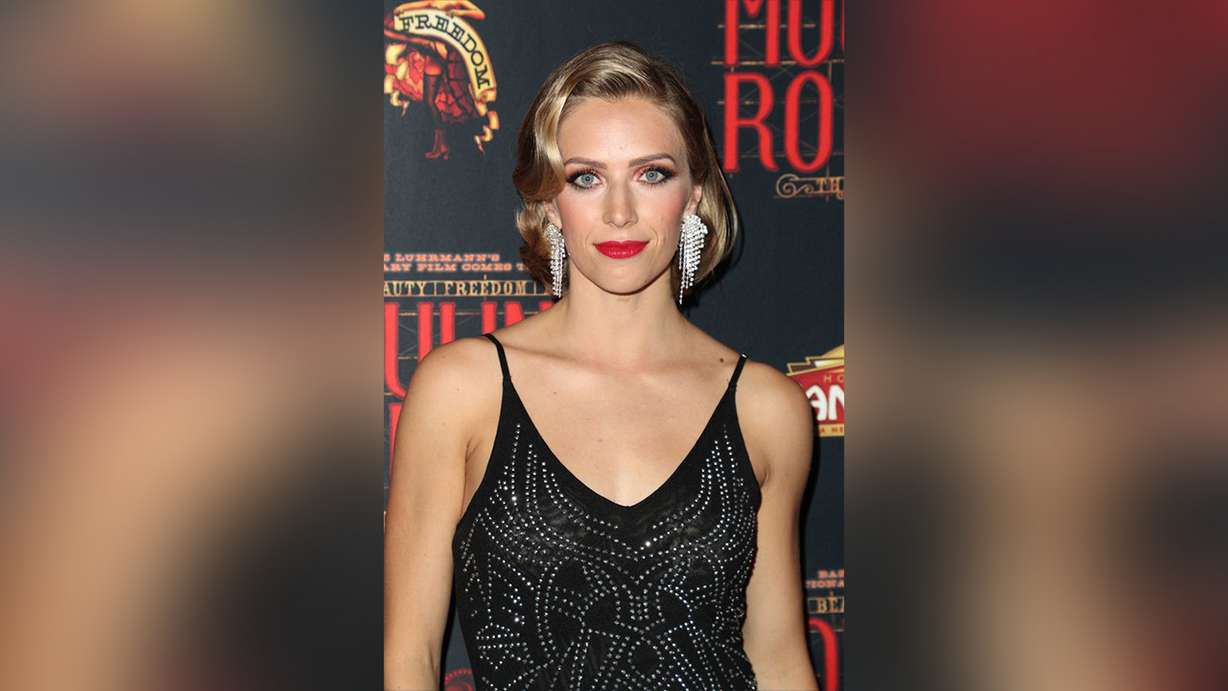 A year ago, she made her Broadway debut in "Diana: The Musical." Now, she's traveling the country as one of the stars of Moulin Rouge, where she shows off the dancing skills she learned in Utah.
And she's loving every minute of it.
"You can do any job you love," Lloyd said. "Even though it can be hard, and the competition is hard, if you work hard and believe in yourself and have people surrounding you that also believe in you, you actually can do it."
Lloyd first got a taste of musical theater when she watched her sister, Nicole Frei, perform in "Guys and Dolls" at Fairfield Junior High.
"I just thought, 'I can't wait until I'm in junior high and can do the musicals,'" Lloyd said.
When she finally got her turn, she played a pepper shaker in "Beauty and the Beast" and Marian in "The Music Man."
Lloyd said her teacher at Fairfield, Janet Loureiro, "instilled the love of theater in me."
It also helped that she came from a very musical family that was always singing.
"Music was always part of our life," Lloyd said.
Dancing was also a constant in Lloyd's life. From the age of 10 she danced at Luv2Dance Studio in Kaysville, and she was on the dance team at Davis High School. Then while studying at Brigham Young University, she was a member of the school's national championship-winning dance team, the Cougarettes.
---
If you work hard and believe in yourself and have people surrounding you that also believe in you, you actually can do it.
–Libby Lloyd
---
She said her time with the Cougarettes was "some of the best dance training ever," and it prepared her for a life of auditions in New York City.
"It really taught me how to pick up choreography quickly and precisely," Lloyd said. "I use that skill in auditions now. You have to learn right on the spot in auditions, to be seen quickly."
Lloyd earned a Bachelor of Fine Arts in the music, dance and theater program at BYU.
Several other BYU alumni have gone on to do well on Broadway, like Oyoyo Joi ("Moulin Rouge," "MJ the Musical"), Michael Milkanin ("Frozen" national tour, "Kinky Boots") and Becca Peterson ("Mean Girls," "Bandstand"). Seeing the success of her peers has made it easier to try to make it big in the Big Apple.
"It felt like heading to New York and being on Broadway didn't feel so unattainable because there were people there that were my peers," Lloyd said. "It was really reassuring."
After understudying the lead role in the short-lived "Diana: The Musical" (which closed after 33 performances and 16 previews), Lloyd quickly landed her next role as Nini in the national tour of "Moulin Rouge."
It's a very dance-heavy role, and Lloyd shines as the sharp, loyal Nini. She shines in the song, "Roxanne," too, where there are a series of lifts.
"This is a dream role," Lloyd said. "It's iconic. It's probably the best dancer principal role out there."
It was during the national tour of "Les Miserables" at Capitol Theatre that Lloyd decided to ignore the naysayers and make musical theater a career.
Now she's touring the country in one of the most iconic shows.
"Never give up," Lloyd said. "I hope other people see us on stage and imagine themselves up there one day."
×
Photos
Most recent Entertainment stories