Estimated read time: 6-7 minutes
MOAB — A harrowing rescue in Moab is caught on camera, and the team behind it is sharing the story and crediting the quick work of a bystander after a base jumper crashed into a cliff and was hanging by a thread of his parachute.
Video of the crash went viral, with recreators in the area watching the horrifying accident unfold Saturday during the annual Turkey Boogie base jumping event.
Grand County Search and Rescue explained that it became an active week for them.
"This this was the busiest one that I've experienced," said Brett Sherman, Grand County emergency medical service paramedic and search and rescue technician.
Sherman described how as he was responding to one call last week, he spotted another.
"I'm like, Oh my gosh!' That's another … that's a parachute collapsed on the side of the cliff," he recounted.
Scott Solle, Grand County Search and Rescue technician, said there were five calls that week. He responded to all of them.
He and Sherman explained that four of those calls were serious and similar in nature.
"Someone's shoot is caught on the cliff wall, we had more than one of those," Solle said. "Similar location — from one vantage point I could see the impact area of three different calls. And from what I understand, there were similar injuries."
On Saturday, they received a callout to Kane Creek Canyon across the canyon from Tombstone Rock, after a base jumper from Australia jumped off a 450-foot-tall cliff and slammed into the side.
Related:
Videos show the man bracing for the crash with at least one leg, hitting with a huge amount of force. He starts plummeting down. His parachute catches on a rock outcropping and leaves him dangling, in danger of dropping at any moment.
Rescuers estimate he came to a rest 80 to 100 feet off the ground. As Sherman and Solle responded, they began to form a plan of how to reach the man. They weren't sure about his condition or injuries. They also weren't sure if he would stay in the spot he was hanging from.
"We could see the wind coming in, and that was very concerning how well that parachute was going to hold up," Sherman said.
They said the only two options for getting to the jumper were to either rappel down 300 feet or climb up from the ground.
As they arrived and before they could get to work, they would find out bystanders had already started a rescue operation.
"At that time, there was already somebody starting to lead climb up, a bystander," Solle said.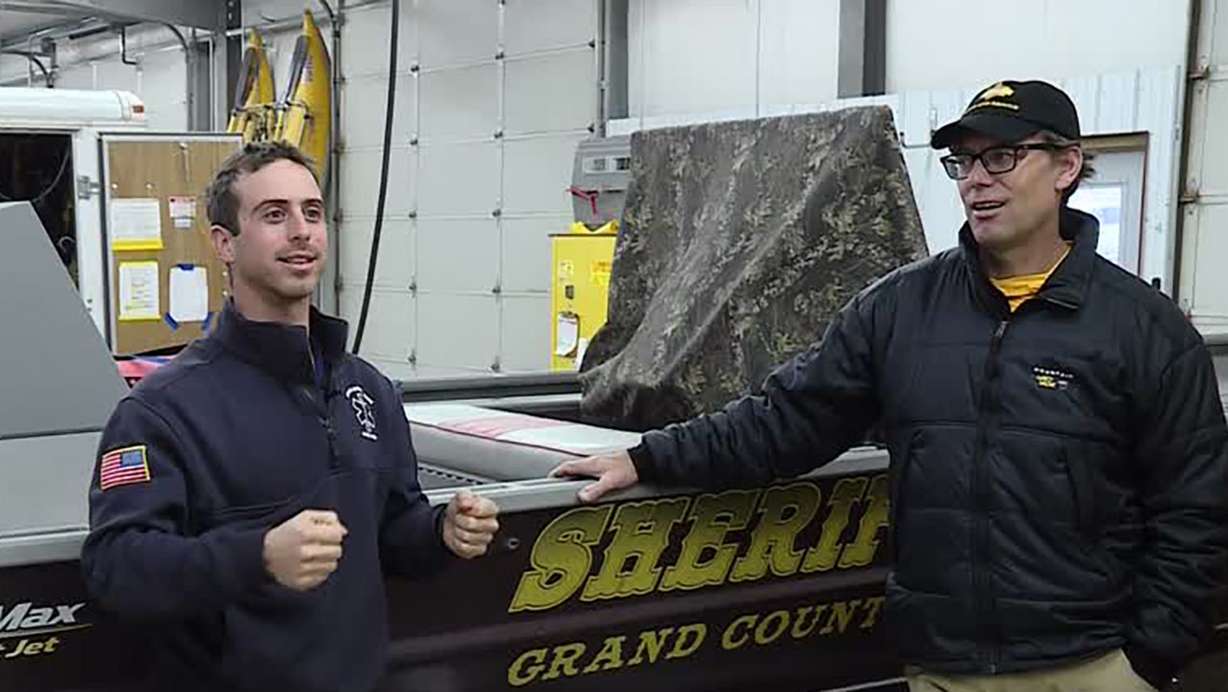 Sherman said he could see a woman climbing up toward the dangling jumper.
"It was looking promising," he said. "I wasn't going to stop her, you know, this was looking great. This was looking like it was best for the subject, by any means of getting them down safely."
That woman was River Barry, who had just parked nearby to go mountain biking with friends. She didn't see the man crash into the cliff, but her friend's husband did.
"I was looking up, and I was just in absolute terror, just terrified," Barry said. "Everyone was just like, 'This guy's going to fall any second.'"
Someone rushed over to their group.
"The guy came up and was like, 'Does anyone have rock climbing gear?'" she said.
Barry, who is also an expert climber, had all her gear in her van. She immediately pivoted into climbing mode.
Once she reached the base, Barry looked up and could see a crack shooting straight up to where the guy was hanging. Barry happens to be experienced in crack climbing.
"I was like, 'I know I can get up that,'" she said, surveying the unclimbed cliff face.
As she set up, Barry said she was in survival mode, and just trying to get the job done.
After making it up and safely reaching the base jumper, she said she got up to eye level with him and they made eye contact. She talked to him and started to work on placing protection pieces around him.
"I was able to place around three solid protection pieces, that I was like, I'm going to build an anchor here. So, I built an anchor, got him clipped in," she said.
After climbing above him and securing the man, came the moment of truth as Barry began to cut the parachute off.
"Like, OK here we go! You know? And I just clipped them," Barry recounted, lifting her hand up in a cutting motion. "And the weight transferred really flawlessly to me, and then we were able to lower to the ground."
The man lets out a painful yell as his leg touches the rock. Barry worked to try to lower him without hurting him further.
Video shows Barry and the man slowly rappelling, as bystanders tell the base jumper it's going to be okay. Sherman is seen climbing up to the base to meet them with another Search and Rescue technician. They were ready to stabilize him and get him off to medical care after the two hit the ground.
---
Once all the hugs started coming, I was just like, oh. I'm really getting the gravity of the situation and like, wow — this is actually kind of a big deal.
–River Barry
---
The man was flown to a hospital in critical condition.
Barry said she was just waiting to get her climbing gear back, when people began to come up to her.
"Once all the hugs started coming, I was just like, oh. I'm really getting the gravity of the situation and like, wow — this is actually kind of a big deal," Barry said. "It didn't really hit me, and it still doesn't really hit me, honestly."
She says she was just doing what she knew how to do, and was in the zone during the rescue.
But when she watches the videos, Barry explained that she's reminded of how delicate the situation truly was when she sees the parachute float down through the sky.
"Everything was just as perfect as the worst situation could go," she said. "It went perfect."
Sherman said without Barry, it would have been a huge challenge for them and further delayed reaching the patient.
"The bystander that climbed up is the main one that saved this person's life," he said.
Solle originally had a ropes team of six on top of the cliff and ready to repel down if need be, and said he had just completed a technical ropes rescue course for a situation like this.
But with Barry's rescue, they didn't need to.
"It worked great, and it doesn't always happen that way," he said. "So, when we have a good outcome, we're always happy."
×
Photos
Related stories
Most recent Utah stories