Estimated read time: 4-5 minutes
MOAB — Incredible video shows the terrifying moments a BASE jumper crashed into a cliff in Moab, then hung in the air high above the ground, his parachute stuck in the cliffside.
A family visiting Moab on vacation watched the intense situation play out Saturday as they drove up Kane Creek Canyon, southwest of Moab. Mitch Edwards described how he and his family could see BASE jumpers parachuting off a cliff not far into the canyon.
"It's a spectacular canyon with huge, 600, 700-foot cliffs on both sides," Edwards said.
They were headed toward some petroglyphs and hiking, but decided to stop and watch the BASE jumpers. They could tell there was somewhere around a half dozen on top of the cliff.
After seeing two successfully jump and land, Mitch and his 12-year-old son, Baron, got their phones out to record the next person.
A man jumps from the top of the cliff, hundreds of feet in the air, and the chute opens. Suddenly, for some reason — perhaps, Edwards guessed, from a gust of wind — the person sails toward the cliffside and smashes into the red rock.
"He just slammed into that thing hard and then started to fall straight down," Edwards recounted. "And he was probably 200-300 feet above the ground when he first hit the cliff."
The BASE jumper starts to plummet toward the ground.
"Oh!" Baron Edwards is heard saying in his video, as the 12-year-old sees what's happening.
"Oh my goodness!" Mitch Edwards exclaims moments later, in shock.
"My guess is that he fell close to 100 feet before hitting a ledge, and then that chute snagged on the ledge — miraculously — because on those cliffs, there's really nothing to snag on. And there happened to be a little outcropping there," Edwards explained.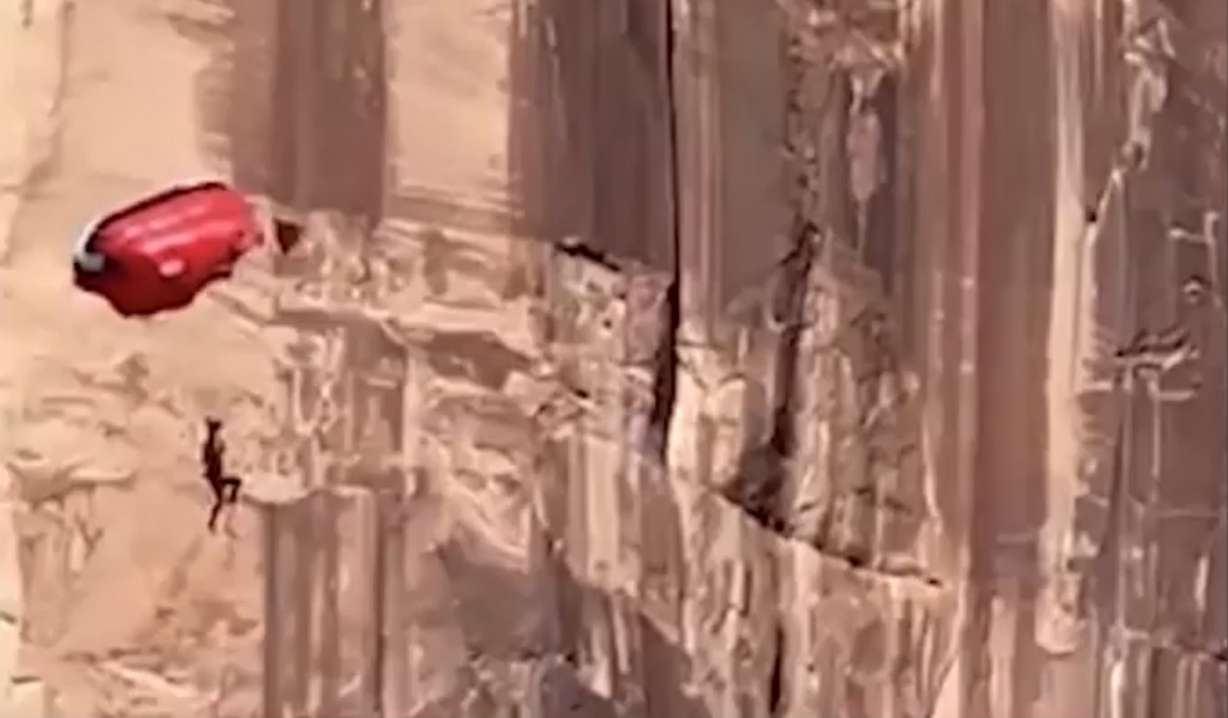 The parachute snags on the rock outcropping, and the man hangs in the air, dangling in the breeze.
The group had no idea if the BASE jumper was conscious or even still alive.
"The two successful BASE jumpers ran up to the base of the cliff, and they were standing there dumbfounded, and there were a few on top, and everyone is just looking in horror, like, how do we save this guy?!" Edwards said.
They didn't have cell service, so Edwards flagged down a driver headed out of the canyon and asked them to call 911 as soon as they got service. His group waited around for a while, but said they realized there wasn't much they could do.
Because Edwards was with three pre-teens and not sure if the parachute would continue to hold the man in place for much longer, he decided to leave and continue up the canyon. About an hour later, they headed back down, and Edwards could then see the search and rescue operation in full swing.
They again stopped and watched. He said a helicopter had arrived and was hovering, but it was clear it couldn't get close enough to the cliff to hoist the man out.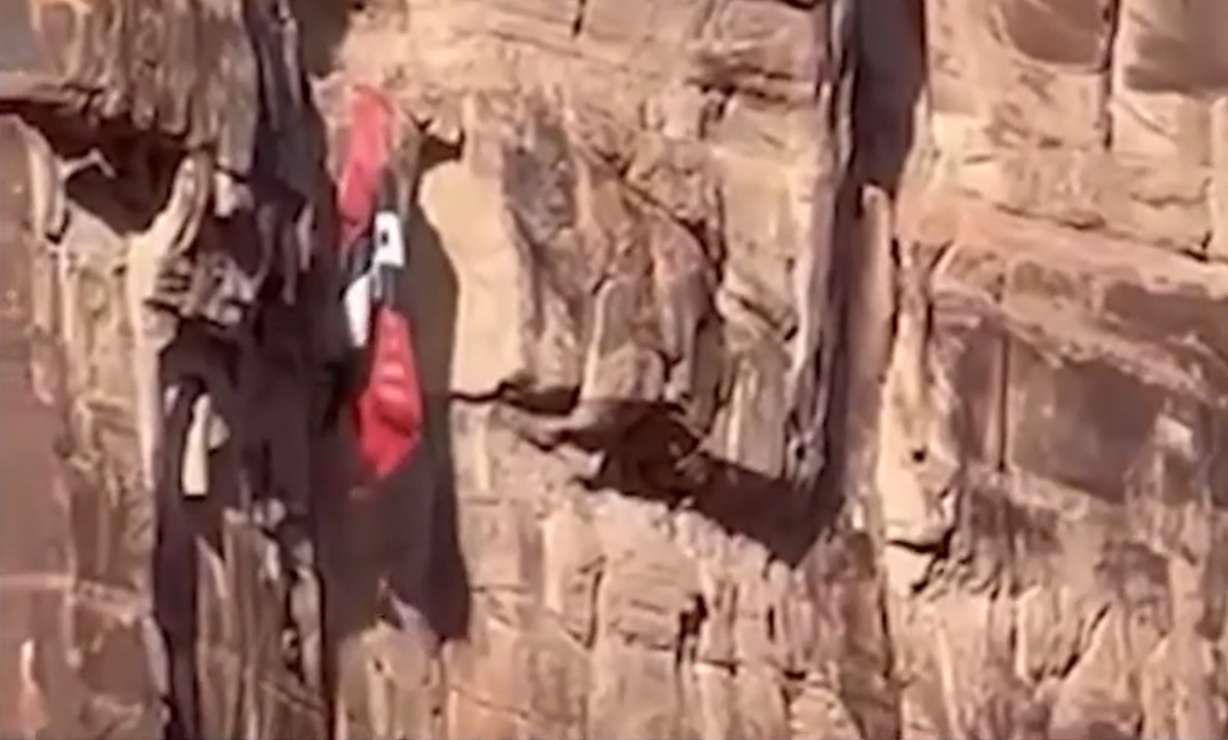 "Somebody from Search and Rescue climbed up the cliff, but that was amazing because there was no crack, no obvious route to get there, and so they had to set pins to even get up there," Edwards said. "Somebody miraculously got up there and then got the guy — we couldn't quite tell from the distance if he was conscious or not — but got him on another rope and lowered him down to the ground."
Edwards guessed it took about two hours to get the BASE jumper down. They still weren't sure about his condition.
The Grand County Sheriff's Office confirmed to KSL-TV on Tuesday that their Search and Rescue team responded and that the BASE jumper survived the accident.
They said they responded to two BASE jumping-related incidents on Friday, and the one Edwards saw on Saturday.
The sheriff's office credited their ropes team for Saturday's rescue and said the man was airlifted out of the area to a hospital in critical condition.
The BASE jumping community had gathered in Moab for the holiday weekend, for an annual event called Turkey Boogie. The gathering appeared to include a fundraising event for Grand County Search and Rescue.
Edwards was blown away at the rescue operation and how quickly they were able to get to the BASE jumper to save him.
"He would have been dangling for hours and hours and hours and may not have survived," he said. "So, unbelievable what they were able to do in a very short period of time down there."
×
Photos
Most recent Outdoors stories