Estimated read time: 5-6 minutes
UPDATE: Several school districts have delayed the start of school Friday morning due to dangerous road conditions. Get the list here.
SALT LAKE CITY — Thursday marks the beginning of meteorological winter, and Utah is forecast to celebrate it with a bang.
The National Weather Service's Salt Lake City and Grand Junction, Colorado, offices issued a series of winter storm warnings that cover a wide swath of Utah ahead of another snowstorm that is expected to arrive overnight into Friday morning, providing 2 to 5 inches of snow in valleys, 4 to 8 inches along valley benches, and 12 to 18 inches in the mountains.
The warnings take effect Thursday night, and the last of the alerts expires at 3 p.m. Friday.
The storm follows one at the start of the week that brought as much as 19 inches of snow to Powder Mountain. Much like its predecessor, the incoming storm is coming from the Pacific Northwest.
Wind and snow return
The are some strong winds ahead of the storm. The National Weather Service reports that one wind gust even measured at 95 mph at a site in Little Cottonwood Canyon Thursday morning. A high wind warning remains in effect for many parts of western Utah, where gusts up to 65 mph — or more — are forecast throughout Thursday.
"If you're driving east or west, that's where you're going to have that tendency for (the wind) to blow your vehicle around, so be careful of that," said KSL meteorologist Kristin Van Dyke. "And also take care of those holiday decorations that are outside with this kind of wind moving in."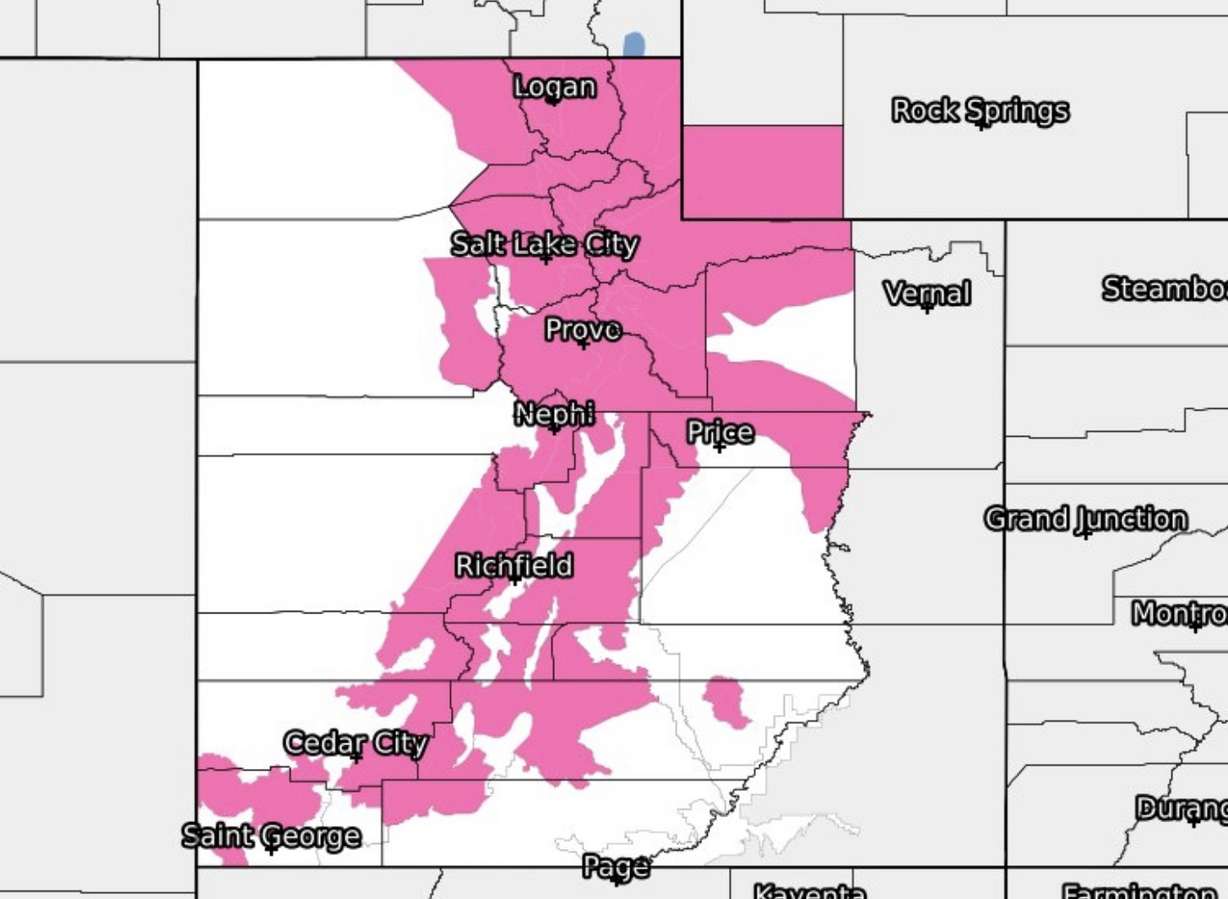 The incoming storm, which is pushing the windy activity, is relatively fast-moving and powerful compared to some of the other storms so far this season. Van Dyke says there may be some snow flurries Thursday afternoon and evening ahead of the main band of snow but the heart of the storm is expected to roll in Thursday night, dumping snow across the state overnight into Friday morning.
The National Weather Service notes that the band will carry "moderate to heavy" snow, which is forecast to last for an hour or two in most locations. Most communities will receive the snow early Friday morning, though it might linger beyond 5 a.m.
"We could be looking at actively falling snow up until 8 a.m. and maybe even bands developing off the Great Salt Lake," Van Dyke said.
The storm total forecast can be found in the graphic. Generally:

Northern Valleys: 2-5"
Northern Benches, Mountain Valleys, Uinta County: 4-8" (locally higher Park City)
Northern Mountains: 12-18"
Central/Southern Mountains: 6-12"#utwx#wywxpic.twitter.com/8kCLsaa7co

— NWS Salt Lake City (@NWSSaltLakeCity) December 1, 2022
Valley communities from Logan through Fillmore are forecast to receive 2 to 5 inches of snow or more. A weather service model shows valley communities as far south as Cedar City have the potential to receive snow.
Up to 18 inches of snow is possible in the Wasatch Mountains, while 6 to 12 inches are forecast for the central and southern mountains. There's a potential for some high-elevation locations across the state to receive more than those projections, too, the weather service notes.
The Utah Avalanche Center on Thursday issued an avalanche warning for the Bear River, Wasatch and Uinta mountain ranges that will remain in effect through 6 a.m on Saturday. The agency warns that "very dangerous" conditions are expected in the mountains because of the new snow "combined with
windblown snow over the last two days will overload preexisting weaknesses in the snowpack."
"The Utah Avalanche Center recommends that anyone traveling in the backcountry avoids being on any slope steeper than 30 degrees. Also, avoid being under any slope steeper than 30 degrees in places where avalanches can run," the agency wrote in a statement. "Stay away from small steep slopes above terrain traps or other terrain features like creeks where avalanche debris can pile up especially deeply."
'Significant' morning commute impacts expected Friday
Since the storm is expected to continue to produce snow through midmorning, the weather service warns that there will be "significant impacts," especially for those who use I-15 to get to work. The Utah Department of Transportation issued a weather alert ahead of the Friday commute, warning drivers of potentially hazardous roads during the Friday morning commute.
"A band of heavy snowfall is forecast to push across much of the Wasatch Front early Friday morning, significantly impairing travel for the morning commute," the agency wrote. "Snow will push into central and southern Utah valley routes a bit later, but still impact the morning commute."
UDOT officials also asked drivers to "please delay" any travel Friday morning, if possible, as local roads will likely be slippery. It also warns these Utah freeways and highways will likely be impacted the most:
I-15: From the Utah-Idaho border to Cedar City
I-70: Cove Fort to Salina Summit
I-80: Entire route
I-84: Entire route
I-215: Entire route
U.S. 6: Utah-Nevada border to Price Canyon
U.S. 40: I-80 junction to Starvation Reservoir, and Vernal to the Utah-Colorado border
U.S. 50: Utah-Nevada border to Salina
U.S. 89: Utah-Idaho border to the state Mt. Carmel junction
U.S. 91: Entire route
U.S. 189: Entire route
U.S. 191: Utah-Wyoming border to Vernal, and Indian Canyon Summit to U.S. 6 junction
State Route 31: Skyline
State Route 143: Entire route
State Route 190: Big Cottonwood Canyon
State Route 210: Little Cottonwood Canyon
While the snow is forecast to clear up by Friday afternoon, Van Dyke says there is yet another storm system waiting in the wings, which is forecast to arrive on Sunday. That storm, she adds, could produce morning commute issues on Monday.
Full seven-day forecasts for areas across Utah can be found online, at the KSL Weather Center.
×
Most recent Utah weather stories