Estimated read time: 4-5 minutes
SALT LAKE CITY — The holiday season is kind of hectic, but that's something you already know.
And year after year, after year, we all face the same dilemma: Trying to find the right meaningful gifts for our loved ones.
There's just one problem — well, millions of problems. The internet has opened the whole world to us, which offers definite benefits, but serious drawbacks making it harder to find that perfect gift.
Where we once would stroll the aisles of a handful of stores, perhaps fending off some overzealous shoppers who get wildly overstimulated by the words "Black Friday Deals" or "doorbuster," the maturation of the internet has made that yuletide ritual evermore obsolete.
However, now we face the "convenience" of scrolling through millions of choices and "deals" online, all while being relentlessly bombarded by commercials and popup ads that shill for services and products that promise the world if we'll trade in our hard-earned money for this year's "must-have" objects.
We have thousands, if not millions, of potential gifts to choose from.
While there are many quality offerings, they're often buried under preverbal mountains of junk. There are so many choices to make that make choosing a gift harder while leaving us less satisfied with the purchases we do make. Author and psychologist Barry Schwartz refers to this phenomenon as "the paradox of choice," where more options result in "paralysis" and diminished satisfaction.
Well, what about reviews? Surely reviews will help us navigate the holiday shopping storm and find quality gifts, right?
Sadly, online reviews are largely just another broken internet promise, having been co-opted by fake reviewers, as reported by TIME. Companies have learned that fake reviews are a great way to artificially enhance their online appearance and even sabotage the competition.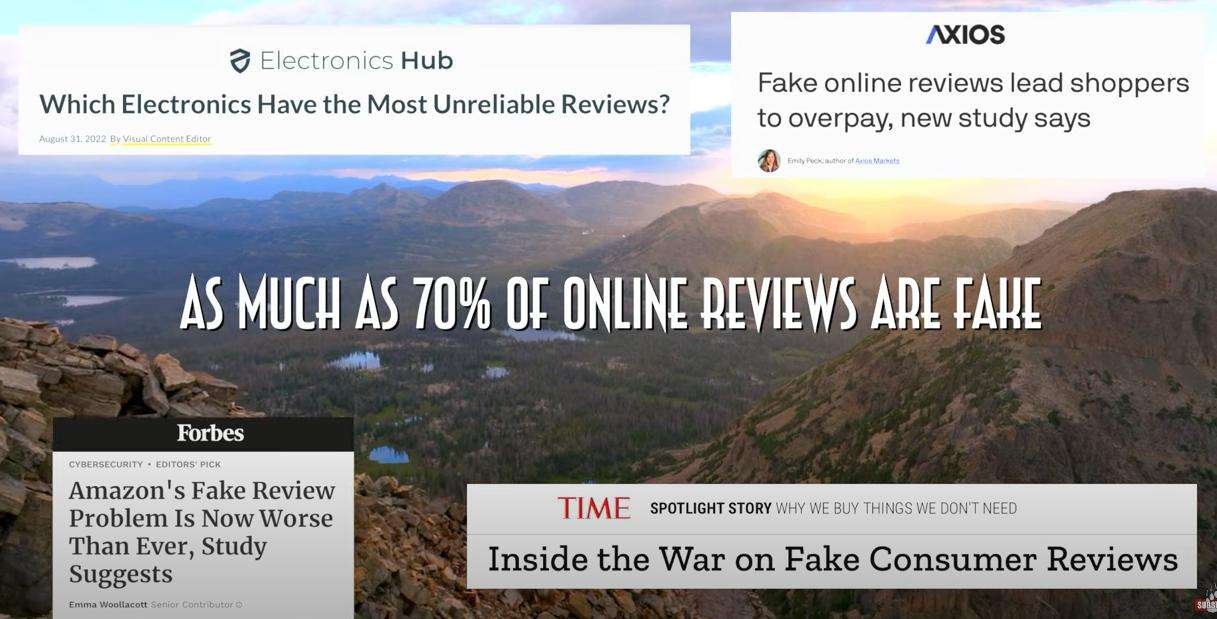 It's a problem that has plagued retail websites for years, and Forbes reports that it's not going anywhere. While on the flip side, there are "trolls" who conspire to sabotage other products and services by flooding their sites and stores with negative reviews.
It's information warfare, and it's largely torpedoed the reliability of online reviews. What are you to do and how can you know what to give this season if you're on the hunt for the best gift you can give the nature lover in your life?
The right gift for nature lovers
If there's one thing all lovers of the outdoors have in common, it's the ability to get away from all the noise and tumult of modern life. Just like going on a long hike to cleanse your mind and spirit from the holiday hysteria; here are some much-needed inspirational gift suggestions, including the absolute best gift you can give the outdoorsy people on your shopping list.
On top of that, you'll get to bypass all the fluff and static of the raging online, and cut straight to some of the best outdoor gear available. The best part is, there are no advertisements, sponsorships or promotional gear in this video — just tried-and-true equipment I've spent years testing and reviewing for my own benefit.
So why take the time to share my gear with you? Runaway materialism is flooding our homes, communities and wilderness with junk. We're wasting money, and time and squandering our natural heritage by chasing after and buying mostly mediocre, unnecessary and poorly made trinkets.
We all want to give our loved ones something special, but nature-lovers also want to reduce clutter and junk, thus preserving what we love about the outdoors and the reason we are so passionate about pristine nature's beauty.
That's why the absolute best gift you can give any of your outdoor-loving friends or family this year — or any year — is the gift of adventure. Give your adventurous loved ones a shared experience filled with memories, not trinkets destined for the landfill after granting only momentary amusement.
Make a reservation at a lodge, campground, or yurt. Recreation.gov is an outstanding place to start experiencing shopping.
Go cross-country skiing, kayaking, backpacking or skydiving. Travel north to see the aptly named northern lights, go whale watching or visit one of our priceless forests, parks, or wilderness areas. And if winter isn't the ideal time, schedule your adventure for later next year. It will be like having two Christmases.
Adventure is infinitely scalable and perfect for any budget or schedule. And, as a rule, experiences produce less junk, all while granting resilient happiness and memories to last a lifetime.
If you need some gear, or want to have something special for your adventurer come Christmas morning, consider the products highlighted in the attached video. Each will enhance the adventures your share with your loved ones.
×
Most recent Outdoors stories