Estimated read time: 3-4 minutes
SALT LAKE CITY — Utah Gov. Spencer Cox was in the midst of finishing his first half-marathon in St. George in 2018 when he got a phone call that would eventually change everything for him.
Cox, then the state's lieutenant governor, crossed the finish line, got a chance to catch his breath and check his messages and realized that the missed call was from the adjutant general of the Utah Army National Guard.
"The message was: 'I need you to call me urgently.' When those calls come, they're never good," Cox said. "I knew that meant that somebody was not coming home. I just said a little prayer to myself, I only had one very close friend deployed and I said, 'Please don't be Brent.'"
Cox made the call and found out that his worst fears had been realized — Brent Taylor, then the North Ogden mayor and a major in Utah's Army National Guard, had been killed in Afghanistan.
"Then I really did throw up. I couldn't understand and couldn't process, in that moment, that level of sacrifice," Cox said while fighting back tears. "Here's the thing you need to know about Brent: If you follow him on social media, the last post he made on Facebook was about our elections here, while he was over there. He talked about seeing elections being held in Afghanistan and people whose lives were being threatened by the Taliban. If they showed up to vote, they would be killed and yet, they showed up anyway because having the freedom to vote was so important to them."
Taylor's last public message struck a chord with Cox, who said that this year, he was celebrating Veterans Day twice, first on Election Day in honor of the rights and liberties — like participating in democratic elections — that are afforded to us by the men and women who are celebrated on Veterans Day.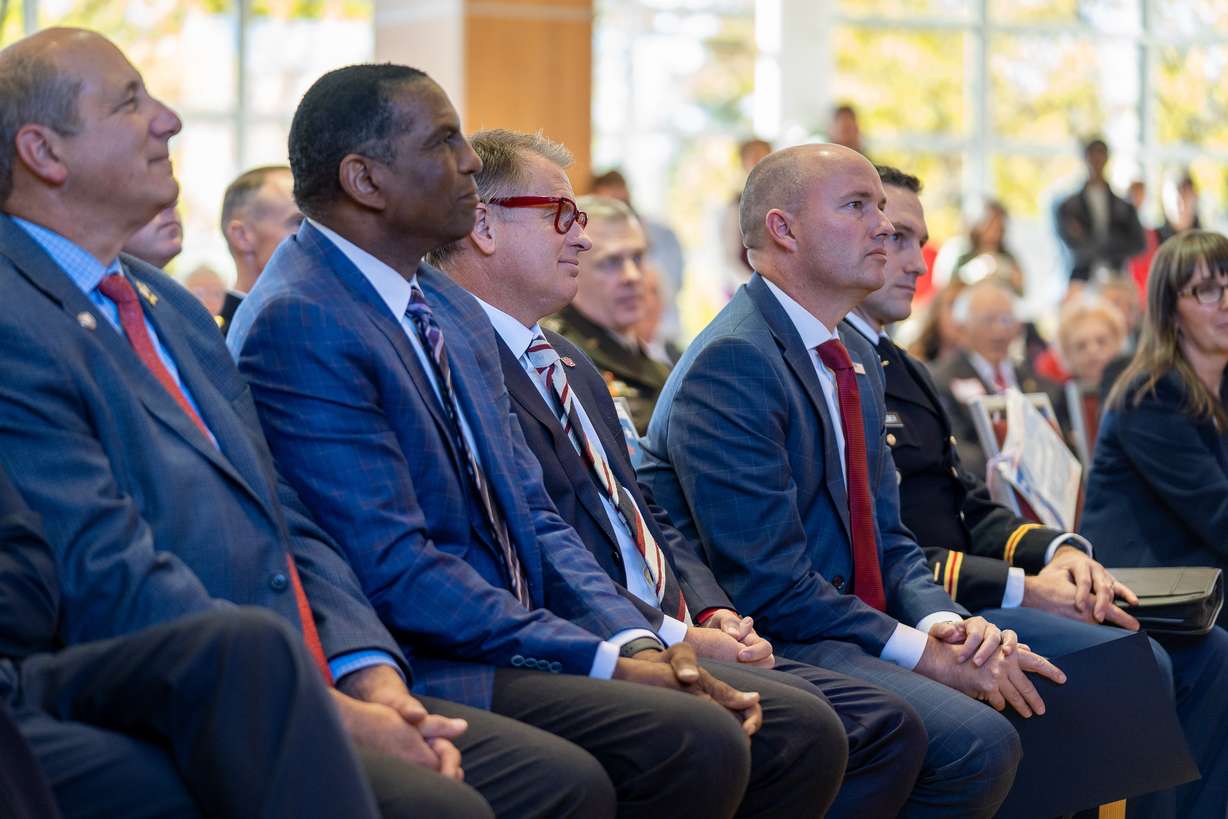 Cox on Friday shared this sentiment with a crowd of people who packed into the University of Utah Student Union Ballroom to celebrate veterans and active-duty service members alike during the U.'s 25th Annual Veterans Day Commemoration Ceremony.
The ceremony, which, along with Cox, was attended by Utah Republican Congressman Burgess Owens, U. president Taylor Randall and Utah Department of Veterans and Military Affairs executive director Gary Harter, featured a bagpiper procession, full-dress military ceremony, cannon salute and a tribute to 11 veterans who have served the nation.
Randall said that it is because of veterans and service members that universities are able to freely debate and explore concepts like justice, freedom and liberty.
"I would simply ask those in our university community that you find your reason for remembering. The reason we are a great university, the reason that universities thrive in this nation is because we have the free exploration of ideas, to debate and fight with words, for liberty, for justice, for concepts that make this place great," Randall said. "We have social mobility because this country and these freedoms that they protected allow us to have that."
Other Veterans Day ceremonies were held across Utah on Friday, including in Herriman, where members of the Herriman Police Department, junior ROTC and Veterans and Military Advisory Committee participated in a flag ceremony at Herriman City Hall.
×
Photos
Related stories
Most recent Military in Utah stories