Estimated read time: 3-4 minutes
MILLCREEK — A popular Salt Lake County canyon will be temporarily closed while utility crews remove over 100 power poles over the next few days as a part of a project to reduce wildfire risks in the canyon.
Millcreek Canyon will be closed from 8 a.m. to 4 p.m. Tuesday, Wednesday and Thursday as crews remove about 150 power poles from the fee station by the mouth of the canyon to the winter gate up the canyon. Jona Whitesides, a spokesman with Rocky Mountain Power, said the project is moving forward despite this week's winter storm; however, the storm may impact some elements of the project, such as when a helicopter is used to help with the removal of the poles.
"Obviously, they're going to look at what the weather is doing over the next couple of days, so there may be times where the operations stop, but it is still planned," he told KSL.com Tuesday.
The closure affects all vehicle, cyclist and pedestrian traffic in the canyon.
The project coincides with work to bury the canyon's power lines as a part of Rocky Mountain Power's Millcreek Canyon wildfire mitigation project, which began earlier this year. The power utility company also plans to replace existing power poles with more efficient systems at the East Bench and Porters Fork locations, next year, before moving power underground from the remaining parts of the canyon in 2025.
That's not the only work that's happening in the canyon. Other projects eye improvements to the road's pavement.
The power line changes, though, focus on an overarching issue faced in Utah's canyons and canyons across the West: Ongoing drought, mixed with strong winds put the canyons at risk of wildfires caused by aging utilities.
For example, Pacific Gas and Electric, in 2019, reached a $13.5 billion settlement tied to wildfires in Northern California in 2017 and 2018, including the 2018 Camp Fire that killed 85 people. The company also agreed to $55 million more in penalties earlier this year for the 2019 Kincade Fire and last year's massive Dixie Fire. Power line failures were to blame for all of the fires related to each settlement.
With the risk possible in Utah, Rocky Mountain Power started Millcreek Canyon mitigation work in May. Similar work also began at that time in Big Cottonwood Canyon in and in Salt Lake City's foothills. Mitigation work in Little Cottonwood Canyon began in August, among other Salt Lake County locations. Rocky Mountain Power has also targeted improvements in American Fork Canyon in Utah County.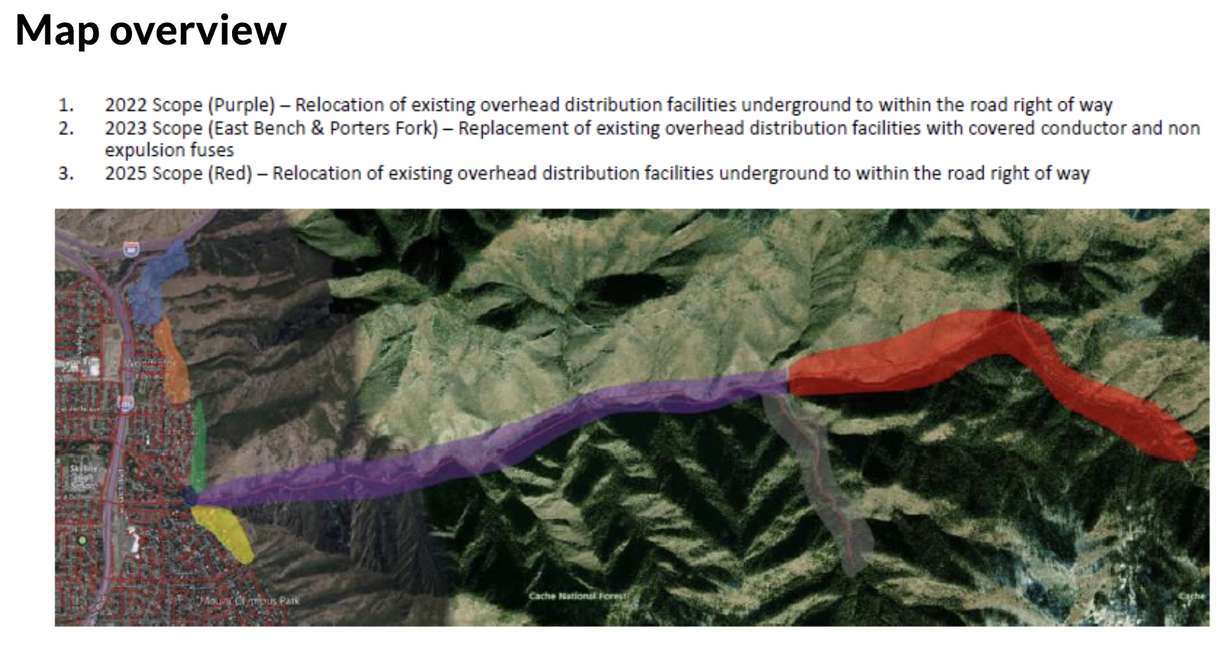 Whitesides said the areas were picked because they are at greater risk for power infrastructure-related wildfires, especially in the summertime. They are vulnerable to storms that produce strong wind gusts and dry lighting.
"Those things have the propensity to create the conditions for wildfire," he said. "We're mainly looking at wind — and this is where we have concerns, where we can put foreign objects into our lines and cause a fire. ... We're just taking the lessons learned (from power-related fires) in trying to mitigate and implement those things before they would become a high risk, high vulnerability, here in Utah."
Moving power lines underground "significantly reduces" the risk of wildfires in these areas, he added. It also reduces the risk of storm-related power outages in the winter.
In addition to the Millcreek Canyon road closure this week, crews are expected to continue working on the other projects up until the cold winter temperatures make it impossible to lay asphalt. This will likely happen in the coming weeks, according to Rocky Mountain Power. Crews will restart efforts when temperatures warm up in the spring.
×
Related stories
Most recent Utah transportation stories