Estimated read time: 6-7 minutes
PROVO — BYU's hype-fueled uniform reveal for this week's matchup with Notre Dame in Las Vegas included appearances by UFC Hall of Famer Forrest Griffin and Las Vegas headlining magician Mat Franco, a past winner of "America's Got Talent."
But when it comes to the glitz and glamor of the area, from UFC's Apex training center to the ballyhooed Las Vegas Strip, the Cougars won't have much to do with it.
Neither will Notre Dame, whose head coach Marcus Freeman will personally oversee bed checks for this year's Shamrock Series, which allows the Irish to play a home game around the country since the series was inaugurated in 2009.
Saturday's kickoff against No. 16 BYU in Las Vegas on national television (5:30 p.m. MDT, NBC) will be unlike any Notre Dame has played before, and not just for the opponent.
For starters, the "home" game will be closer to the Irish's opponent than their own campus by about 1,500 miles.
"I'm sure there are going to be a lot of BYU fans there, too," said Freeman, the 36-year-old first-year head coach who is 2-3 overall since being promoted from defensive coordinator. "Enjoy the experience; that, to me, is what makes Notre Dame unique. We have a home game in Las Vegas versus a great opponent. But don't distract from what it takes to get the desired outcome. That's the preparation and execution."
The other difference in Saturday's game compared to San Antonio or anywhere else the Irish have staged the series is the location: Sin City is unlike any city in America, let alone compared to any college town like Provo or South Bend, Indiana.
In a town where distraction is a leading industry, the Irish — and Cougars, for that matter — will try to avoid all of them. In Notre Dame's case, that includes being back to their hotel by the time the senior discount at one of the area's many buffets has elapsed.
"We're not going to get out there in time to experience any of the distractions that I think Las Vegas can present," said Freeman, who will personally oversee the 8:30 p.m. bed checks. "We're going to get there and be very strategic at what they do; I want them to see Allegiant Stadium, spend some time there, then go to the hotel, have dinner, have a normal meeting that we do on normal Friday nights, then go to bed.
"We have to remember that our bodies are still on Eastern Standard Time, so we're going to try to get them to bed at a decent hour, then wake them up at a decent hour to get us ready for the game on Saturday."
The Cougars are a 3-point underdog at Allegiant Stadium, the same stadium they helped open with a 24-16 win over Arizona in the inaugural Las Vegas Kickoff Classic. Shouldn't that familiarity with the stadium, as well as a large fan base consisting of large numbers of members of The Church of Jesus Christ of Latter-day Saints in Southern Nevada and the surrounding area, give BYU an advantage?
"I like the underdog mentality all the time, so no matter what the situation is, we know we are going against a great team," BYU coach Kalani Sitake said. "Notre Dame hasn't played its best football yet, but you can see the talent and the flashes of great players. But we haven't played our best football either.
"Hopefully we can address some things and you guys will see a better team on Saturday. As a coach, my job is to get us playing our best football, and I am committed to getting that done because these guys and the fans deserve it."
Notre Dame will technically host several recruits at the game, but because the game is off-campus, Freeman and his staff can't interact with them like they would at a home game in South Bend. So while it is one of the Irish's seven "home" games, there are plenty of qualifiers to the tag that grants exclusive broadcasting rights to Notre Dame media partner NBC.
As for the Cougars, the trip may be shorter, but it won't be any different from any other road trip, or even some home games where they spend the night before kickoff in a Provo hotel sponsor.
Sitake said the team will follow their usual protocol for road trips, including curfew hours. But he added that BYU won't be staying close to the "distractions" of the Las Vegas Strip, either.
The Cougars will stay near Lake Las Vegas, a man-made reservoir near Henderson located about a 30-minute drive from the Strip.
"We have all that," Sitake said when asked about Notre Dame's room checks. "But we're not staying near the city. We'll be fine.
"I trust our players, and more than anything, it's just keeping our guys safe and knowing where they are at. We have room checks, but I think the players run it. It goes pretty smoothly every night."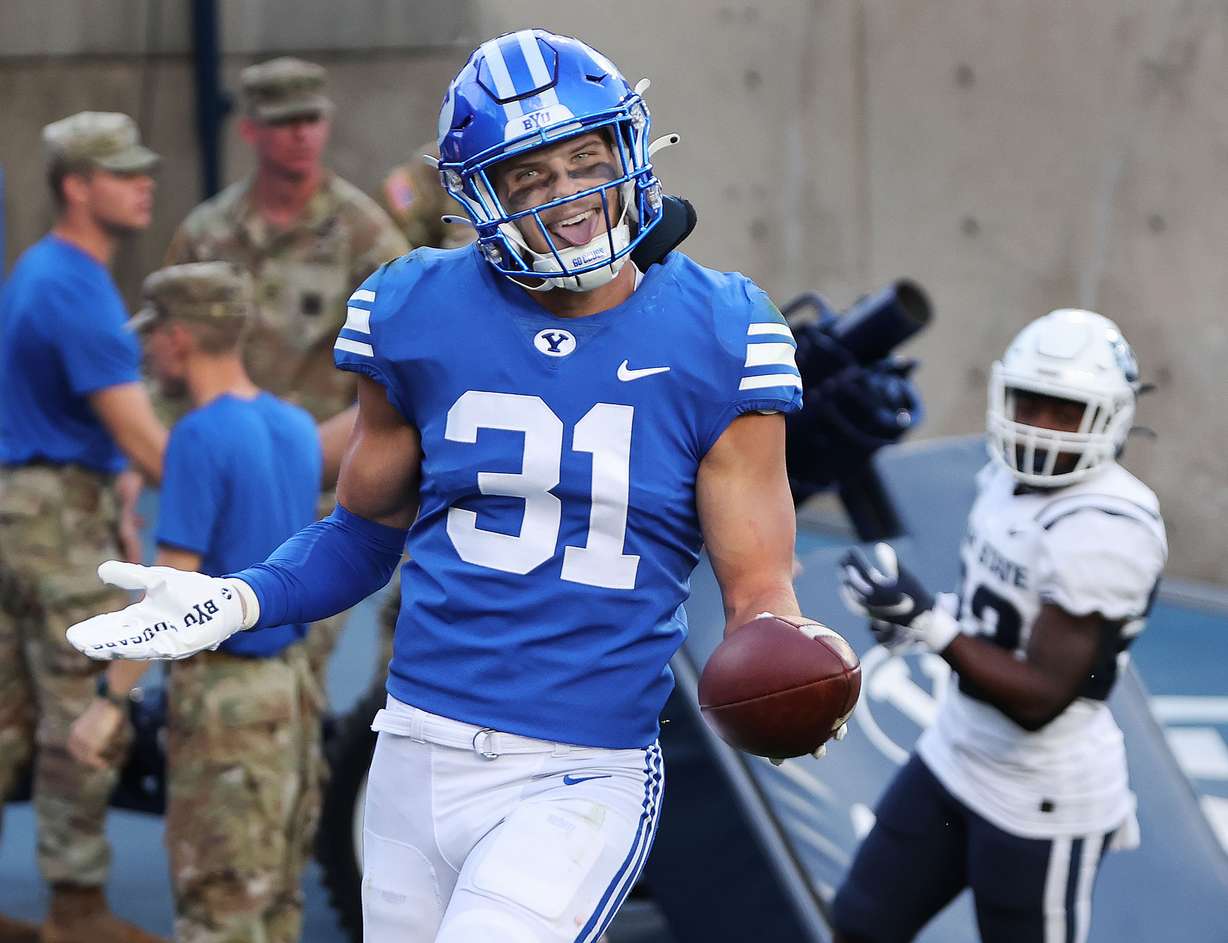 Staying apart from the Strip is strategic, and being away from the glitz and glamour of "fabulous" Las Vegas helps a lot, cornerback Gabe Jeudy-Lally added.
"I don't think we have to worry about anything, to be honest," said Jeudy-Lally, the Vanderbilt transfer who will be eligible to play all four quarters after his suspension for targeting incurred during the 38-26 win over in-state rival Utah State rescinded by an independent review panel. "Once we get to the hotel any time we travel, it's just a mental vacation for a lot of guys from everything going on here.
"It becomes a work trip for football; the guys who went there last year stayed close to the Strip, in a more stressful environment. So now we're away from it, and I think it will prepare us well."
There's also the issue of the honor code, which requires BYU students (including athletes) to abstain from alcohol, tobacco, and drugs, among other vices. For Latter-day Saint athletes, participating in gambling and other "games of chance" has also been discouraged by some church leaders.
"I think within our culture and our locker room, we have that trust within our guys. We signed the honor code and we shouldn't be doing the things we aren't supposed to be doing anyways," said BYU linebacker Max Tooley, a Bountiful High product. "I feel like we understand the purpose of staying in the hotel and keeping our mind focused on the trip at hand and the business trip.
"It's just about keeping each other accountable and stick to it."
And what of the non-Latter-day Saint athletes on the team? Most of them know why they are there, too.
"We're (there) to play ball; it's a business trip, at the end of the day," said cornerback Kaleb Hayes, an Oregon State transfer. "It's good to be in the area that's fun and you see a lot of things, but we're not really here for the Strip or the lights. We want to play football; this is what we do. We all have jobs to do, so this is our job and we have to take care of business when we get out there.
"The scene is set at Allegiant Stadium," Hayes added. "It's going to be a great one. We all know it is."
×
Most recent BYU Football stories