Estimated read time: 5-6 minutes
PROVO — After a number of halftime adjustments, the Wagon Wheel will stay on BYU's campus for the foreseeable future.
Jaren Hall threw for 273 yards and three touchdowns, and No. 19 BYU used a 14-3 run in the third quarter to pull away from Utah State 38-26 in the final scheduled game between the 100-year-old in-state rivals Thursday night at LaVell Edwards Stadium.
Miles Davis ran for 39 yards on eight carries, supercharging an anemic run game that ran for negative yardage in the first half of a 17-17 stalemate. Christopher Brooks led BYU's backfield-by-committee with 90 yards for the Cougars (4-1), including an 18-yard scoring run in the fourth quarter to help put the game away.
Kody Epps caught five passes for 86 yards and a touchdown, and Gunner Romney caught four passes for 51 yards in his season debut from an internal injury suffered during training camp in August.
Ben Bywater and Max Tooley each picked off Utah State quarterback Cooper Legas, including a first-half pick six by Tooley and a late-game takeaway by Bywater to seal the win over an in-state rival for the final contracted edition of the current series that dates back 91 times to 1922.
"This is one of the big in-state rivalries, so it always feels good to beat this team," said Romney, who missed most of fall camp and the first four games of the season with an injury. "It's always an extremely competitive game, no matter what the records are, and it's satisfying to come out with a win."
Calvin Tyler Jr. averaged 5.8 yards per carry for 104 yards for the Aggies (1-4), who lost their third-straight game.
But it took Legas — who threw for 188 yards, two touchdowns and two interceptions and ran for 54 more in his first start of the season — just 12 plays, including 3-of-4 passing, and 4:21 to score his first touchdown of the year.
"He did a great job and prepared the right way," Utah State coach Blake Anderson said of his signal caller. "I'm sure, like any quarterback, there are a few plays he would love to take back, but he gave us the chance to win tonight, and he will continue to get better."
After the Orem High product's 7-yard touchdown keeper, Hall needed just 34 seconds to respond. After a long kickoff return from Hobbs Nyberg, Hall found Romney for 34 yards in the senior wide out's first start of the year.
Moments later, the redshirt junior quarterback delivered a ball to Keanu Hill in open space, and the breakout receiver scampered 25 yards into the end zone for a 31-yard score. Tooley picked off Legas and returned the ball 34 yards to the house for his second interception return for a touchdown of the season to put the Cougars up 14-7.
In an instant, much like he did in the Cougars' season opener against South Florida, Tooley's former running back instincts from his days at Bountiful High took over.
OK, maybe not all of them; BYU running backs coach Harvey Unga might have a word or two to say about his form as he sprinted toward the end zone. But once the ball tipped off John Nelson's 6-foot-4, 275-pound frame and into Tooley's hand, "Mad Max" was motivated.
"I feel like every time the ball lands in my hands, since I've started playing football, I've had a mentality to score," Tooley said. "These days, you only get defensive opportunities."
Stilll, the Aggies came alive in the first half en route to a 17-17 halftime stalemate.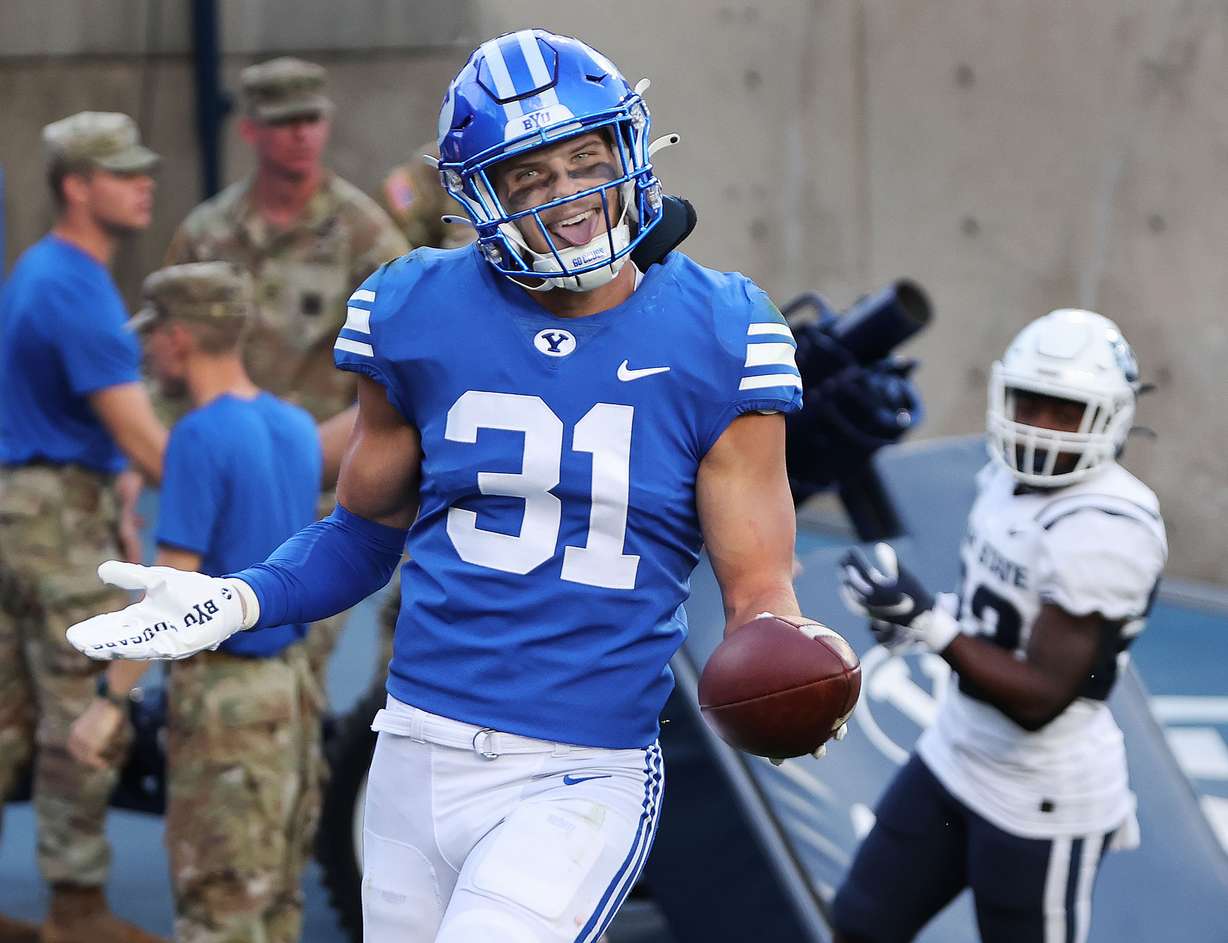 "They did some different things that we weren't expecting, especially on the offensive side, but I thought they played really well on defense, too," BYU coach Kalani Sitake said. "We could definitely play better ourselves. We just made a lot of mistakes and undisciplined play, just little things that we can fix. I didn't like that. Last week I talked about us not playing clean, and then the same thing happened again. That's my job, to demand better from our guys."
Utah State compiled 246 yards of offense in the first half, aided by five BYU penalties that included Tooley throwing a shoe, and took a brief 17-14 lead on Legas' 14-yard strike to Brian Cobbs.
The Cougars had just 107 yards of offense before the break, ran for -21 yards, and ran just 19 plays — or 33 fewer than the Aggies.
"Give credit to the offenses that we've played against in recent weeks, but we need to find a way to make plays and not make mistakes," Sitake said. "The easiest thing would be playing assignment-sound football and making better decisions."
It could've been much worse, too. BYU's defense forced two turnovers, three tackles for loss and two sacks in the first half against an Aggies side that entered the contest following setbacks to Weber State and UNLV.
But on the first drive of the second half, Davis poured in more rushing yards — 27 yards on four runs — than the rest of his team had in the first half. That set up tight end Ethan Erickson's first career touchdown, a 14-yard strike that kept BYU in front 24-17.
BYU outscored the Aggies 14-3 in the third quarter, including an 8-yard touchdown for Epps, to take a 31-20 lead into the final frame and pull away for good in the final contracted game of the series after the two sides opted to cancel the final four games of the most recent contract due to BYU's impending move to the Big 12.
"I mean, at the end of the day, you want to win. I think we put ourselves in a spot to win," Anderson said. "But BYU made the plays, and we didn't. I also think that even though we didn't win, these boys are starting to gain confidence in what we can do, and I'm not sure we have had a lot of that up to this point. In that sense, we got better and can gain confidence from that."
×
Photos
Most recent BYU Football stories