Estimated read time: 5-6 minutes
SALT LAKE CITY — Angelina Nading beams as she runs over to a set of 20 flags aligned near the steps of the state Capitol on Thursday.
Nading, a junior at Uintah High School in Vernal and a member of the city's youth city council, immediately sifts through the designs searching for a blue flag with eight stars circling an old beehive design. It's a design she created after attending a flag design workshop earlier this year, as state leaders asked Utahns to submit designs for a new state flag.
Months after submitting that design, she's clutching the blue cloth in her hands for the first time and picturing in her mind how this design could possibly fly all over Utah someday soon.
"All week I've been telling my friends and my teachers about this. I was really excited driving up here and getting to talk about my design," she told KSL.com, as her flag and 19 other recently released designs waved behind her. "I'm really proud that I can go down in history. It's just amazing."
The Utah State Flag Task Force unveiled all 20 semifinalist designs for a possible new state flag on Sept. 8 after receiving 5,703 designs during the winter and spring. These 20 semifinalist designs have since prompted a bevy of responses in a public comment period trying to pinpoint what Utahns want in a design that represents the state today.
However, Thursday marked the first time Utahns got a chance to see these designs in a physical form. All of the designs have been printed out on cloth flags to allow residents a better view of the designs in a way that 2D designs just can't. Everyone will be able to see how it waves in the winds or flies in reverse like a flag would outside of a building while they judge the designs.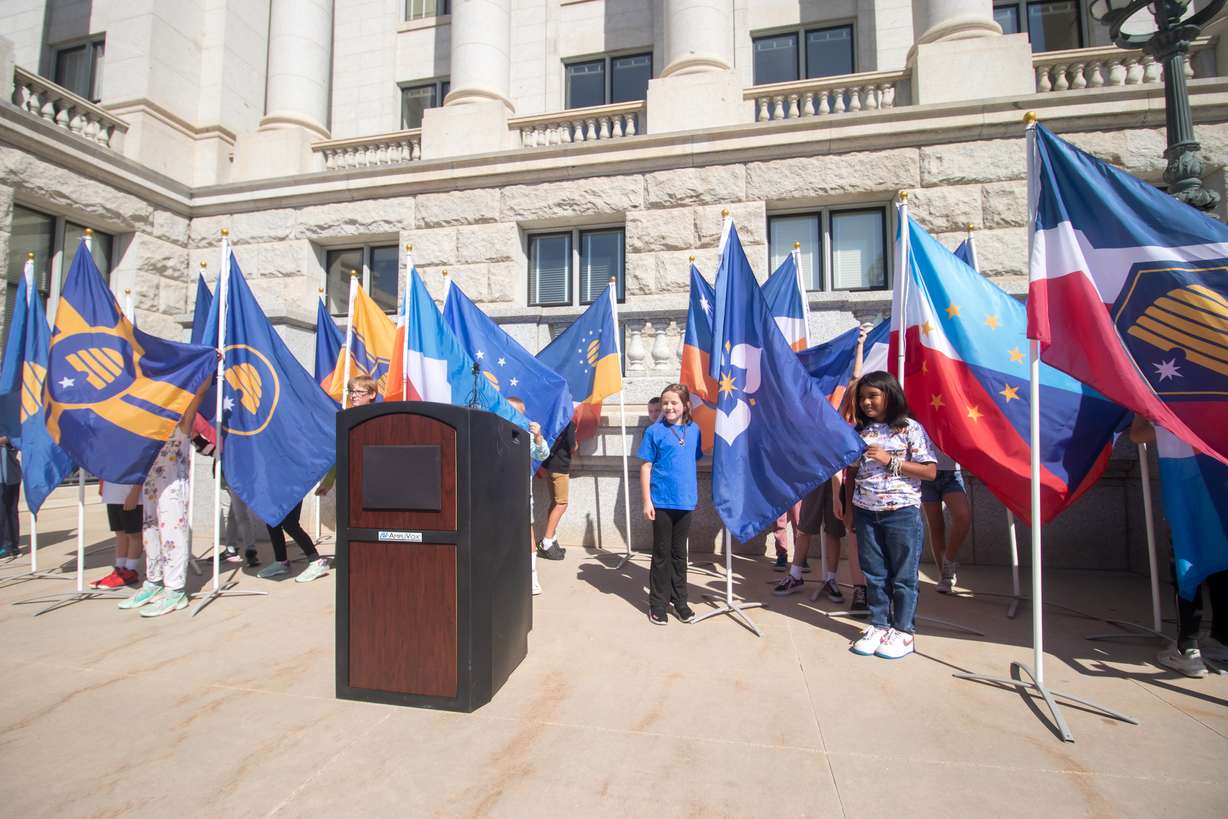 It's a tactic that's supposed to help narrow down the field of semifinalists, says Sen. Daniel McCay, R-Riverton, a member of the task force.
"Interestingly, I can see strengths from flags that are here printed today for the first time," he said, staring at the 20 finalists. "We've been looking at these now for months. We've been looking at them on a flat computer screen and we've been looking at them printed on paper. But when you print them at this scale, some things I didn't love about certain flags, I now really like about them."
The flags brought to the state Capitol this week will remain on display at the Utah Capitol's Hall of Governors through Oct. 5, the final day of public comment on the semifinalist designs. Similar displays will be held at the Cache County Historic Courthouse, 100 N. Main in Logan, and at Beverley Taylor Sorenson Center for the Arts on the campus of Southern Utah University in Cedar City over the next two weeks, as well.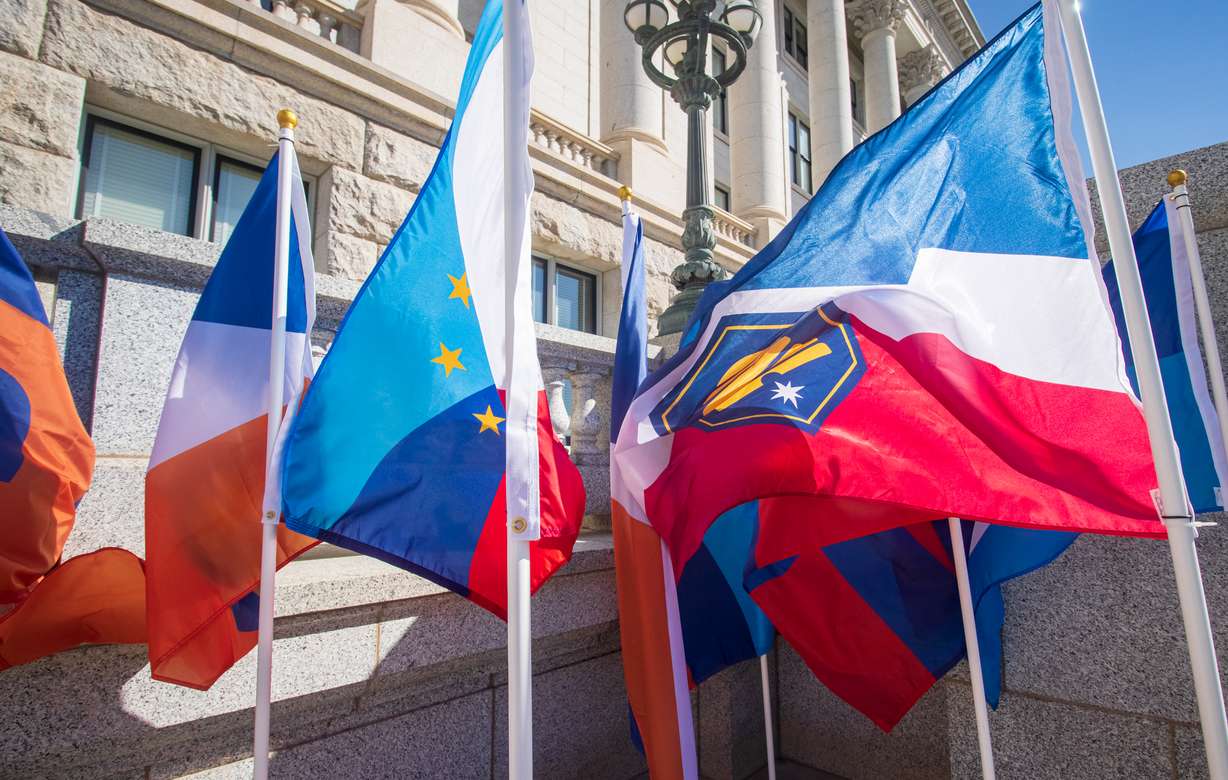 More than 20,000 people have already submitted their thoughts on a new flag over the past few months, said Lt. Gov. Deidre Henderson. She hopes the physical displays will generate more comments in the next two weeks.
"This is really important. We want to know what the public has to say about it," she said. "Tell us what you think — what you like and what you don't like about all of these flag designs."
Time for a change?
The task force will consider all the public comments gathered after Oct. 5, as it narrows the field to a handful of finalists, to select or refine the flag design, which they will recommend for adoption to the Utah Legislature. The Legislature will ultimately vote on whether to adopt the proposed flag design or keep the current flag that has remained mostly untouched since 1913.
Utah's current flag won't be retired if a new flag is picked. It will become the official flag of the governor's office, meaning it will continue to have a home at the Utah Capitol for years to come.
It's also possible that none of the flags on display over the next two weeks will fly over the state Capitol soon. The task force and a panel of designers will review the public comment feedback to identify ideas people want but could also merge some of the themes together, said Rep. Steve Handy, R-Layton.
"(The designs) can still evolve because we're taking public input as we go," he said. "But these designs represent the voices of thousands and thousands of Utahns of all ages, backgrounds and walks of life."
---
A new state flag is meant to contribute to our common identity as a state, it's not meant to cancel anything in the past. It's not going to cancel our old flag.
–Lt. Gov. Deidre Henderson
---
Letting go can be difficult though. Henderson acknowledges that not everyone has been on board with the potential change as Utah continues to move forward with its flag redesign process. In fact, she was in that camp when McCay and Handy first approached their colleagues about the idea a few years ago.
She thought it would be a waste of time and energy but then she learned more about the potential of what a good flag design could mean for Utah as she reflected on its past.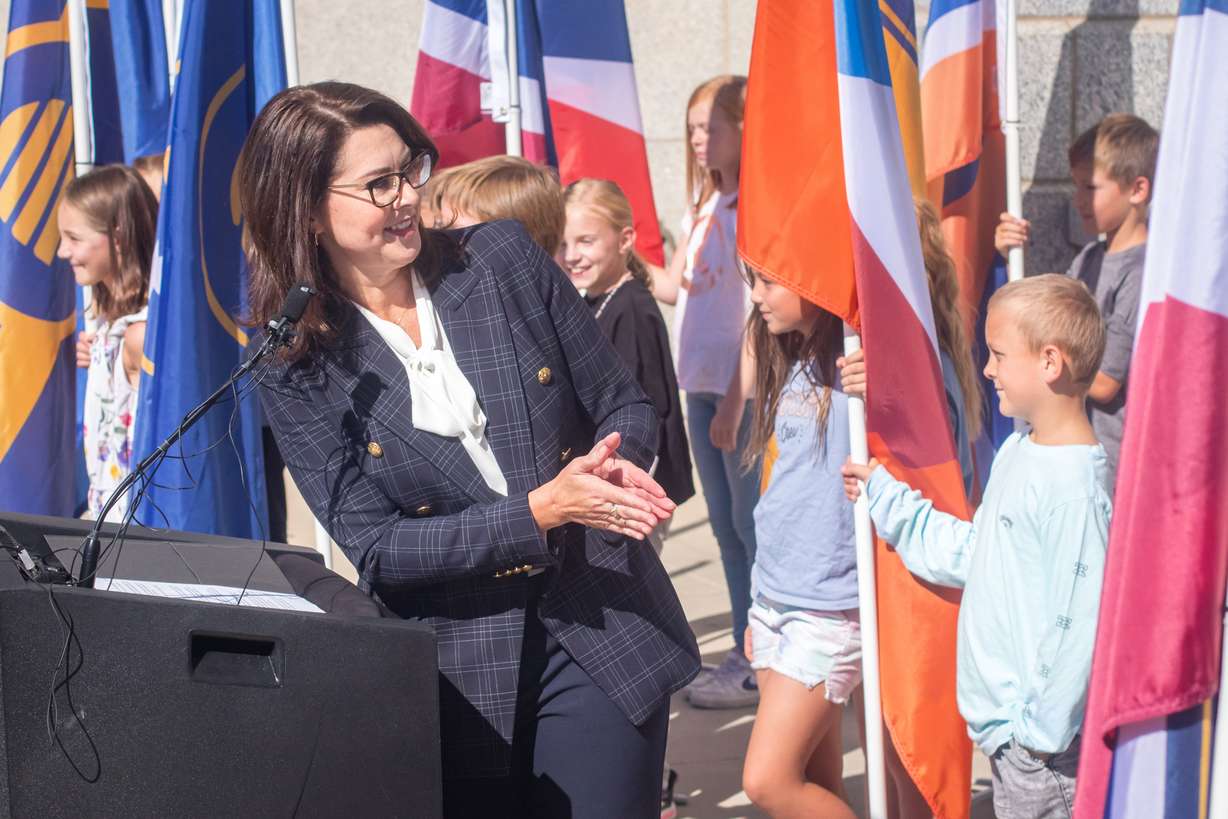 A ZCMI seamstress designed Utah's first flag in 1903 just so Utah could have a flag on display at the 1904 St. Louis World's Fair. This original design essentially served as the basis for the 1913 design, when the state updated the flag. Yet the current flag looks awfully familiar to about half of the other state flags from afar. It doesn't really stand out, Henderson says, and it doesn't really represent Utah today. This eventually helped her change her mind about the idea.
"Creating a flag is a really rare opportunity to represent the past, present and future to the rest of the world," she said. "Until now, Utahns have never had a chance to weigh in or offer their ideas for what their state flag should look like or what should be included on their state flag. ... A new state flag is meant to contribute to our common identity as a state, it's not meant to cancel anything in the past. It's not going to cancel our old flag."
The process also opens the door for Utahns like Nading to potentially become a part of state history.
She's thrilled with that prospect, but also excited to see how the rest of the flag redesign process shakes out.
"It's kind of like a mix of emotions. ... I'm nervous and I hope it can be picked because that would be amazing," she says. "But even if it doesn't, that would be fine. The whole process and getting to meet these fine people is just amazing."
×
Photos
Related stories
Most recent Utah state flag stories