Estimated read time: 3-4 minutes
SALT LAKE CITY — A new report by the American Civil Liberties Union of Utah found a high number of anti-camping citations get issued to the homeless community by some cities in Salt Lake County, when the organization says time and resources could be better spent on other outreach efforts.
The local chapter of the ACLU called for law enforcement agencies to stop citing and fining people for violating anti-camping rules, and to standardize the way officers interact with those experiencing homelessness throughout the county.
"We cannot arrest our way out of homelessness. Unsheltered communities are often further entrenched in day-to-day difficulties due to costly and needless citations or arrests," Jason Groth, ACLU deputy legal director, said in a statement Thursday.
"Anti-camping citations do not address underlying needs of unsheltered individuals and do not dissuade people from sleeping in public when they have no other choice. Punishing people for the unavoidable consequences of being unsheltered creates barriers rather than solutions and negatively impacts civil liberties."
The report "Displaced and Dispersed: The Aftermath of Operation Rio Grande" looks into the interactions between police and the unsheltered community since the end of Operation Rio Grande, a strategy through which officials sought to decrease crime by increasing the police presence around the old downtown Road Home shelter from North Temple to 900 South, and from 300 East to I-15.
The ACLU looked at data from public records requests, but the organization said it faced difficulty acquiring the data as some agencies "barred information" by asking for "extensive research fees that other departments supplied at no cost."
---
We cannot arrest our way out of homelessness. Unsheltered communities are often further entrenched in day-to-day difficulties due to costly and needless citations or arrests.
–Jason Groth, ACLU deputy legal director
---
The report found both Salt Lake City Police Department and South Salt Lake Police Department issued similar numbers of anti-camping citations as they did during Operation Rio Grande, but the average cost of fines varies by city. In Salt Lake City, the fine is an average of $655; in South Salt Lake the average is $712, according to the ACLU. In Taylorsville, fines average $158.
"These varied approaches by law enforcement and the courts mean that camping in public places may lead to different interactions and outcomes based on a person's location in Salt Lake County," the report states.
One couple mentioned in the report has acquired 16 camping violations, many in the same areas, since being evicted from a studio apartment in 2020.
Fewer than 7% of camping citations issued in the county end in a conviction, but the average length of time the case remains in court when a warrant isn't issued is three months, the ACLU says.
"Since 2019 in Salt Lake City, over 65% of individuals with an anti-camping citation have had warrants issued, which prolongs the resolution of a case. A better use of time and money could address underlying issues such as finding employment, housing and medical care rather than having unsheltered individuals needlessly lingering in the criminal legal system waiting for dismissal," according to the report.
The ACLU noted that citations get issued even when people camp in "more remote" areas of the county, including Little Cottonwood Canyon, Emigration Canyon and Blackjack Gulch.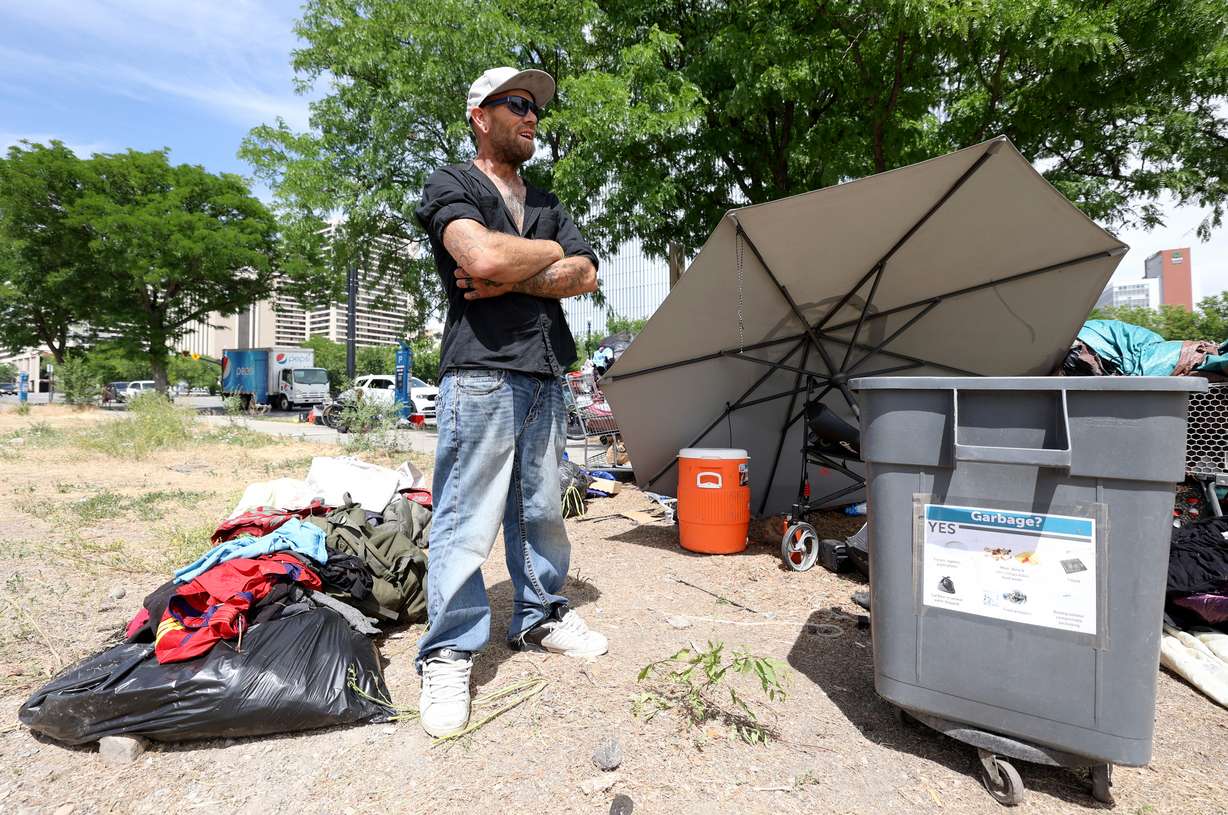 Spikes in camping citations and arrests happened after Salt Lake City Mayor Erin Mendenhall decided to resume targeted enforcement in July 2021, and when the eviction moratorium ended in August, and the ACLU suggests that "policies that specifically target unsheltered communities and those that collaterally impact them can lead to an influx of unsheltered individuals into the criminal legal system."
The report notes that Salt Lake County saw an increase in homeless individuals in 2021, as numbers went from 268 to 623.
The report encourages the Utah Legislature to pass legislation that helps homeless people defend themselves in court. The organization wants the state to create a cause of action "to litigate the violation of unsheltered individuals' rights and (increase) access to justice for unsheltered communities."
The ACLU also urges lawmakers to "center" unsheltered people and housing insecure people in their policy discussions.
×
Photos
Related stories
Most recent Utah stories