Estimated read time: 5-6 minutes
SALT LAKE CITY — As Massiel Islas has navigated jobs in Utah's tech industry, she has often been the only Latina.
"The industry can be tough. There's not a lot of people that look like you, that sound like you, that have the same background, or that really understand your story," said Islas, who recently accepted a software engineering job at Amazon.
Women and Hispanic workers are underrepresented in Utah's technology sectors. Although Hispanic workers make up 14% of Utah employees, they account for 6.5% of all STEM workers, according to a Utah Women and Leadership Project report.
Likewise, only 2% of employed Hispanic women work in science, technology, engineering and math occupations, compared with 3.4% of all employed women in Utah.
Those trends are particularly concerning due to the prominent role the tech industry plays in the state's economy, the report says. Tech companies, directly and indirectly, supported more than 1 in 7 Utah jobs and almost one-fifth of worker earnings in the state, according to a 2019 University of Utah report.
Empowering one another
The lack of female and Hispanic representation in Utah tech can present challenges for Latinas working in the industry, such as not having their points taken seriously, struggling to negotiate fair pay and promotions, grappling with imposter syndrome, or — for Latina immigrants — adapting to U.S. work culture.
"Sometimes I'm like, 'Did I approach a meeting the wrong way?' or 'Why didn't that conversation work out?' or 'I want this opportunity, why is this not happening?'" said Islas, who is a Mexican immigrant.
"The other big (challenge) is that I really do think that it's hard to imagine for yourself when you can't see," she added. "I don't see a lot of women in leadership; I don't see a lot of Latinos in tech leadership. So, sometimes I don't realize that I am limiting my own options just myself, like psychologically, because I don't see it."
The Utah Chapter of Latinas in Tech, however, is helping women successfully navigate the industry.
Cynthia Jijón, one of the chapter's founders, started a Facebook group for Latinas working in tech jobs in 2020. Once the Facebook group grew to about 100 women, she looked for an established organization the group could join. She found Latinas in Tech, a nonprofit with over 22,000 members that supports and connects Latinas in the tech industry.
"I really needed a place to feel that I am being heard and understood with the struggles I was going through while I was working for tech companies," Jijón said.
Today, the Utah Chapter of Latinas in Tech is about 200 women strong and holds recruitment, networking and educational events. More importantly, however, it provides its members with a sense of community.
"In moments where I've been like, 'You know what? This is too tough. How long is this going to keep being like this?' or 'Will it always be like this?' I have a group of people that I can just go out for lunch with or have a conversation with, and they just help me feel like I'm not alone and I'm not the only one facing this," said Islas, who joined Latinas in Tech about a year ago.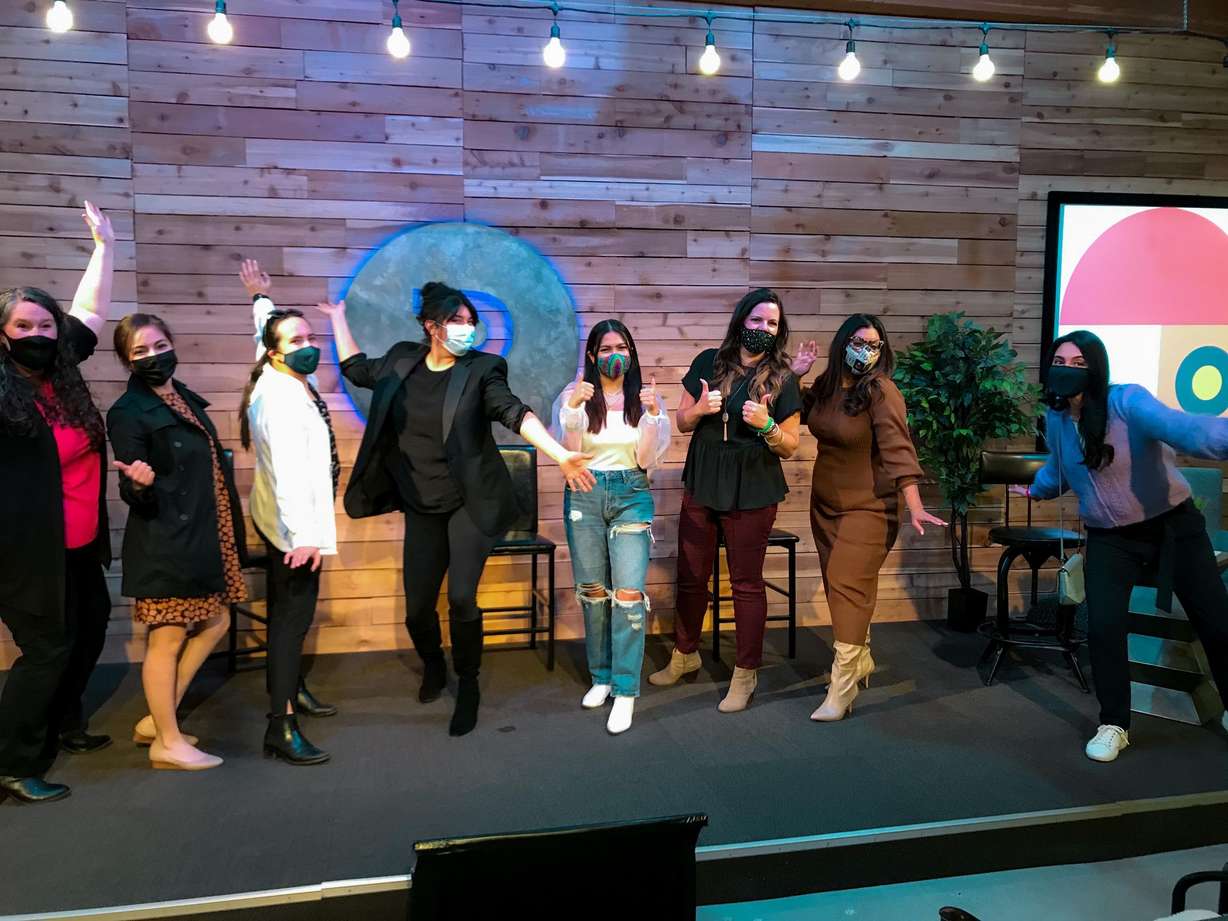 Jijón has felt a similar sense of community. In fact, she said being a part of Latinas in Tech has helped her feel more confident in her career.
"Knowing that I belong to a group, knowing that I am a part of a movement, it has helped me to be more confident and to know that I can accomplish things that I thought I couldn't," she said.
Miriam Solen, a chapter leader who's been involved in tech for the past five years, joined the group because she feels passionate about helping other Latinas build their careers and increase representation in the tech world. As a manager, she's been able to use Latina in Tech events to connect students who are looking to break into tech with internships.
"We bring a really nonjudgmental attitude with helping one another and supporting one another, whether it's like, 'I just want advice' or 'I'm exploring this,'" Solen said. "There's a need for women — and for Latinas — in tech, and sometimes it's just kind of encouraging them and helping them find the right resources and the right connections to be able to feel confident to move in the direction of their dreams."
She added that joining Latinas in Tech also opens up nationwide networks that can be helpful for women who are looking for remote job opportunities or relocation options.
Get involved
Latinas in Tech is hosting a free event on Saturday from 11 a.m. to 2 p.m. at Industry SLC, 650 S. 500 West in Salt Lake City. It will feature two speakers: Islas and personal brand consultant Katty López De Gull, who will give a workshop on personal branding. There will also be a catered lunch.
"They will be sharing with us some tips that we need, as Latinas, in the workforce," Jijón said. "It doesn't matter if you're in tech or if you're in any other industry, it will be helpful for all of us and everyone is welcome."
"It's exciting because we're not there just for the small skills that you need to grow. We're empowering you from the beginning of the career all the way to making it on those boards where our presence is needed," she added.
More information about Latinas in Tech Utah Chapter is available on the group's website and social media.
×
Most recent Voces de Utah stories