Estimated read time: 6-7 minutes
This archived news story is available only for your personal, non-commercial use. Information in the story may be outdated or superseded by additional information. Reading or replaying the story in its archived form does not constitute a republication of the story.
SALT LAKE CITY — Looking for another way to travel into Idaho? There could soon be a train for that.
Salt Lake City and Boise leaders are currently working on a plan to restore a large portion of an old passenger rail line, providing new service from Salt Lake City to an area just northwest of Boise in the near future.
The two cities submitted a statement of interest to the Federal Railroad Administration earlier this month, according to Bre Brush, the transportation advisor for the Boise Mayor's Office, in a presentation to the Boise City Council last week. But there are plenty of stops along the way before the idea comes to fruition.
"This is still very preliminary," Salt Lake City transportation director Jon Larsen told KSL.com Monday. "It's exciting to be having these sorts of conversations and it's exciting that ... people are interested in knowing about these conversations, but we still have a long way to go before we're running passenger rail between Salt Lake and Boise."
Restoring an old rail connection
The idea emerged from talks between Salt Lake City Mayor Erin Mendenhall and Boise Mayor Lauren McLean not long after the U.S. Department of Transportation opened billions of dollars for passenger rail projects through an infrastructure bill passed last year, Larsen said. NBC News reported in November 2021 that $66 billion in funds were designated in the bill to go toward advancing passenger rail projects.
Given the billions on the table, Brush said there are a suite of federal funding programs and grant opportunities to make this happen, such as the recently established Corridor Identification and Development Program. It was created to help restore old passenger rail service routes or create new routes less than 750 miles in length.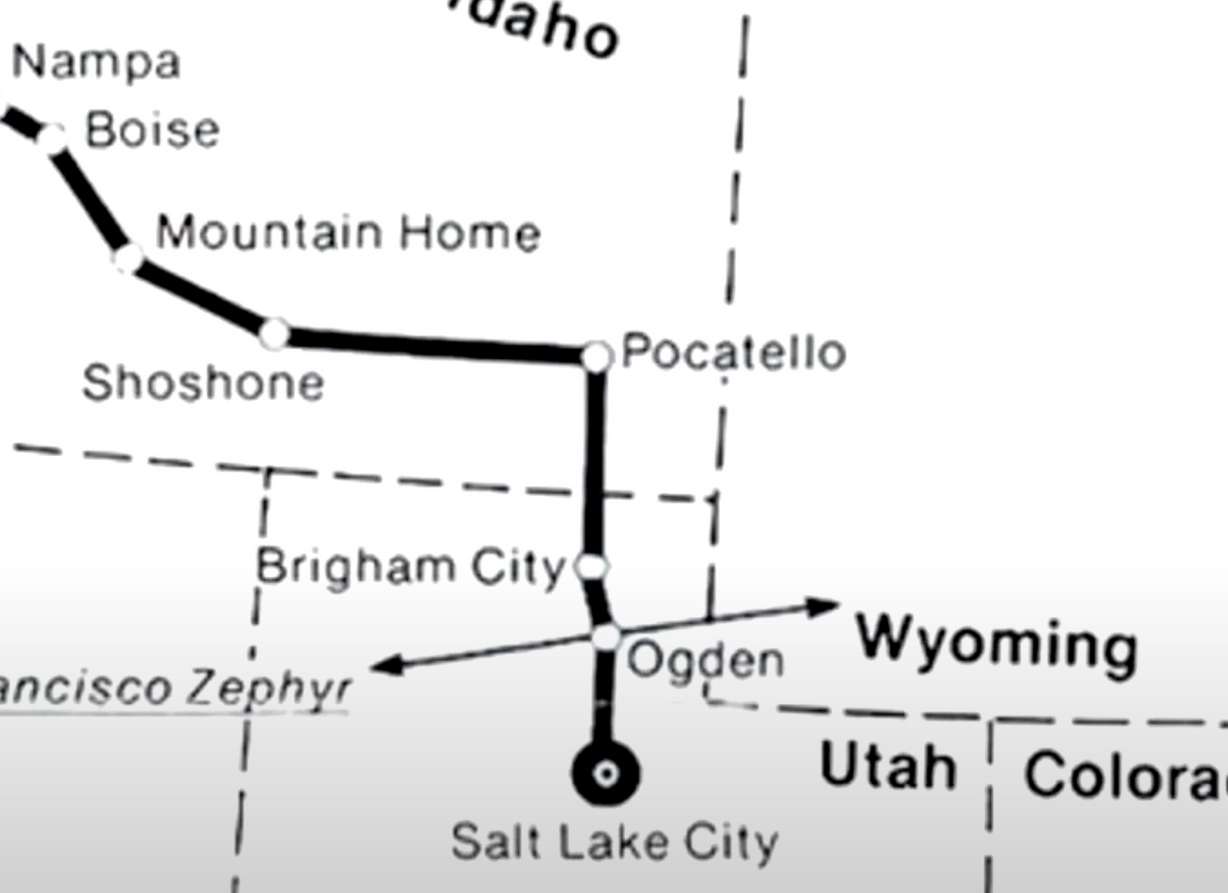 For this to work, two cities must work together within the defined 750-mile radius, McLean explained during last week's meeting. In this case, Salt Lake City and Boise leaders submitted a potential route that goes from Salt Lake City to Idaho's Treasure Valley in southwest Idaho, restoring the old Pioneer Line. Boise's intent is to have this line go as far as Caldwell, Idaho.
A request for proposal document is expected to be released next month, which will include details of a service development plan and cost estimates, as well as an outline of the next steps to make the idea a reality, Brush said.
All across our city and the region people are excited about rail! We'll continue to find and build the partnerships we need to bring the Pioneer Line back. https://t.co/pnDRvs5BWm

— Mayor McLean (@boisemayor) September 16, 2022
A spokesman for Mendenhall's office told KSL.com that the mayor has been involved in the project discourse all summer and is "in favor" of where the project is headed.
Other government departments like the Utah Transit Authority have also been in the discussions, though a spokesman for the agency deferred to Salt Lake City on the matter. Beth Holbrook, a member of UTA's board of trustees, tweeted over the weekend that the agency has met with Amtrak over ways to "continue rail connectivity" in Utah.
The project is far from completion, though. Larsen acknowledges that the Utah and Idaho state legislatures will have to approve an official request and any related funding before service arrives. It's still too early to know how much each state would have to pony up to get rail service going.
However, given the growing transportation challenges and the need for more alternatives, officials from both cities believe there is a lot to like about the proposal. For example, while Salt Lake City and Boise are spearheading the campaign, Brush said the idea seems to have really strong support from the smaller communities along the route.
"Many communities, particularly those in more rural areas, saw this as a potential to fill the void brought on by (the) loss of air service at smaller airports," she said.
Federal funding also helps.
Larsen said the level of collaboration between cities, states and the federal government has been "encouraging" so far, largely because of the federal money available. He believes it's opening up ideas that may have been considered a pipe dream just two or three years ago.
"It's an absolute game-changer," he said.
A regional route?
The Salt Lake City to Caldwell service may just be the beginning, too. Boise City Council President Elaine Clegg explained that the future could include a line that connects Portland, Oregon, which would complete the restoration of the former Pioneer Line. That connection would allow for a transfer in Portland to a line that connects up to Seattle.
---
Any (routes) chosen by (the Federal Railroad Administration) through this and the long-distance study will be eligible for technical assistance. ... It's really exciting stuff.
–President Elaine Clegg, Boise City Council
---
The route south of Salt Lake City may eventually go as far south as Las Vegas, restoring the old Desert Wind Line. City officials noted that this portion of the route restoration could eventually even reach Arizona — again, with the help of new federal programs.
"It would be a tremendous route if they do end up identifying that," Clegg said. "But any (routes) chosen by (the Federal Railroad Administration) through this and the long-distance study will be eligible for technical assistance. ... It's really exciting stuff."
Larsen clarified that Salt Lake City is interested in southern expansions but those discussions are nowhere as strong as the current dialogue with Boise. The same goes for service from Salt Lake City to other Utah places like Moab.
The cities' proposed project comes at a time when passenger rail advocates are pushing for new services, especially in the mostly blank northwest portion of the continental U.S. Utah's main out-of-state passenger rail service is Amtrak's California Zephyr, which runs from Chicago to San Francisco. It has stops in Green River, Helper, Provo and Salt Lake City along the way.
The nonprofit rail advocacy organization All Aboard Northwest held three informational meetings in Utah last month about the possibility of restoring old services throughout the region, including the former Pioneer Line. The group also presented in Idaho and at the Greater Northwest Passenger Rail Summit held in August, although the organization had nothing to do with the Salt Lake City and Boise discussions.
Members of the organization and the Utah Rail Passengers Association argue that passenger rail is a cheaper and more effective alternative to the country's growing transportation needs. They view it as a companion, not a replacement, for personal vehicle and airline travel.
"Up here in the greater Northwest region, there's a big void but people actually live out there too," said Dan Bilka, the co-founder of All Aboard Northwest, during one of the Utah meetings last month. "We say it's high time that people get on the map, and we see more and better services throughout our region."
×
Related stories
Most recent Utah transportation stories