Estimated read time: 6-7 minutes
SALT LAKE CITY — The U.S. wildfire season is really no longer contained to the summer and early fall as it once was, as exemplified by devastating fires in recent years like the Marshall Fire that burned about 1,000 homes near Boulder, Colorado, just ahead of New Year's Day.
"Over the last few years, we have begun to understand and talk about the fact that this is year-round now. This natural hazard is year-round. There's no longer a seasonal start and end to wildfire," said Lori Moore-Merrell, the U.S. fire administrator for the Federal Emergency Management Agency, in an interview with KSL.com on Thursday.
This new reality, caused by warming and drying conditions and worsened by growing development in traditional wildland spaces, sparked the creation of the U.S. Wildland Fire Mitigation and Management Commission last year. It also fueled the commission's first discussions as the group of about 50 members met for the first time ever Wednesday and Thursday at the Utah State Capitol.
The commission members — a panel of local, state, tribal, federal, industry, educational and organizational experts from across the country — gathered in Utah to address the current state of wildfires and begin to piece together new federal policy recommendations and strategies to help prevent, manage and suppress future fires, as well as better recover from wildfires in the West and the rest of the country.
More than 500 people applied to be a part of the commission, according to Moore-Merrell. Its members have various backgrounds, such as experience in forestry, insurance, climate and public health. This group also includes a pair of Utah faces: Kathy Holder, the state hazard mitigation officer, and Rich County Commissioner Bill Cox are among the group's 36 primary or alternate non-federal members.
The U.S. Department of the Interior, Department of Agriculture, and FEMA assembled the team over the past few months as a provision of last year's bipartisan infrastructure law. The massive spending package included $234 million toward wildfire resilience efforts and a mental wellness program for wildland firefighters, according to the Department of Interior.
The new commission is scheduled to deliver a report on aviation fire-suppressing tactics in January. A second and final report containing practical recommendations for various aspects — like resilient landscapes or technology, data and science — will ultimately be handed over to Congress by mid-September 2023. The report will highlight existing solutions and the gaps that need to be addressed in the future.
"The task before us as a commission is to look for ways to use the tools we have — or invent new tools — to fill the gaps that we're facing in preparing for, responding to and recovering from wildland fire, said Department of Interior Secretary Deb Haaland, in a statement Wednesday. "We also need to commit to taking better care of those responding to wildfires throughout the year; their health, safety and well-being is essential."
Addressing the problem
This week's meetings started with "baseline" discussions over the National Cohesive Wildland Fire Management Strategy, a 20-year-old wildfire prevention and response document, Moore-Merrell said. With fires only increasing in size, frequency and intensity since the strategy was created, they considered new ways to address the issue. These include building structures with more fire-resistant materials and "appropriate" roofing, window and landscape materials in high-risk parts of the country.
"We need to, as a nation, learn to live with fire ... (and learn) to understand that fire is going to occur in these areas," she said. "We need to prepare appropriately and adapt to live with fire."
With a year-round fire season essentially an axiom now, fire response is also a high priority. Firefighters will need to have the "capacity and capability" to respond and suppress every new fire, Moore-Merrell said. The conversations this week revolved around what future fire suppression response should look like in the number of firefighters assigned to the fire and the training, gear and health care they should have.
---
We want the public to understand the risks if they choose to live in these areas and to understand how to do risk reduction or what we call resilience building to be able to live there safely.
–Lori Moore-Merrell, U.S. fire administrator
---
The two-day meetings ended with the commission assigning groups that will break down specific areas in fire prevention and response over the next few months as the group pieces together a document that calls attention to future best practices and identifies new recommendations, benchmarks and gaps for Congress to consider in the near future.
The growing U.S. fire risks
These recommendations may benefit not just most Utahns but the tens of millions of people who live in areas prone to wildfires in the U.S. The commission chose to begin its meetings in Salt Lake City partly because Utah's capital represents one of the many "high-risk" and "fire-prone" wildland-urban interface communities in the country, Moore-Merrell explained.
However, the list of similar areas is steadily growing. While the West will be the top focus over the next few months, she said that wildfires are starting to impact other parts of the country, especially states in the Southeast.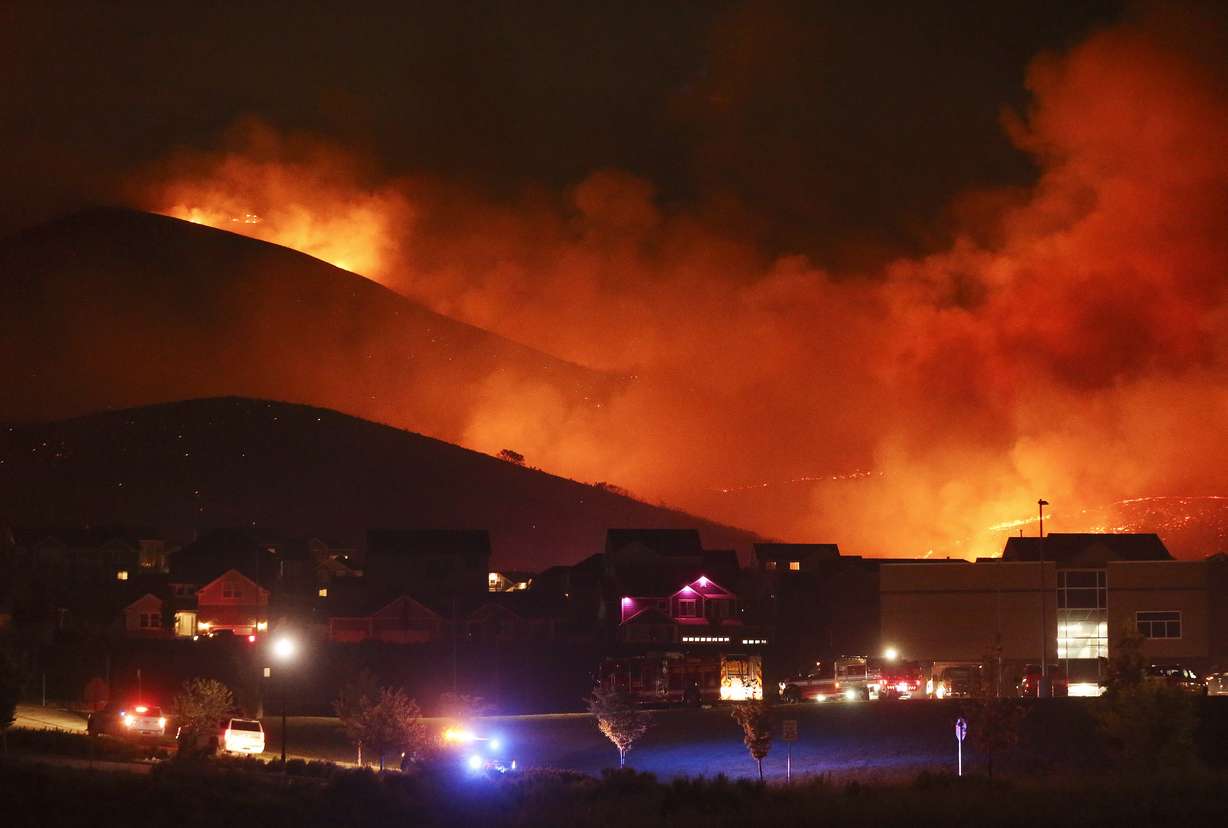 Fires are also not a remote forest problem anymore, adds U.S. Department of Agriculture Secretary Tom Vilsack. The Marshall Fire, last year's Dixie Fire near Lake Tahoe and the 2018 Camp Fire that killed 85 people and destroyed nearly 19,000 structures in Paradise, California, are just a few of the latest examples of what can happen when wildland fires end up in communities.
"Climate change and increasing development in the wildland-urban interface are rapidly changing the complexity and response challenges for the fire service," he said in a statement Wednesday. "It is time for us all to recognize that wildland fire is not just a forest or rural problem any longer."
Meanwhile, the West and Southeast are the top regions where many people are moving to in the U.S., as noted by the U.S. Census Bureau. The growth of both regions means more land is expected to be deforested to make way for new wildland-urban interface communities.
Moore-Merrell believes the commission is convening at the right time because of the changing climates and the population centers in the country.
"This is the importance this commission can bring. I think it's (helping identify) some of these nuances and figure out the best way to not only to deal with it ... but also be able to better communicate, with clarity, to the population at large," she said. "We want the public to understand the risks if they choose to live in these areas and to understand how to do risk reduction or what we call resilience building to be able to live there safely."
×
Most recent Utah wildfires stories