Estimated read time: 2-3 minutes
DRAPER — Draper police have arrested a man in connection with a fatal shooting during an apparent drug deal at an apartment complex last week.
Alexis Federico Marquez, 21, was booked into the Salt Lake County Jail on Wednesday for investigation of murder.
On Aug. 11, 33-year-old Remey Rowland, of Salt Lake City, was found shot to death in the parking lot of the Heritage Apartments, 11715 S. State, just after 1 a.m.
On the other side of the parking lot, across from where Rowland's body was found, "officers observed a vehicle with the driver's side door open. They approached the vehicle and observed the interior covered in blood," according to a police booking affidavit.
In addition, detectives reported seeing money and bullet casings around the front passenger compartment.
"Initial investigation seemed to reveal the victim was in the driver's seat with the suspect in the front passenger seat. The suspect shot the victim, who then exited the vehicle and attempted to flee west across the parking lot. He collapsed on the sidewalk with multiple gunshot wounds," according to the affidavit. "A warrant was obtained for the vehicle, where drugs, fake currency, a bullet and spent casings were recovered, indicative of a possible drug deal."
Investigators served a search warrant on Rowland's phone and learned that he had arranged a drug deal with Marquez, who lives at the apartment complex, the affidavit states. Officers returned to the complex on Wednesday "and took the suspect into custody after a lengthy standoff where he barricaded himself in a bathroom."
When questioned by detectives, Marquez initially claimed the gunman was not him but was a friend, then "changed his story and lied about what had happened," eventually claiming he shot Rowland in self-defense, the affidavit states. Marquez claimed he "had heard the victim had killed someone," and when he saw Rowland reaching for something by the driver's side door, he "thought he was grabbing a gun. (Marquez) stated he shot the victim in self-defense, then fled to his apartment where he cleaned up."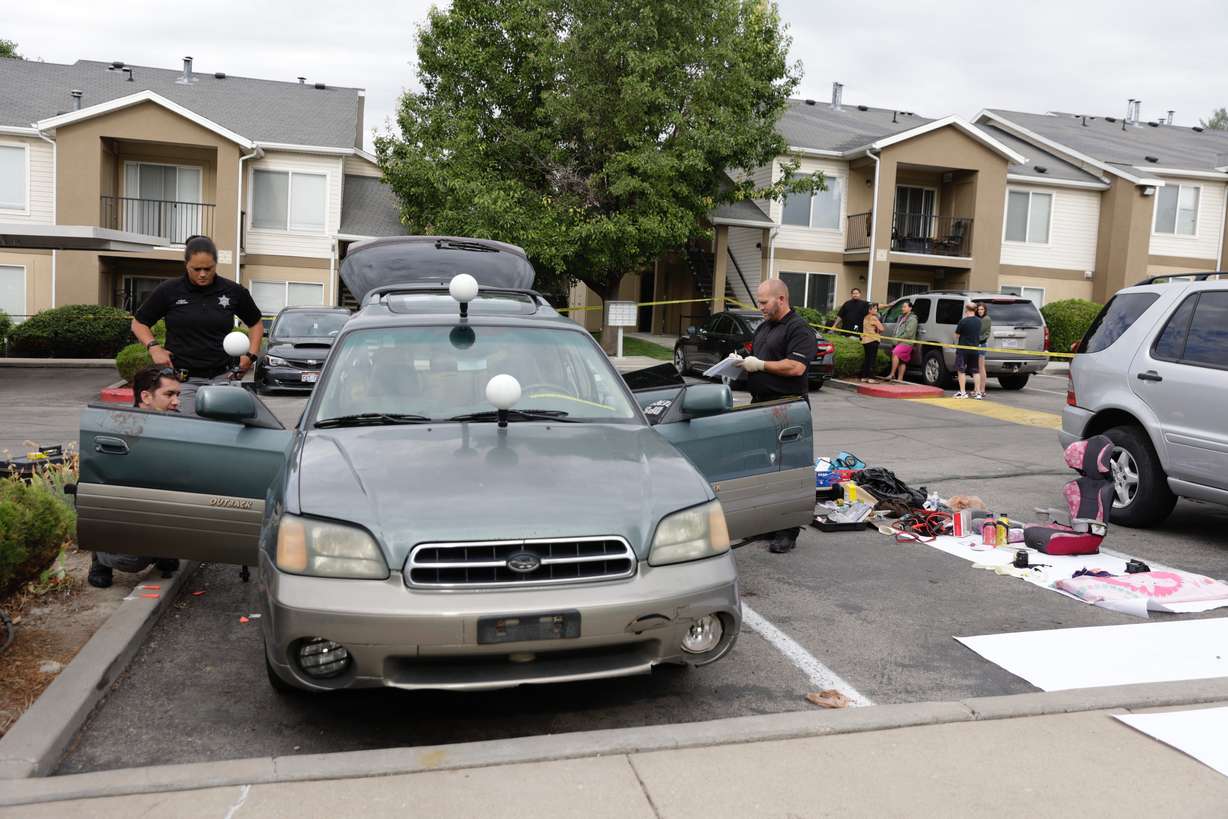 Court records indicate that Marquez pleaded guilty in December 2020 to two counts of discharge of a firearm, charges that were amended to second-degree felonies. In that incident, Marquez shot a man in the leg in Sandy, according to charging documents. He was given a suspended prison sentence and was placed on four years of probation. A warrant was issued for his arrest on July 6 for violating the conditions of his probation and was still active at the time of the shooting, according to court records.
In January 2020, Marquez pleaded guilty to attempted drug possession with intent to distribute. He was also given a suspended prison sentence and placed on probation in that case.
×
Most recent Police & Courts stories