Estimated read time: 5-6 minutes
SALT LAKE CITY — It was only one reception but one that left an impression.
The catch in the front left corner of the end zone at the Los Angeles Memorial Coliseum resulted in a 12-yard touchdown and the go-ahead score in a game that would ultimately become a coming out party of sorts for a Utah football program that started the 2021 season with two nonconference losses.
The touchdown grab itself wasn't anything overly special; it didn't require any theatrics like a one-handed grab or a between the defenders' hands catch. Really, it was a simple, routine catch with at least 5 yards or more between the receiver and his closest defender.
It's a catch, though, that is Money Parks' only recorded stat in his two years at the collegiate level. And yet, the sophomore receiver has become one of the most intriguing players on offense for Utah coming into the 2022 season.
"I feel like Money Parks is gonna come with a punch this year," said true freshman Jaylon Glover, who is equally an intriguing asset to an already loaded running back room. "He's been lights out since spring. ... I could just see how focused he is this season, and he wants to make a big impact this year."
From one reception to a "big impact" year seems like a Herculean jump for the sophomore receiver, but not to those who see him work each day. He's the one player on offense that everyone mentions as potentially having a breakout season this year.
Even head coach Kyle Whittingham and offensive coordinator Andy Ludwig agree.
"Money Parks is really starting to do some good things — that's been maybe one of the brightest spots of camp is the way he stepped up and elevated his game," Whittingham said.
Parks isn't one to boast about himself, at least not publicly to those who don't know him well. He's a bit reserved and some would say quiet. In some ways he's the antithesis to the stereotypical receiver that flaunts his ability and brings an overzealous confidence to the field.
No, Parks is the one that quietly goes about his business in an attempt to up his game. But he knows what he can bring to the team and what's changed over the last year.
"I say I've always been a pretty good player, but like this year, I feel like I just know why I'm doing the reasons why I'm running this route, why I'm running that route," Parks said. "I feel like I'm just understanding the game so much better than last year. It's slowing down to me. So like once I become more consistent over and over and over, I will stand out more. I just feel like that's the reason."
Though he only has one reception to his name, those around him say he's a new player and one to not be taken lightly. Devaughn Vele, who has taken on the reigns and leadership role as WR1, said Parks' development has been "amazing."
"When he first got here you could definitely see he was like that freshman, he didn't really understand the plays, he was just using his athleticism to get him out of a lot of situations," Vele said. "But now, this is the first time in fall camp — I even told him: We're watching him grow up in front of our eyes right now.
"Now the plays that he's making, now it's just like, that's how you understand respecting the process that we always talk about. When you respect the process, the game's gonna take care of you, and it's definitely doing that for Money Parks right now."
Ludwig credits Parks' development on having the "system knowledge," which has allowed him to play with more confidence and to "play faster and more aggressive."
"We're seeing the benefits of that," Ludwig added.
Even the incoming players have seen a change in Parks.
"Money parks for sure; he's a dog," said fellow wide receiver Sidney Mbanasor. "The plays that he's been making at practice is crazy. He's gonna have a breakout year for sure."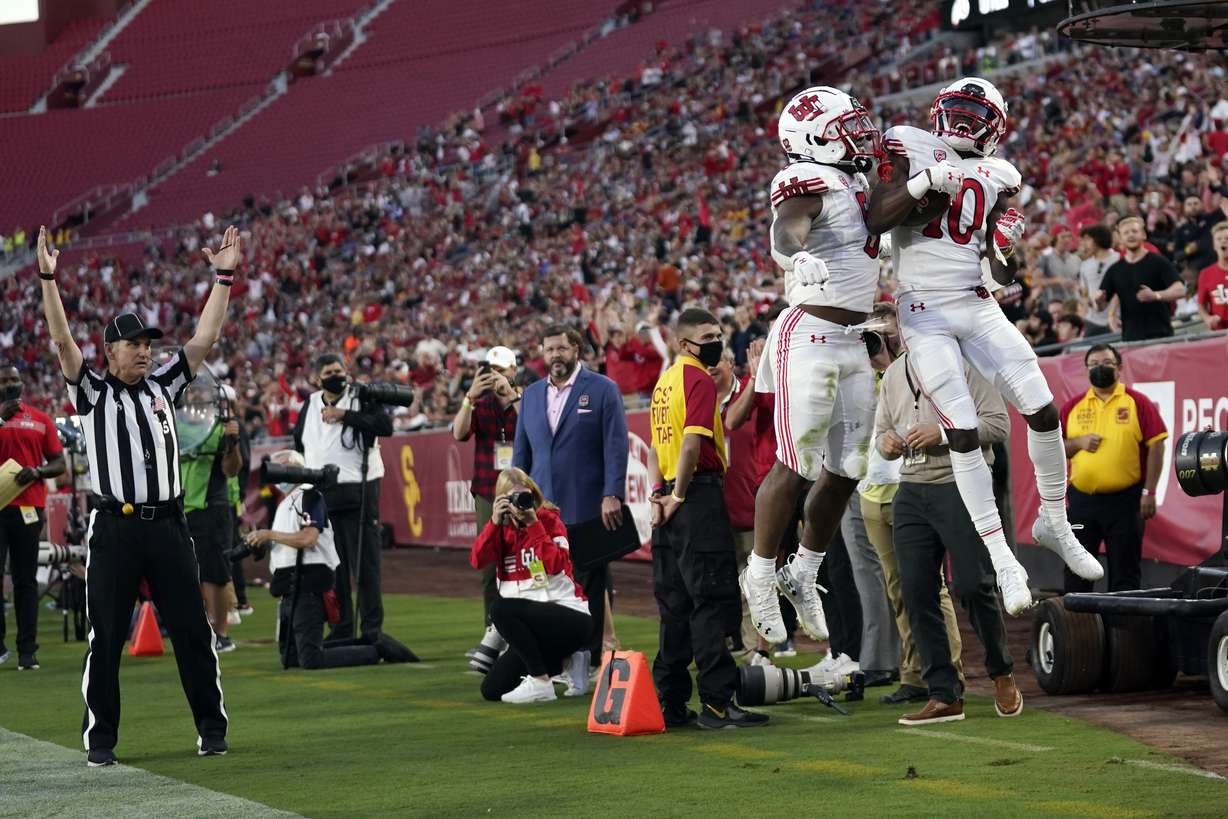 And though Parks has been noticeable better and improved, there's still a need to get more production out of the team's wide receivers as a whole. Vele said the team won "despite us a few times" last season, but that they've challenged themselves to be a bigger part of the offense.
"We were challenged in the spring. We always bring it up how the receiving room was really challenged," Vele said. "I felt like we stepped up a lot, and we proved a lot of doubters wrong, but we still have a lot more to do because it's one thing to do it in the spring and one thing to do in the fall.
"We have a lot of expectations upon us and we have a lot of things to fulfill, but I'm confident we can do it."
Parks said that conversation for the wide receivers started after the Pac-12 championship game, where the group had a "man-to-man conversation" about all the work they needed to do to be better the next season. Parks and several other receivers took that message to heart.
"We just started doing the extra work after — like all through summer we was on the hill running, on the hill running routes, catching balls on the jugs 24/7, so that's probably what's making us stand out the most," Parks said.
And though Parks has turned heads over the last year, he just wants to contribute to the team however he can.
"I just want to play punt return, kick return," he said. "I just want to be a part of special teams — contribute to the team the most I can."
×
Most recent Utah Utes stories