Estimated read time: 6-7 minutes
SYRACUSE — A family from south central Ukraine is now calling Utah their home after meeting a Utah couple online who were total strangers. That couple welcomed the family of five, plus their dog, into their Syracuse home.
Family time around the kitchen table is often spent bonding and sharing stories. Recently, however, Aaron and Cari Peterson have been sitting across from Vitalii Holovchenko, Natalia Sokolviak, their two young children and Natalia's mother, Nadiia Zhmur.
The two families can carry on a conversation even though the Petersons speak English, and aside from Holovchenko understanding some English, his family only speaks Ukrainian.
"We often understand what each other is saying, and we're not even speaking the same language," Cari Peterson explained. "We can just tell what each other is saying."
The conversation on Sunday centered around 5-year-old Dima starting kindergarten in the coming week. Aaron Peterson asked, through Google translate, if Dima wanted a bicycle.
"Yes!" Dima exclaimed. The table filled with laughter.
They may not speak Dima's language, but what the little boy and his family were going through spoke to the Petersons after the two families connected in a Facebook group linking Ukrainians with American sponsors for the Uniting for Ukraine program.
Aaron Peterson said Sokolviak sent him a message saying they were looking for a sponsor. The family lived less than a half-hour from the front lines of the ongoing war, with the constant threat that Russia would attack their city, Kryvyi Rih.
The Petersons learned that Sokolviak and Holovchenko and their two children, Dima and 11-month-old Marharyta, had to deal with emergency sirens daily as planes flew overhead. The couple owned a home, and Holovchenko could often hear shooting from his backyard. They did not have a safe place to hide.
"Their kids were going to bed with jets flying over, and bombs flying over, and bullets — hearing the sound of guns," Aaron Peterson explained.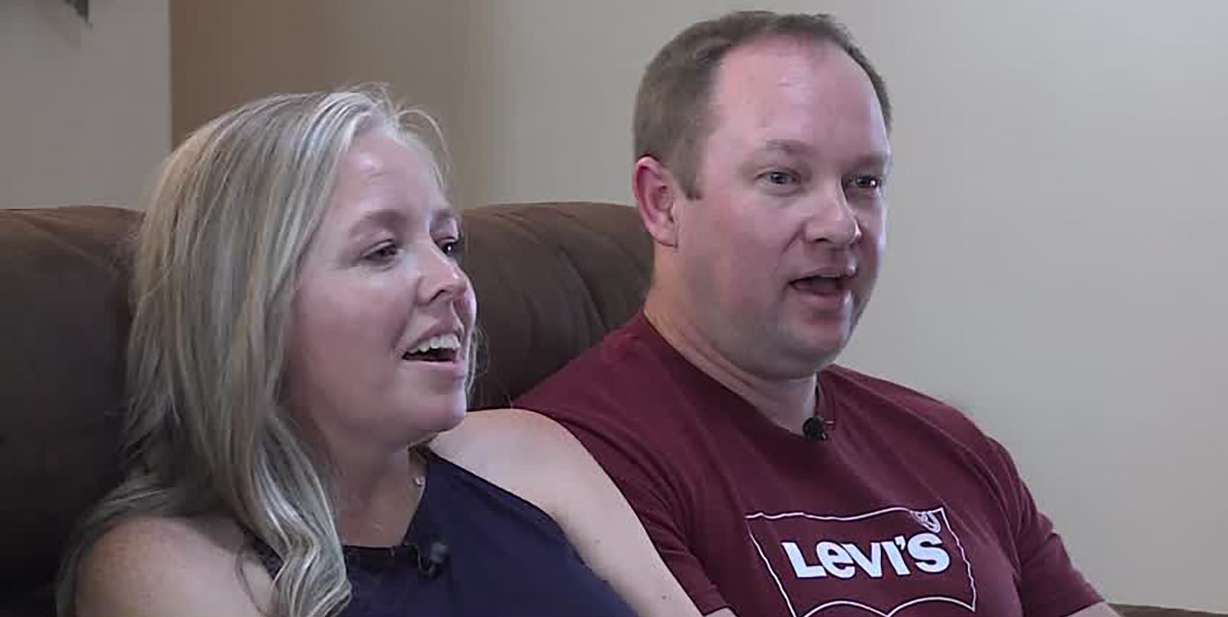 "They needed to get somewhere safe, and they have children just like we did, so how could we not help?" Cari Peterson expressed.
The Petersons, who have three kids of their own, ages 14 to 20, quickly decided they'd not only sponsor Holovchenko and Sokolviak's family but also let them come live at their home.
They set up a Zoom call, because, as Cari Peterson said with a chuckle, "we wanted to make sure we were each real people."
Holovchenko had the same thought, saying they were, at first, scared of not knowing Aaron Peterson or his family. But after the Zoom session, the couples decided to move forward and began planning to get the family out of Ukraine and to Utah.
The family of five packed up in Ukraine with their gigantic Cane Corso — Tony Stark — and rode a train to Poland. Aaron Peterson said the trip took 24 hours. The family flew out of Poland and landed in Los Angeles at LAX.
Aaron Peterson also flew into LAX, and waited for Holovchenko, Sokolviak, Zhmur, the kids and the dog, at the airport. It was the first time they had seen each other in person.
"When they came through, they had all their luggage, all their life possessions, and their dog on a cart wheeling out with them. And so, I was met with the opportunity of five Ukrainians, one Ukrainian dog, and lots of luggage," Aaron Peterson recounted, chuckling. "And at that moment, I wasn't sure how I was going to get back."
Aaron Peterson said he and Holovchenko rented the biggest vehicle they could. They managed to pack everyone in and drive 12 hours overnight from LA to the Peterson's Syracuse home.
While one of the Peterson children doesn't live at home, the couple had to figure out how to fit everyone in, along with their two teens. They gave Holovchenko and Sokolviak their own living space in the basement, plus a couple of bedrooms.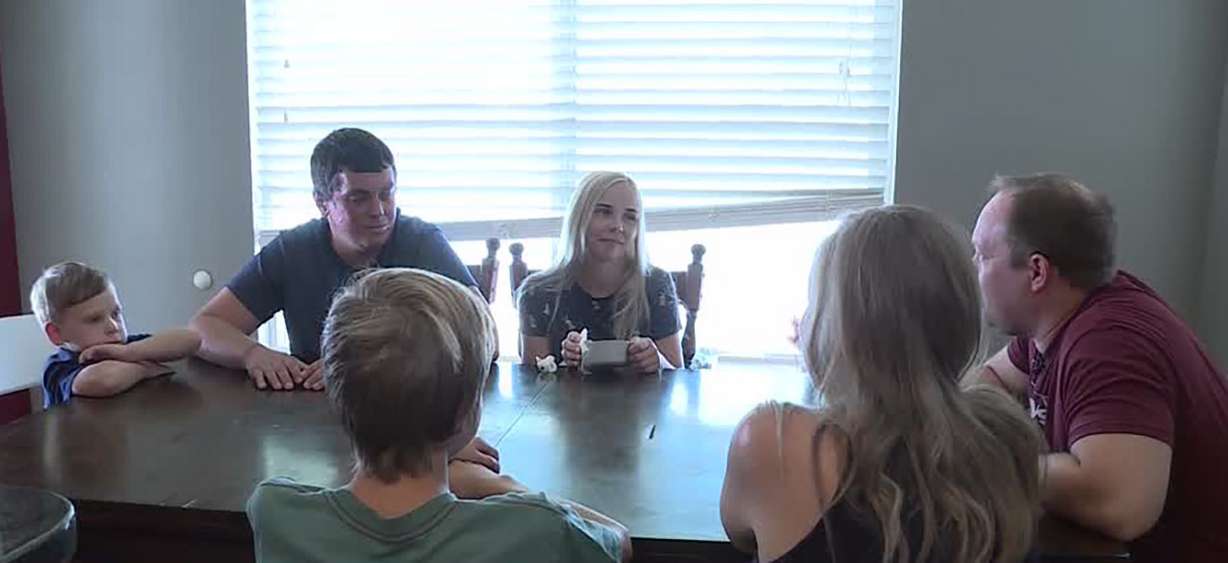 "We were a little short on beds," Aaron Peterson said. "Ikea is a Godsend," Cari Peterson added, with a laugh. They also purchased toys for Dima and Marharyta and baby items like a crib and stroller.
The house may be a little cramped, but it's obvious that there is so much room in their hearts. Cari Peterson said Holovchenko and Sokolviak are family to them now.
"It's been a really good experience," Cari Peterson said.
Holovchenko, Sokolviak, and Zhmur are building their lives from scratch. Holovchenko is currently waiting for a work authorization to get a job, but Aaron Peterson explained that the paperwork is being processed very slowly.
The family hopes to find a place of their own to live eventually. They just purchased a car this week to get around on their own.
On Sunday, they had a unique opportunity to meet other Ukrainians in the same situation, at a meetup in South Salt Lake.
The group Utah Ukrainian Community hosted what they called Happy Hour for the Ukrainians, which was an informal three-hour event at Fitts Park in South Salt Lake. Under one of the pavilions, a few dozen Ukrainian immigrants and refugees met each other and made connections.
Organizer Maryna Detsyura explained how they see new faces at each monthly meetup, as more Ukrainians flee the war and arrive in Utah.
---
Aaron accepts us like family. They have a big heart. Thanks to such people, many are now alive and warm and safe.
–Vitalii Holovchenko
---
Their goal is to provide community and support, giving Ukrainians like Holovchenko and Sokolviak an opportunity to speak their native language while helping them feel connected to their home country.
"People meet friends here, then they will be able to keep in touch with each other, and just create new friends, and create networking if they want to do something together and just, that's kind of a great opportunity for them," Detsyura said.
Between the South Salt Lake meetup and the Peterson home, Holovchenko and Sokolviak expressed their appreciation as they work to call Utah their new home.
"Aaron accepts us like family," Holovchenko said, looking down at Google Translate on his phone and reading what it said in English. "They have a big heart. Thanks to such people, many are now alive and warm and safe."
To help the Holovchenko family begin their new life, the Petersons set up a GoFundMe account* to raise funds for the family of five.
---
*Disclaimer: KSL.com has not verified the accuracy of the information provided with respect to the account nor does KSL.com assure that the monies deposited will be applied for the benefit of the persons named as beneficiaries. If you are considering a deposit or donation you should consult your own advisers and otherwise proceed at your own risk.
×
Most recent Russia-Ukraine stories