Estimated read time: 5-6 minutes
SALT LAKE CITY — Newly-released body camera footage from an officer-involved death in January shows a woman screaming she's afraid she will die minutes before she struggles with Salt Lake police officers and becomes unresponsive as they hold her down on her stomach.
The incident began about 3 a.m. on Jan. 11, when a security guard with Marathon Petroleum's Salt Lake refinery alerted an officer about a woman. He described Megan Joyce Mohn, 40, as "walking in circles, carrying a piece of rebar in the intersection of 400 W. 900 North," Salt Lake police have said.
In footage released Thursday by the Salt Lake City Police Department per city protocol, an officer approaches another officer who is standing above the woman as she crouches on the grass. When an officer asks the woman her name, she screams: "Help! Help me!"
"You're going to go to jail if you don't tell us your name," an officer says.
"I'm probably going to go to jail anyway, so," she responds.
They continue to ask for her name, and she asks them if she can use their cellphone "to call the police." One officer answers: "We are the police," and she responds, "I want to confirm that."
Throughout the video, the woman can be heard breathing heavily, and her breath can be seen in the apparent cold.
"Help! They're gonna kill me! Help me!" the woman screams in the video. The woman starts trying to stand up while screaming, and the officers hold onto her arms and force her back onto her knees and tell her to "stay down." The officer again asks her to tell them her name "so we can get it over with."
"Please don't, please don't. ... I don't want to die. Please. I have so much else to do," she says.
"You're not gonna die," an officer says. "Do you have an ID on you?"
She says it got stolen and does not respond to the officer's request again to give him her name. The woman asks for water, and an officer says "If you tell me your name, maybe."
"Oh, that's just exploitation," she says.
"Well, you want water. I want your name," the officer says, according to the video.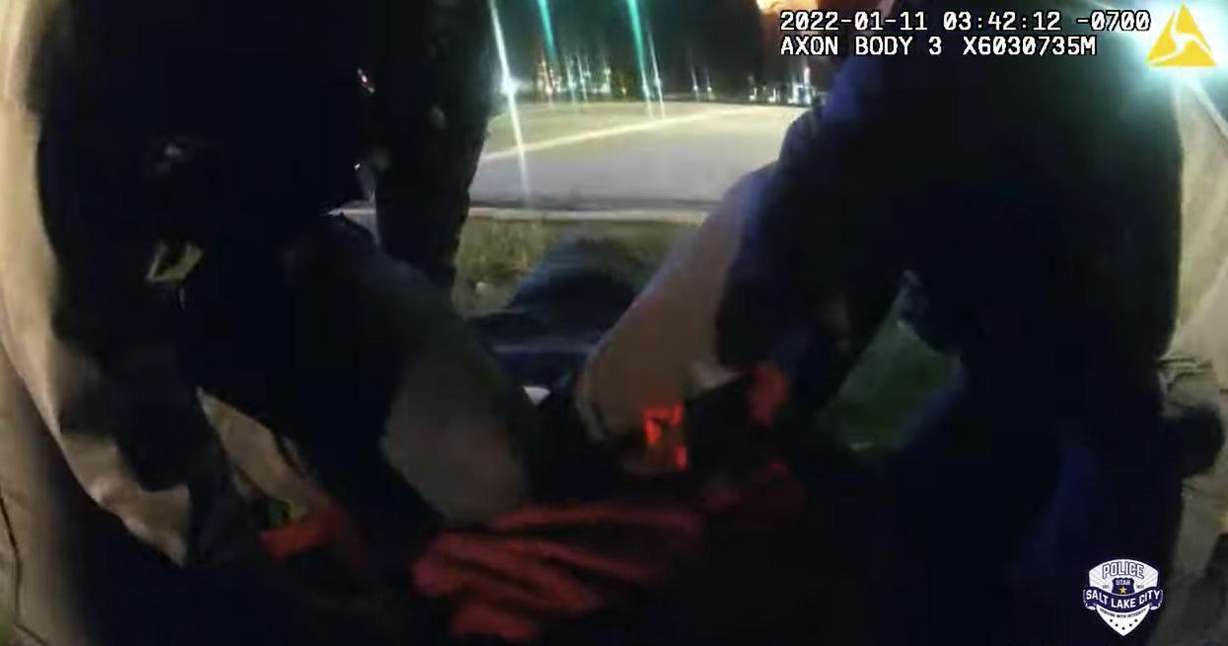 One of the officers threatens in the video to "cut off your backpack" if she doesn't give them her name. The woman says "please don't" and again begins screaming for help. The officer takes out a knife and cuts the strap of her backpack and removes it from her. She protests and says it's a "good backpack," the video shows.
The woman then begins to struggle to free herself and kicks her legs at the officers. An officer tells her to stop kicking. The officers then get ahold of her, appearing to kneel and press onto her center and thigh, as she lays sideways on the grass.
"OK, OK," the woman repeats.
"I love you guys," she says after several seconds.
"Then why are you kicking me if you love me?" an officer asks.
The woman continues to struggle physically and scream as three officers are now holding her down as she lays on her stomach, according to the footage.
"I'm here in the park tonight, she's trying to get into this fueling station over here that's gated and locked. So when trucks are going out, she's trying to go in, so they call me. And I'm on my way, they inform me that she's running circles in traffic. She's got two sticks, one's a metal, and she's trying to hit cars," the first officer explains to the others.
That first officer did not have a body camera, police said in a statement.
As two of the officers hold her down with their knees, she appears to stop struggling and becomes silent, the video shows.
Video from a fourth officer's body camera as he approaches shows the three other officers still holding her down and handcuffing her. All of the officers are silent for several seconds until one says: "See if you can get her in the recovery position."
Salt Lake police noted in a statement that the videos they released were cut off once police began rendering first aid to the woman.
Police have said Mohn was breathing but remained unresponsive. An officer did a sternum rub and a dose of naloxone was administered as attempts to wake her. When all attempts failed, officers then decided to remove the restraints and begin chest compressions. Mohn was taken to Salt Lake Regional Hospital in critical condition, where she later died on Jan. 30, according to police.
The medical examiner's office ruled her death a homicide and found her immediate cause of death was "anoxic brain injury" due to "cardiac arrest" due to "probable methamphetamine intoxication in the setting of an altercation involving physical restraint."
Officers reported locating methamphetamine, spice and alcohol on Mohn's property. Police learned of Mohn's death on Feb. 9. The Salt Lake County District Attorney's Office had advised Salt Lake police at the time that the incident did not qualify as an officer-involved critical incident.
Following the release of the medical examiner's findings, however, the four primary officers who were involved in the incident were placed on paid administrative leave. The district attorney's office has not yet ruled on whether the use of force that allegedly contributed to Mohn's death was legally justified.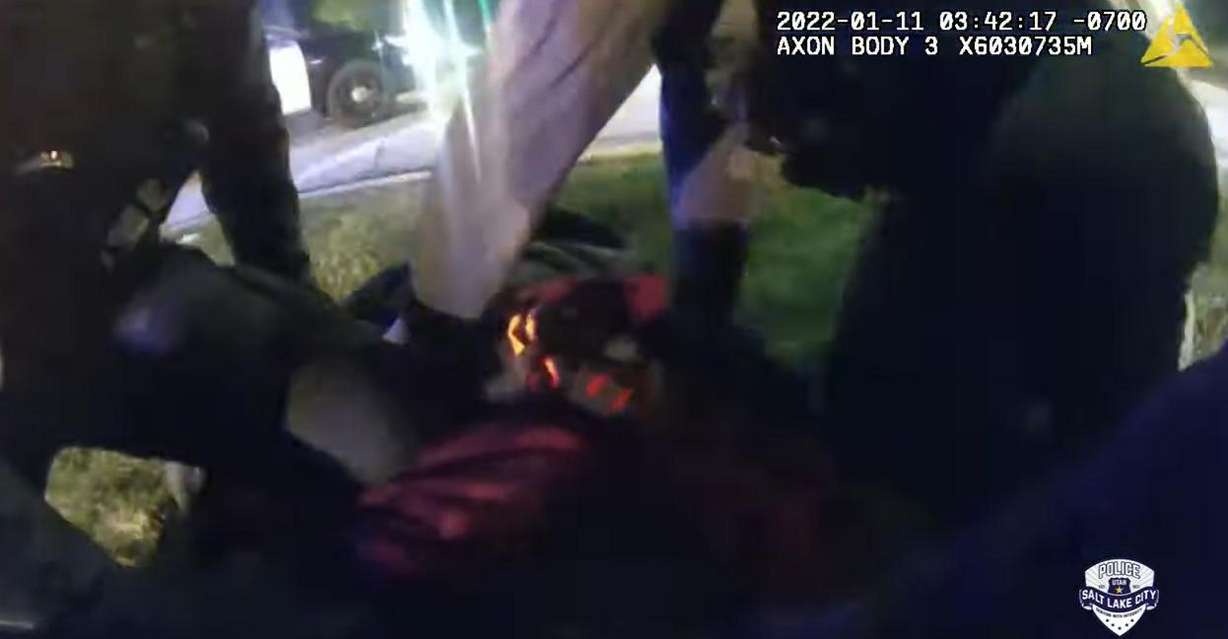 "The Salt Lake City Police Department expresses its condolences to Ms. Mohn's family. Ensuring we have a comprehensive investigation into this matter is critical. This case involves many complex factors," Chief Mike Brown said in a statement, adding that he looks forward to the full officer-involved critical incident report from the district attorney's office and the department's internal investigation.
"Our officers work tirelessly every day to live up to the expectations of our community and to fulfill their duties as police officers and public servants. I know they are committed to their jobs and have a strong dedication to our community," Brown said.
×
Most recent Police & Courts stories