Estimated read time: 8-9 minutes
SPRINGVILLE — Located just 8.2 miles away from BYU's campus in Provo, Springville has historically felt like another galaxy, at times, from the largest private school in the state. At least, on the football field.
For various reasons, the Cougars rarely added to the roster from the three-year high school in the town of 33,251, which — when combined with the success of former NFL quarterback and University of Utah Hall of Fame quarterback Scott Mitchell — often led to plenty of red in the heart of Utah County.
That's not to say there weren't plenty of BYU fans, especially in a community so close to campus, where many work as professors or other personnel jobs. But the Red Devils area was … well, pretty red in Utah County's sea of blue, all things considered.
Like BYU's conference affiliation in 2023, times are changing.
Buoyed by the commitment of rising senior quarterback and Elite 11 semifinalist Ryder Burton, BYU will add four players from the Utah County high school scattered over the next two years, including its first QB commit from a Utah high school since Corner Canyon's Zach Wilson and current starter Jaren Hall, who prepped at Maple Mountain.
Here are Burton's friends he's bringing along: 6-foot-4, 270-pound offensive lineman Dallin Johnson, a rising junior; and a pair of preferred walk-ons in defensive lineman Porter Small and tight end Cole Clement, who are both serving missions for The Church of Jesus Christ of Latter-day Saints.
"It's a big deal to this community," said Springville coach Dave Valeti, who played collegiately at Snow College. "You live so close to BYU, with a lot of BYU Cougar fans, that this is really special. I know for all four of them, BYU was their dream school — over the Alabamas and Oregons. Being able to go there and live out their dream is great."
Johnson was the first to commit to BYU — he jokingly calls himself "Cougar No. 1," Burton says with a laugh. But his commitment can't go unnoticed, and not just because he takes snaps under center.
"Ryder Burton has it," said Valeti, the ninth-ranked Red Devils' long-time defensive coordinator who will open his first season as head coach Friday at Dixie. "And by it, I mean there's this aura when he gets on the field that is easy to lead guys. He has this persona that's infectious and charismatic. Guys want to follow him.
"He wins every sprint. He puts in the work. He lives football unlike anybody I've ever seen. He came to our spring workouts, then drove up to Stroshine Performance, then flew to California to work out with John Beck. And he just has that presence about him."
Either as leader or follower, Burton is bringing plenty of other Springville teammates to BYU. Only a handful of players, mostly walk-ons, that have matriculated to the program since defensive presence Cameron Comer retired after the 2011 season. Regardless, the community with plenty of BYU fans (despite some deep-red allegiances) isn't used to an annual run of players heading to Provo on scholarship.
Several have taken a shot as walk-ons like Clement, who totaled 1,223 and 14 touchdowns in three seasons at Springville.
"I feel like I'm good enough to be a scholarship player," Clement told KSL.com prior to leaving for a mission. "Being a preferred walk-on gives me a little more motivation — I want to play with these guys, and I want to beat them out."
The 6-foot-4, 210-pound pass catcher who may project as a linebacker at the next level (BYU tight ends coach Steve Clark will get the first shot at him, Clement said) will be joined by good company on the non-scholarship line in Small, a 6-foot-4 edge rusher who totaled 92 tackles and 11 sacks in three seasons with the Red Devils.
Small passed on scholarships from several FCS schools, most notably Southern Utah, when the opportunity to play with his own teammates became too good to pass up, he said. That, and the legacy of BYU walk-ons, from Chad Lewis to Tyler Allgeier, including many who went on to earn a scholarship and a spot in the NFL.
"I've definitely thought of those guys; it's been done before," said Small, who grew up a BYU fan. "It's not like it's crazy to happen, especially at BYU. It gives me confidence that I'll be given a fair shot to earn my spot in the future.
"You can see evidence that everyone is treated equal, PWO or scholarship."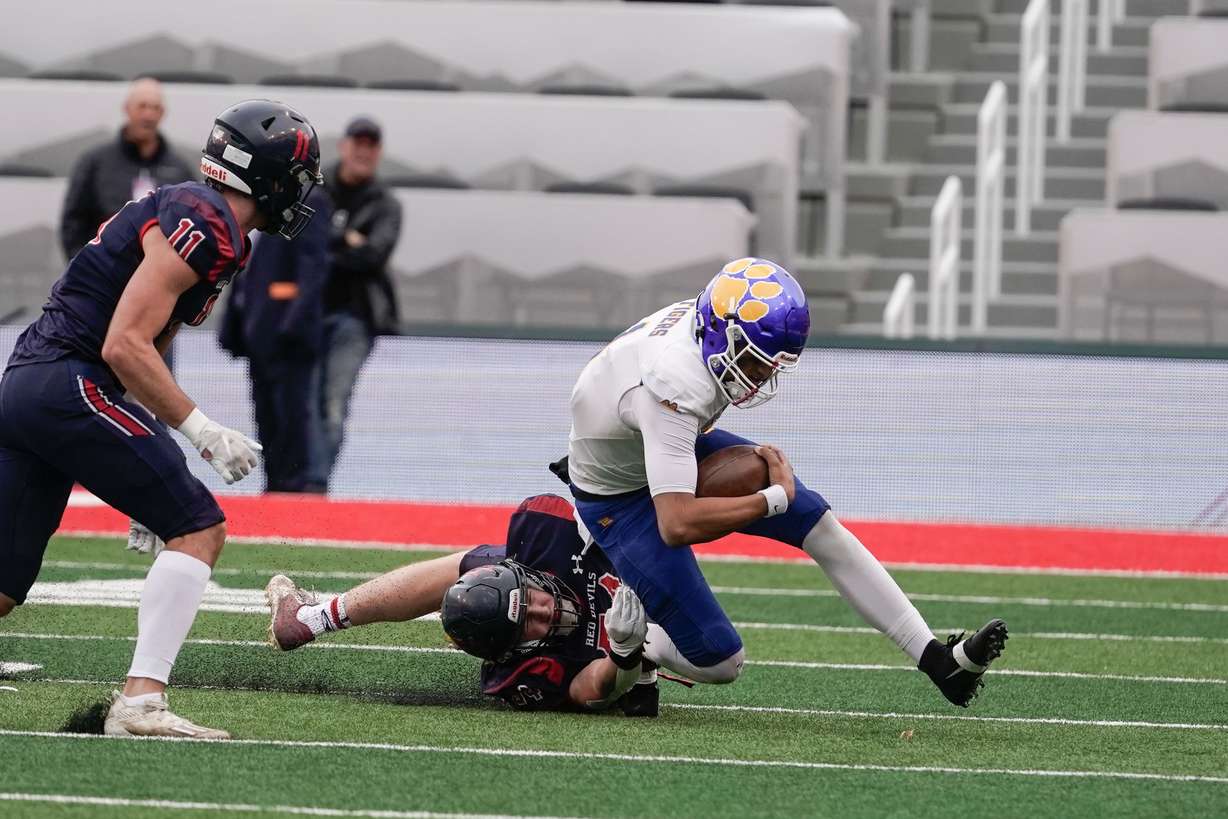 Like Burton, Clement is a dual-sport athlete who also excelled on the basketball court — and that might have played a role in BYU coaches taking notice of him, when he averaged 6.9 points and 4.9 rebounds per game as a senior.
"I appreciate that BYU had interests in me playing other sports, as well as my values, and not just football and looking forward to playing for them," Clement said. "They respect the mission, too, and they have experience working around it a lot."
Because of those two-year religious deferrals, Burton will be the first to arrive at BYU. Like his older former teammates, Burton also passed on a scholarship at the lower levels to commit to his dream school, over interest from Nevada, San Jose State and Southern Utah. The 6-foot-1 signal caller who threw for 2,319 yards and 25 touchdowns in leading the Red Devils to the 5A state championship game last year also plans to graduate early and enroll in January, giving the 16-year-old senior time to join his college team for spring camp.
If that offer list doesn't excite the reader, consider this: Burton didn't wait to consider his senior-year options once offensive coordinator Aaron Roderick offered him a scholarship. BYU's been his dream school, and he accepted it — even though he won't take an official visit to campus until December.
He was ready to accept the offer. Now Burton just wants to prove he deserves it by the play of his senior season.
"It's no secret; people look at me, and they go, how did he get that offer to BYU after what he did in the state championship game?" said Burton, who accrued six interceptions in a 35-6 championship-game loss to Lehi. "I have something to prove, chip on my shoulder; it's something I think about every day. It's why I watch film and try to think of what I can do better."
Burton's timeline is similar to that of former Corner Canyon quarterback Cole Hagen, older brother of wide receiver signee Cody Hagen. The elder Hagen, who recently returned from a two-year church mission, spent his freshman year at Yale.
And there might be more news of additions, specifically those from Springville teammates, Burton says. He won't stop pitching the program any time soon, on Twitter, in Instagram comments, and in private text messages.
"My goal is to bring as many dudes to BYU as I can," Burton said. "I know that with the LDS atmosphere, I won't play with a lot of them. But I don't just want to make BYU successful while I'm there; I want to leave and have the next guy realize he has weapons, too."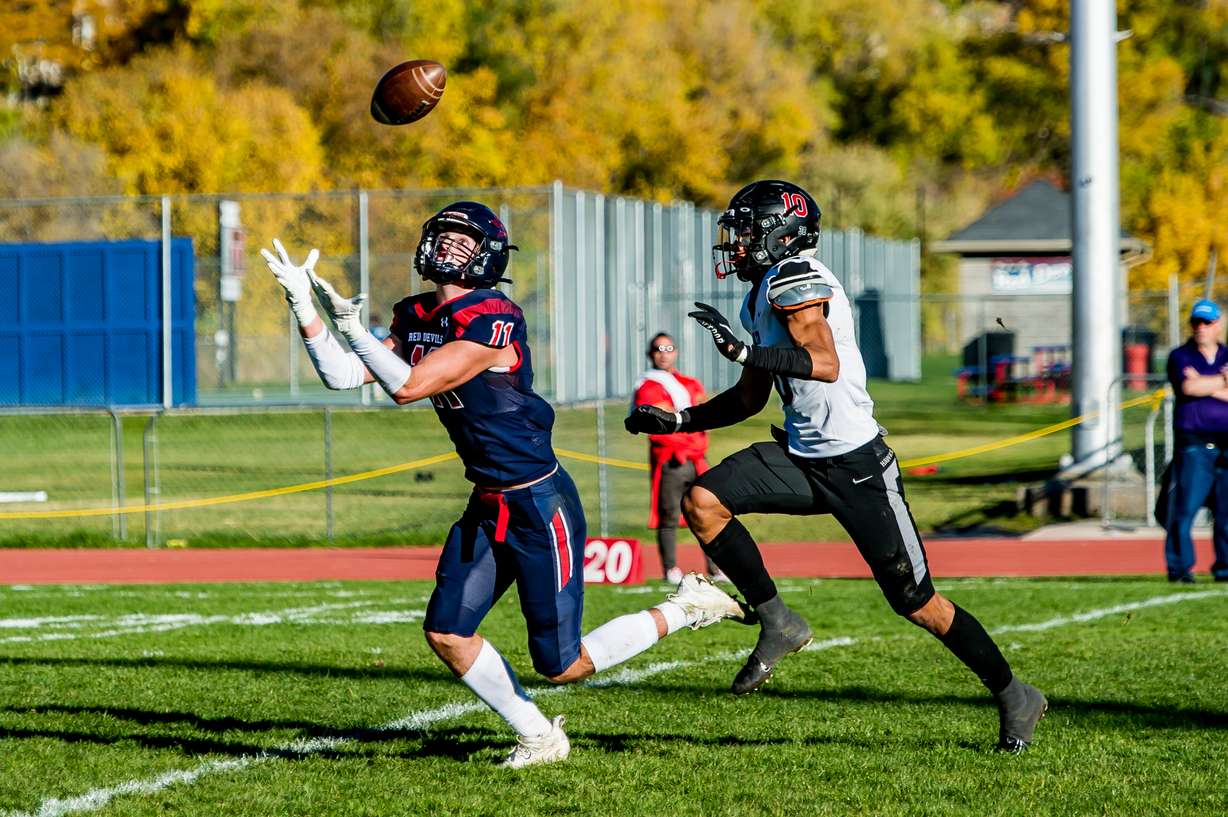 Even if it means another quarterback. Burton has never been afraid of competition — even when that competition brings out the best in his opponent, and not just him.
"You're in the spotlight when you're doing well, and you're in the spotlight when you suck," he said. "How you bounce back from that adversity shows a lot.
"One of the things I love most about this team (at Springville) is that we take accountability. Sure, I'll get after some dudes. But they'll be the first to get back at me if I'm not playing right. That's one of the things we are better at this year. … That's just kind of how we have to play the game."
So who is Burton? A three-year varsity player who moved to Springville from the Atlanta area in junior high, Burton is a dual-sport athlete who fell in love with football at an early age. He's confident in his abilities, in his teammates and in his coaches. That confidence has sometimes been mistaken for cockiness by others, mostly opposing coaches and players.
Call it "cocky" if you will, Burton resigns. The truth is, he's confident because he knows that even if he's beat, he's not going to be out-worked. Few players work quite like Burton, who has been known to watch film on opposing defenses until well after midnight.
"You'll never be nervous, if you're prepared," Burton said.
Remember that part about how he eats, drinks and sleeps football? That's not just during the season.
"I remember in December or January, shoveling a square in the snow about 30 yards downfield and having a garbage can on both sides, so he could drop back and do drills — in the snow, when he was a ninth grader," Valeti recalled. "At that time, we had pulled up another ninth-grade quarterback, too. But instead of shying away from competition, the competitor in him was always ready for the challenge.
"He was a little upset when that quarterback left, because he said his plan was to beat him out. He's a crazy competitor, and he's really taken over the role of quarterback — and he takes it very seriously."
Burton's No. 1 goal is bring Springville back to Rice-Eccles Stadium, to make amends for the 5A championship game loss last year. He's a competitor, after all, ready to compete, whether in his senior season — or the new team he plans to join 8.2 miles up the road.
"The more big-time recruits I can bring to BYU," he said, "as well as dudes like me who coach Roderick sees potential in, the better I can do my job."
×
Photos
Most recent High School Sports stories
More stories you may be interested in