Estimated read time: 6-7 minutes
PROVO — Prior to his arrival at BYU training camp, Gabe Jeudy-Lally had been around the country.
Born in New York City, the son of Thomas and Alla Lally who took his stepfather's last name with a hyphen after his freshman year at Vanderbilt, attended high school in North Carolina, spent some time in Texas, and finished his degree in human and organization development at Vanderbilt in three years as an all-SEC academic scholar.
But something he saw from the moment he set foot on campus in Provo — really, from the moment he started to be recruited — was family. BYU had it; that's not to say nowhere else does. But in Utah County, it just felt different.
After a few days of adjusting to the new environment, and with some help from his mom, teammate Kaleb Hayes and former BYU defensive back Derwin Gray, the transition has been smooth for the self-professed Christian with the potential for 2-3 years of remaining eligibility.
"Everyone treats me really nice. It feels like family out here," Jeudy-Lally said. "I didn't feel like I had to figure things out when I went into the locker room. Everyone embraced me, which is super cool. I'm coming from across the country and it's definitely different here, so it's nice to be part of a family."
Jeudy-Lally barely had time to unpack, of course, before that welcoming hospitality turned into competition in fall camp.
The 6-foot-2, 185-pound cornerback is officially the No. 2 backup behind fellow transfer Hayes, who came from Oregon State before starting 10 games with 12 pass breakups for BYU last year. The duo also leads a pair of talented freshmen in Korbyn Green and Chika Ebunoha on one side of the secondary, with senior D'Angelo Mandell at the other cornerback spot ahead of Caleb Christensen and three more freshmen.
Think about that for a moment: a graduate senior who spent three seasons in the Southeastern Conference — yes, at Vanderbilt, but also who posted 63 tackles, two tackles for loss and two interceptions as one of the premier lockdown corners in the conference — isn't walking into a starting job in BYU's secondary. That doesn't make his addition any less necessary, though.
"We're going to need corners this year; we've got 10 games with no bye, and that's one of the messages we've talked to our defense about," BYU defensive coordinator Ilaisa Tuiaki said after Wednesday's practice. "We've got a lot of good players out there and guys who will be playing roles that maybe they didn't expect.
"But we're going to need all of them. Last year, it showed that was the case. We're going to need all of them, we're going to need everybody bought in and contributing — one way or the other."
And that's fine by Jeudy-Lally, if the redshirt-senior Hayes beats him out. Because another thing BYU does that he hasn't experienced much in his collegiate career, and the most important thing? The Cougars win. Lots of winning, with 21 victories to just four losses in the last two seasons.
In three years at Vanderbilt, the Commodores won just five games that included a winless campaign in 2020 when COVID-19 forced them to play an all-SEC schedule.
And while he enjoyed his time in Nashville, he also wants to win during the remainder of his college career — whether it's one year or more. Jeudy-Lally could be eligible for the NFL draft after this season, though he admits nothing is set in stone.
"I could be biased, but … I didn't win a lot of games before I came here," Jeudy-Lally said. "The culture and in talking to everybody, they always believe they're gonna win, regardless of whoever they're gonna play. It's really great, and it shows in the last couple of years.
"If you want to come to a place where you're going to be treated like family and win football games, then I think this is the spot to be at."
That community, from coaches to administrators to fans and teammates, helped convince Jeudy-Lally that BYU was the right spot for him from the moment he committed in March.
"The coaches and the players that he's around, like D-Lo, Kaleb, Malik (Moore, starting safety), and everyone else, they really took him in and let him know that it's really a family here," BYU cornerbacks coach Jernaro Gilford told KSL.com during BYU media day. "The community, from the administrators on down, they all helped him fall in love with the school.
"He's also a really academically focused guy; any time you can graduate from Vandy in three years, you're doing something right."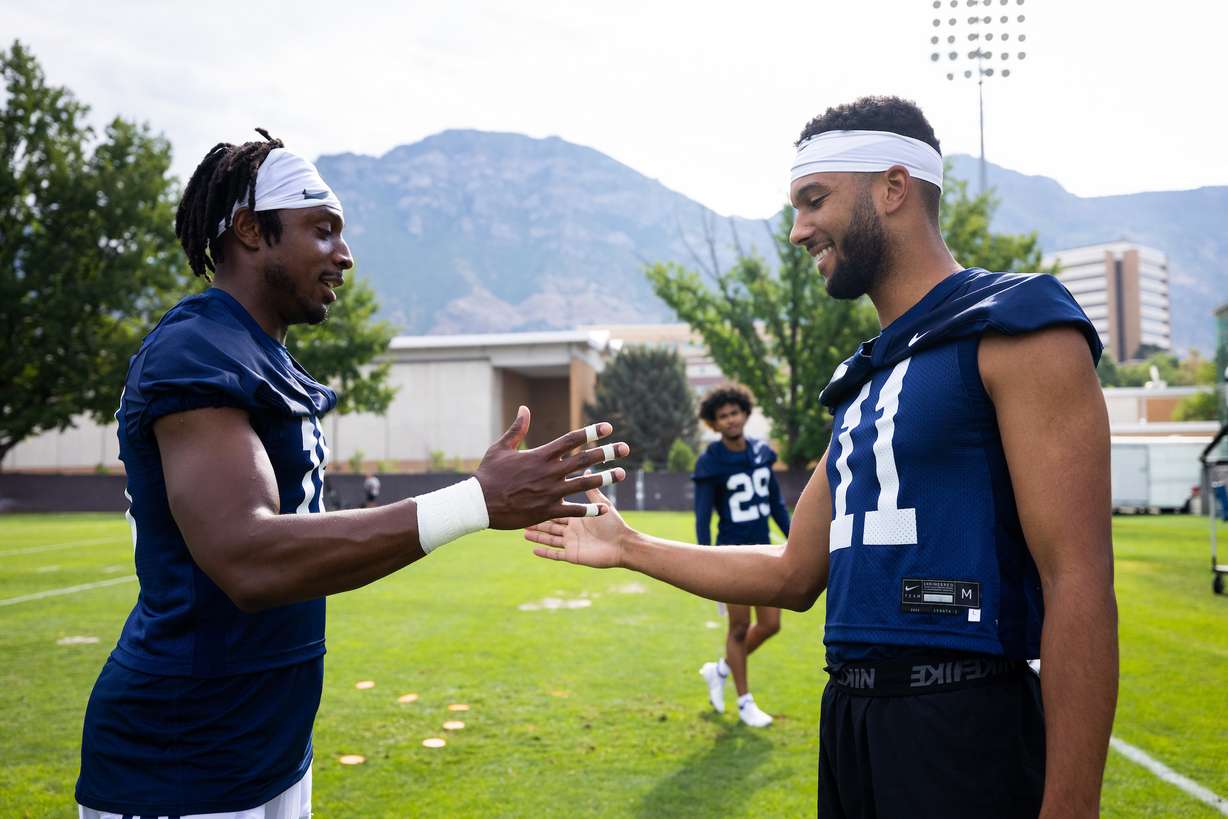 Credit also goes to Gilford for bringing Jeudy-Lally out of the transfer portal to BYU, where he was recently accepted into the MBA program, a degree he plans to make full use of after his football and NFL career ends.
Football and academics drove Jeudy-Lally to BYU. He is not a member of The Church of Jesus Christ of Latter-day Saints, which sponsors the university; neither was Gilford, who played for the Cougars from 1999-2003 and was a teammate of head coach Kalani Sitake for part of his career.
The former fullback Kalani Fifita left an impression on Gilford, and when the Southern Utah secondary coach had a chance to return to his alma mater with Sitake, he jumped at it — and has stayed ever since, a key presence in recruiting other non-Latter-day Saints to the school.
"I'm just blessed to be around a guy like Kalani," Gilford said. "I'm loving the man, and it definitely has a lot to do with me staying, not wanting to go anywhere and stuff like that. Kalani and everybody else."
The Cougars aren't going to try to remake Jeudy-Lally in their own image — just "ask him to do what he does best," Gilford says — and expect him to be the same man press-loving lockdown corner that the saw on film at Vanderbilt, whether it was with "Jeudy" or "Jeudy-Lally" on the back of his jersey.
It's the same player, but one who wants to honor both lineages: Jeudy for his biological father, with whom he has a "great relationship" and Lally for Tom, who helped raise him since he was about five years old.
Cougar Nation! I'm here in Provo📍and am excited to get to work! I'm looking for local companies and businesses to partner for NIL and to get integrated into the community! Shoot me a DM if anything and #GoCougspic.twitter.com/JK86Mucw1Z

— Gabe Jeudy (@GabeJeudy) June 17, 2022
"My stepdad taught me how to play football," said Jeudy-Lally, who made the name change after his freshman year. "He brought me into the fold, and I have respect for him for always being there for me in life. I just wanted to honor both names."
He also wants to honor his new teammates, supporting them in the same way they've supported him since he arrived in Provo, like Hayes, Mandell and his teammates and business partners in the CougConnect name, image and likeness collective.
Truthfully, there are few bigger fans of Hayes than Jeudy-Lally. Sure, they're competing for a spot on the depth chart, but after that, they're teammates — and have become close friends in a relatively short time. If his best move is to bring experience off the bench, that's OK. He knows he's going to play, and when he's not playing, he's going to mentor a lot of young players in his cornerbacks room.
"We've got a lot of young guys in our room," he added. "Being able to give them little nuggets of information here and there to get them right, if we can get them right for the next steps, I think it's good.
"Game one, whoever is out there, I think we're going to get the best out there. I'm not worried about it at all."
×
Photos
Most recent BYU Football stories