Estimated read time: 9-10 minutes
This archived news story is available only for your personal, non-commercial use. Information in the story may be outdated or superseded by additional information. Reading or replaying the story in its archived form does not constitute a republication of the story.
SALT LAKE CITY — Utah Gov. Spencer Cox turned toward the Wasatch Mountains behind him and pointed out the double-edged sword many Utah communities face because they are so close to wild lands.
"As beautiful as mountains and forests are, wildfires and flooding can prove dangerous for our transportation grid, our property and our lives," the governor said, noting that this risk of fires and flooding has expanded in recent years as a result of a changing climate.
That's why he's thrilled with the U.S. Department of Transportation's new PROTECT Formula Program, which will provide states funding to help modernize transportation infrastructure so it can withstand the impact of a changing climate.
The program, administered by the Federal Highway Administration, will deliver $7.3 billion in federal funds to states over the next five years to address how fires, floods, hurricanes, extreme heat and other natural disasters impact roads, bridges, public transit and railways.
"Residents here, as the governor describes, have seen the results of extreme weather with their own eyes, and we've been seeing it day-by-day," said U.S. Department of Transportation Secretary Pete Buttigieg, making the announcement near the steps of the Utah Capitol.
Buttigieg also noted that Utah will receive "tens of millions of dollars" from this new program, saying that states should receive the money because they are aware of all the infrastructure needs on a local scale. An official with the U.S. Department of Transportation said Utah is slated to receive about $12 million this fiscal year, and up to $65 million over the next five years.
What does the PROTECT Program do?
The money from the program comes from the federal infrastructure bill Congress passed last year. Every year for the next five years, the Federal Highway Administration will deliver close to $1.5 billion toward projects that aim to keep roads and railways open through extreme weather events.
While the announcement was made in Utah, the Beehive State isn't alone in this issue. Buttigieg met with other western governors during an event in Idaho on Thursday. There, he heard about the impacts drought, fires, flooding, mudslides and extreme heat have had on infrastructure, such as the flooding that closed Yellowstone National Park for over a week earlier this year.
Meanwhile, the Midwest and Appalachian states are now dealing with flooding. It's also an area ravaged by severe thunderstorms and tornadoes. The Southeast has dealt with more frequent and larger hurricanes over the past few years. All of these types of events have impacted transportation infrastructure in one way or another.
"The climate crisis is real and it is here. The good news is that we know what we have to do, and America is fully capable of rising up to this occasion, as we have done with every other great threat that we've faced as a country," Buttigieg said. "We have the power to stop the worst potential outcomes of the climate crisis."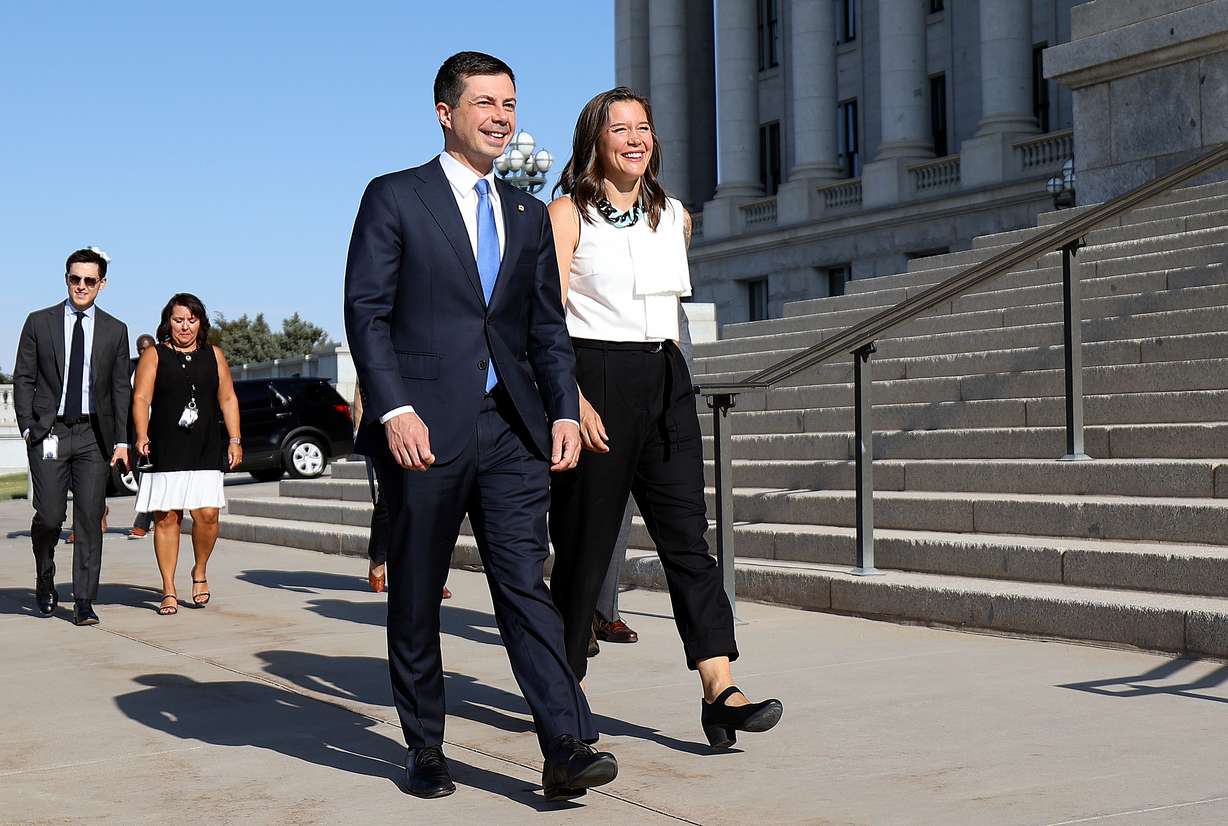 The new funding, he said, can help states redesign bridges to withstand flooding, build evacuation routes to allow residents to escape natural disasters or add embankments that catch debris from a post-wildfire mudslide.
"The program is even a better investment when you consider that it's going to mitigate things like the $145 billion in damages that extreme weather events cost Americans just last year," Buttigieg added. "Our country will finally be in a position to adapt to our infrastructure before disaster strikes."
How Utah intends to spend the money
The benefits of improving infrastructure also played out in real-time Thursday. On the same day Cox learned of the new federal program, a monsoonal storm dumped rain over a portion of the Brian Head Fire burn scar in Iron County, resulting in "several feet" of mud and debris closing state Route 143.
But the mudslide was in an area that the Utah Department of Transportation rehabilitated shortly after the massive 2017 fire. State and federal crews cleared out drainage and built new infrastructure in the event of a flash flood. UDOT invested $2 million toward the project, according to Cox.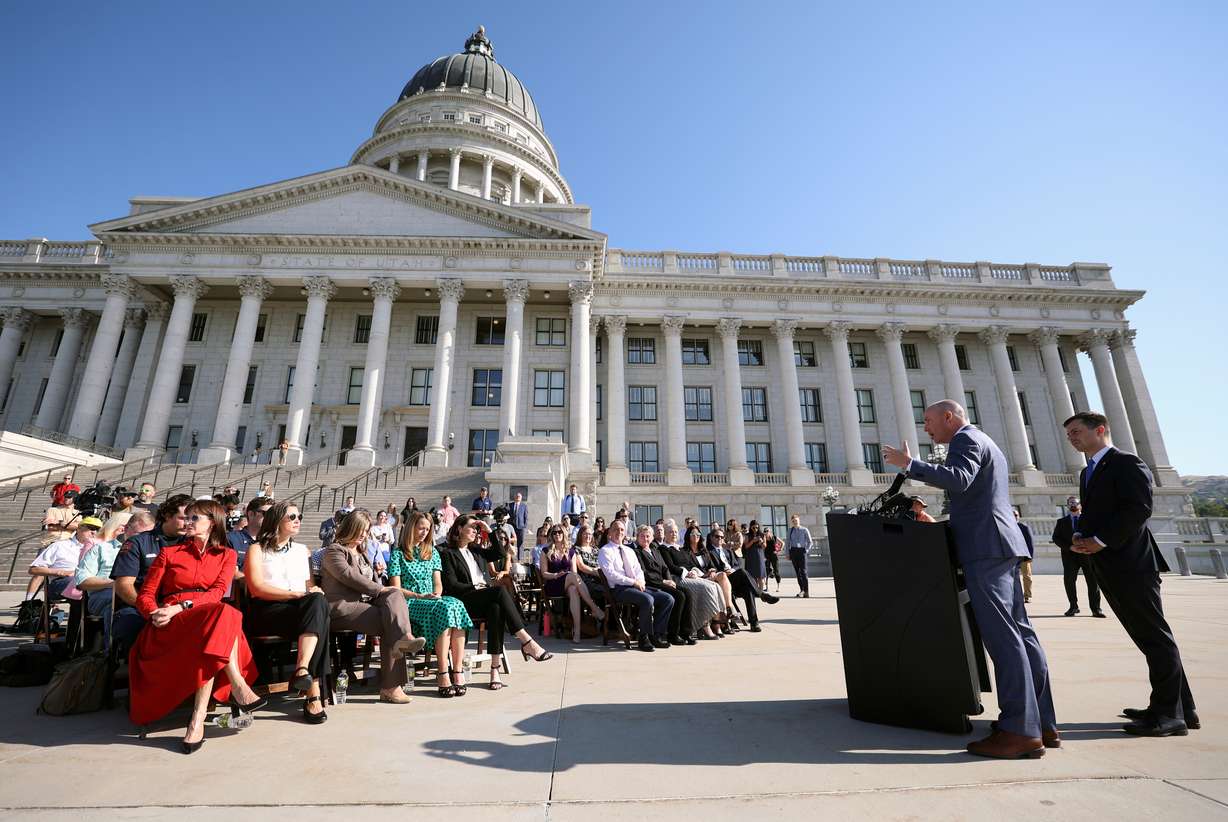 The work then helped a team clear the road in about three hours instead of the 24 hours it took after a similar incident in 2017.
"And they initiated the response faster thanks to early data from a new weather monitoring system," Cox said. "Before, traffic was closed several times so crews could repair chunks of missing asphalt. This time, there doesn't appear to be any significant damage to the road."
These types of projects, he adds, are important in Utah's rural communities, which often face impacts from fires and floods. These areas are also where transportation corridors are "lifelines."
Hours after announcing the U.S. Department of Transportation's PROTECT Formula Program, Buttigieg met with firefighters and community leaders at a Unified Fire Authority Station in Emigration Canyon to discuss another recent scenario: last year's wildfire in Parley's Canyon.
The group also talked about firefighting efforts in the greater Salt Lake area and how infrastructure investments can improve evacuation routes and safety across the community.
"Local communities everywhere, in different forms but in a very familiar pattern, are bracing for the next curveball," Buttigieg said. "We don't know what the next curveball will be, some of these extreme events come in an unpredictable way."
It's too early to know how Utah will spend the new funding; however, Cox said state transportation officials will review projects soon. He expects the money will go toward projects in "high-priority" areas like canyons and near fire burn scars, which are more prone to rockslides, mudslides and avalanches.
"We'll be completing these projects every year as that money becomes available," he said. "Of course, we have wildfires every year, so every year we have a new area that needs this type of investment."
And since Utah was already investing in some climate mitigation transportation projects, he contends that the new funding will help expand efforts or "free up money" for other needed transportation projects in the state. It also could help move funding to other types of infrastructure projects in the state that combat the effects of extreme weather, like retention ponds to reduce flooding risks in communities.
Dealing with weather's unpredictably
Even with all the advancements in weather technology, weather remains one of the most unpredictable things to plan for.
What is predictable, Buttigieg said, is that these extreme weather events will come more frequently and with increased intensity due to climate change. With this in mind, he heard from fire officials and community leaders about Utah's needs and how the program can address them.
"Every time you turn around, there's something new," said Christopher Robinson, Summit County Council chairman. "Planning for that as best we can ... it's very reassuring to know that we have federal partners that have that mindset, that want to invest in that kind of infrastructure."
Robinson described the Parleys Canyon Fire as a "very tense" moment for Summit County due to its role as a watershed for Salt Lake City.
Summit's emergency manager Kathryn McMullin also described it as complex because the lead agency fighting the fire changed five times in 48 hours. This complexity allowed for collaboration between counties with different emergency management teams and fire districts to work together and put their collaborative capabilities to the test.
"Can we use additional projects or funding or opportunities to build that capability? Absolutely," McMullin said. "Those relationships did come together, they came together smoothly and we did everything we could to support those communities."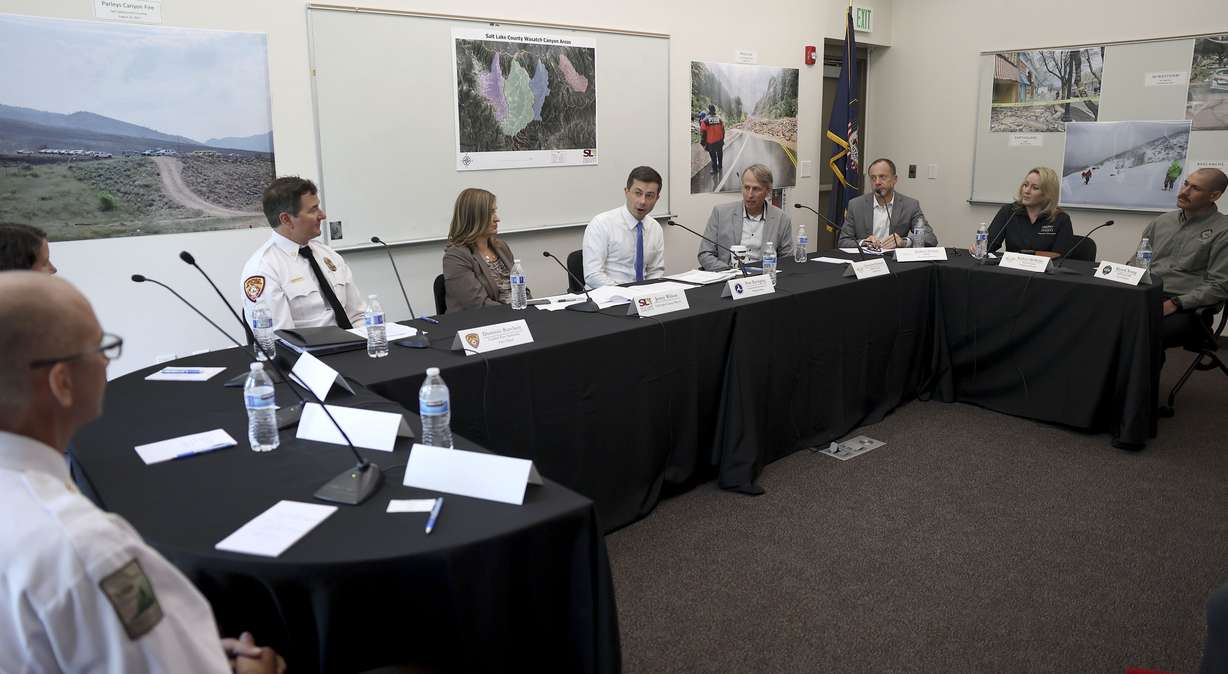 While natural disasters can be a chance to showcase interdepartmental cooperation and resilience, they also highlight deficiencies in emergency response and infrastructure.
Kiyoshi Young, Unified Fire heavy rescue specialist, said he believes the right infrastructure and equipment help allow firefighters to fight blazes and conduct rescues "aggressively." He points to Emigration Canyon as a perfect example of an area where Unified would have access problems should it be called to an incident there.
"We have big vehicles. Somebody's pickup truck can get somewhere that our 35-foot-long fire engine can't get," Young said. "We want to be able to get to the problem to solve it, but we need that support for access."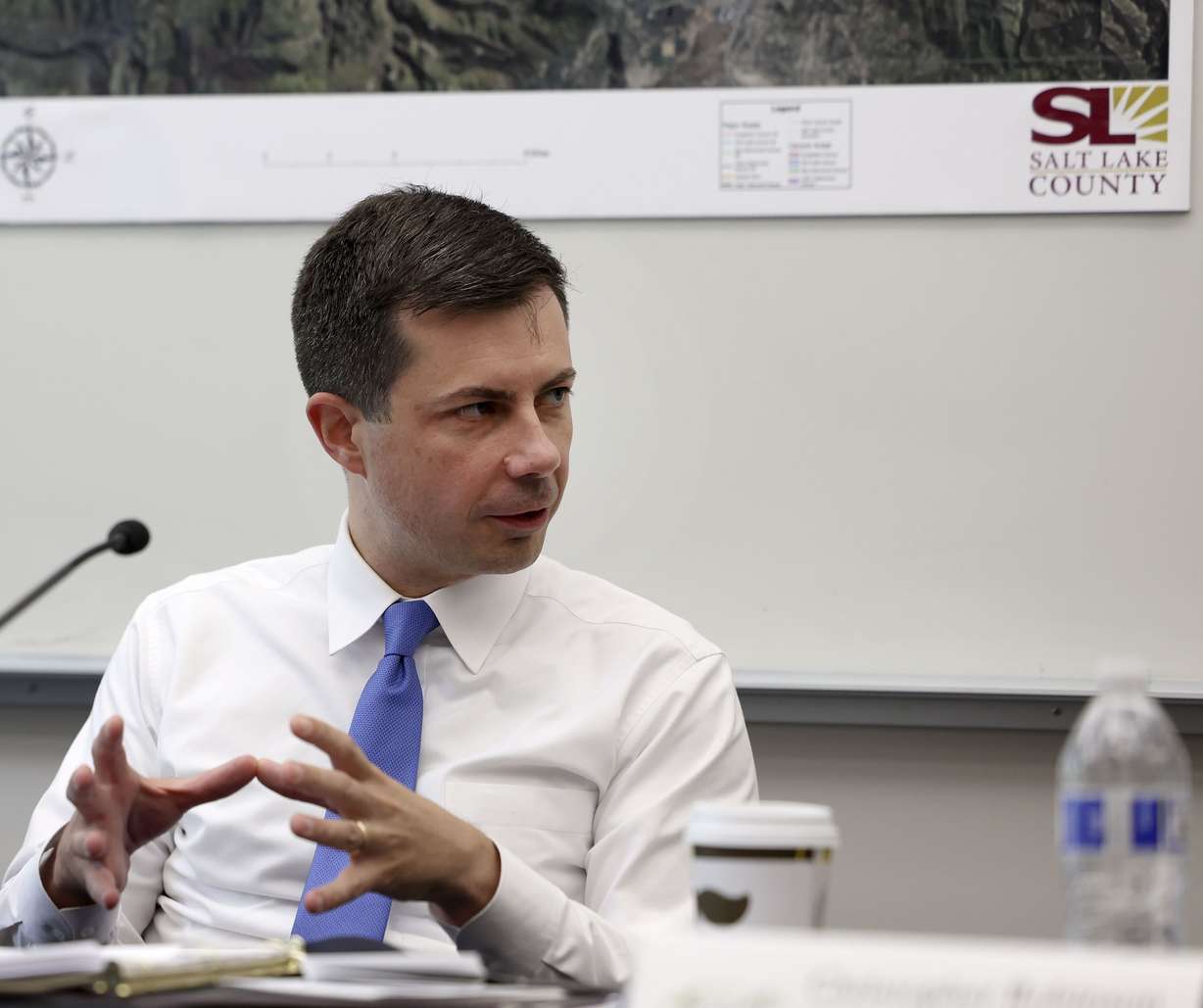 Buttigieg agreed, responding that there "needs to be dedicated funding for improving the resilience of our transportation assets." He also said that's why it's important to give state and local agencies the power to decide how to utilize funds from the new program.
"If we put the basic ground rules in and then send the funding out, the local organizations and states are going to come up with ideas that we won't have thought of sitting in Washington," he added.
The fact that the program stretches for five years is also helpful for the state.
"The planning aspect of it is very important because we can look five years out and say, 'OK, we took care of this situation, you know, what do we need to do next? How can we improve on what we did?'" said Teri Newell, deputy director at the Utah Department of Transportation.
The future of the program
The challenges of extreme weather aren't going away any time soon, which poses future infrastructure challenges. While Buttigieg says that transportation is at risk of climate change, he acknowledges that transportation is also one of the biggest contributors to producing carbon emissions.
"(That) means that transportation should aspire to be the biggest part of the solution," he said. "We're seeing a lot of pioneering solutions from these leaders in Utah."
The transportation secretary lauded the state's hand in the new ChargeWest project, the largest electric highway corridor collective in the country. Utah is one of eight states that are a part of the network. He also commended the state's investments in transit service. The Beehive State is also one of the leaders in hydrogen innovation.
In the meantime, both he and Cox anticipate that transportation infrastructure will need to be extended beyond the next five years.
Since this is a first-of-its-kind effort, Buttigieg said that the next five years will likely reshape what future funding and investments look like. Cox adds that because the impacts of extreme weather affect everyone, regardless of political affiliation, "collaborative problem solving" is needed on a bipartisan scale.
"I think you will see — and what I hope you will see — is bipartisan support for these programs as we're improving our states, which will make it likely that this is a program five years from now," he said. "We'll certainly be working to make that happen."
×
Photos
Most recent Utah transportation stories