Estimated read time: 3-4 minutes
FILLMORE — It wasn't her toughest assignment for the Halfway Hill Fire, but when archeologist Jessica Montcalm started unwrapping some foil from a sign, she found out just how tightly wrapped it was.
"It's worse than trying to carefully unwrap your Christmas presents," she said with a laugh.
However, her joy when seeing the unscarred sign underneath may have been about as good as anything Santa ever brought her.
"They did an exceptional job," Montcalm said. "And then wrapping the sensitive stuff to ensure that nothing was damaged."
Montcalm is an archeologist with the Bureau of Land Management. The sensitive stuff she's talking about are the Chalk Creek Hieroglyphs, which are just above those informational signs.
When the Halfway Hill Fire started burning in Millard County near Fillmore, a lot of people who live nearby were worried about this historical site.
"The ties run deep, and people care a lot. So it does mean a lot for us to be able to say that we helped," Montcalm said.
Wrapping the site in protective fire foil is how they helped. It's similar to the aluminum foil, but it's thicker, with more support built into it. That silver foil repels heat and keeps smoke from touching the hieroglyphs, which Montcalm says could discolor them or make them appear invisible.
Fire crews assigned to this site also cut nearby trees and shrubs to keep anything that could burn from getting too close.
"So these hieroglyphs definitely were a high priority to protect because they're a very meaningful location within the community. There's a lot of history, a lot of intrigue to them," said Jesse Bender, fire information officer for the Halfway Hill Fire.
During a community meeting last week, one of the most popular questions was about the hieroglyphics.
Fire crews identified the historical site early on during the firefighting efforts, and with another Bureau of Land Management archeologist, ordered enough foil to wrap the site.
Because of these efforts, the hieroglyphs were protected.
"The community loved seeing that this is OK," Bender said.
Not only does it make the community happy, but it helps firefighters who have been on the fire for weeks know their efforts were worth it.
"We helped somebody be able to say to their grandkids, 'I brought your parents here, now I'm bringing you here, and we're helping keep that a tradition,'" Montcalm said. "That makes us feel good."
It could still be a week or two before the site is open to the public again.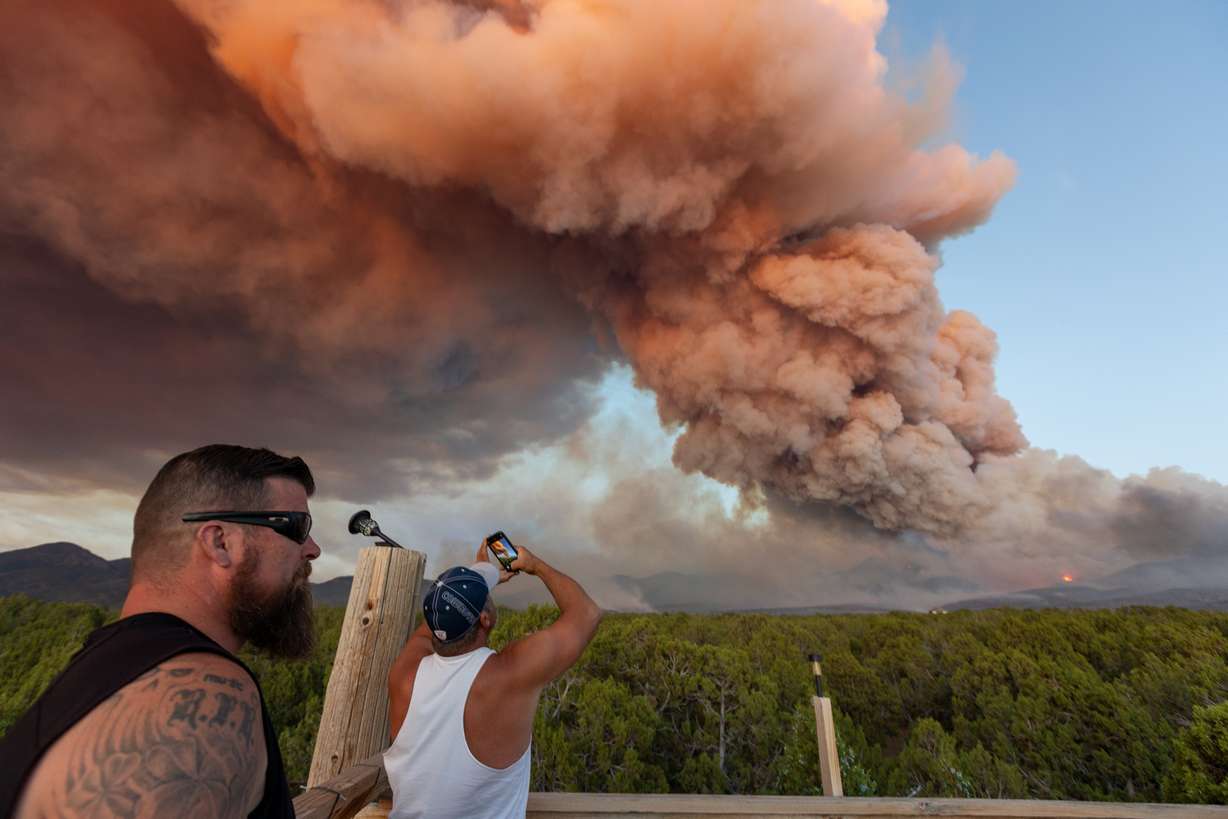 The fire is still active, and as of Saturday morning, was 70% contained and had burned 11,728 acres.
A fire reduction operation was done in the area this past spring and helped firefighters to contain the fire as best as possible.
"Work has been done in this area to reduce some of the vegetation and protect the infrastructure, the residences, the community, the water shed, all of those things in general in preparation of a fire, and that makes a difference when the fire does come," Bender said. "So, even though this was a large fire on the landscape, the work that has been done ahead of time helped limit the damage."
×
Photos
Related stories
Most recent Utah stories